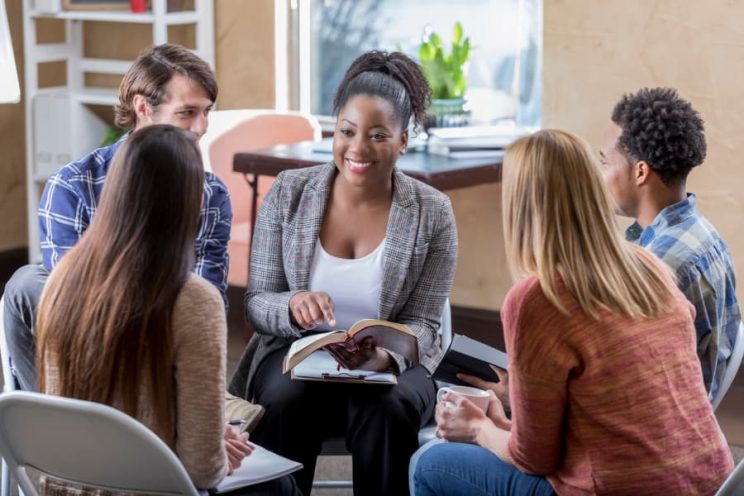 Do you love studying the scripture or feel the need to do something great with your life? Our Master of Arts in Biblical Studies graduate degree program will prepare you to help others grow through interpreting the Word of God. Our master's degree in biblical studies is available completely online, allowing you to continue working and remain engaged with your family and congregation while you study.
Faulkner University is a private, Christian liberal arts university based in Montgomery, Alabama, with additional campuses in Birmingham, Mobile, and Huntsville. Since 1942, we have been providing a faith-based higher education to undergraduates, graduates, and working adults through a variety of on-campus and online degree plan formats. If you are interested in pursuing an online Master of Arts in Biblical Studies degree, explore higher education at Faulkner University.
M.A. in Biblical Studies Program Overview
If you are involved in full-time ministry, have kids to raise or are busy at the office during the day, you need a flexible, affordable educational option. At Faulkner University, you can complete our Master of Arts in Biblical Studies degree program completely online – without ever stepping foot on campus.
The degree program requires 38 credit hours, including a 21-hour core curriculum consisting of courses with a strong biblical emphasis. The seven courses that make up this core include:
Introduction to Graduate Biblical Studies
Biblical Interpretation
Advanced Introduction to the Old Testament
Old Testament Theology
Studies in Biblical Backgrounds
Advanced Introduction to the New Testament
New Testament Theology
Students who have a bachelor's degree in biblical studies or a closely related field can receive a 2 credit reduction, making the degree only 36 credit hours.
Our master's in biblical studies program provides students with an in-depth, graduate-level understanding of the Old and New Testaments. When you complete the program, you will be ready to continue your educational journey or begin an exciting career of service. For more information, view the full degree plan.
Why Choose Faulkner University?
At Faulkner University, we focus on uncovering biblical truths and helping our students to incorporate them into their personal ministries. When you enroll in an online course at Faulkner University, you will have ample access to your professors and will experience the same hands-on education that you would on campus.
By combining a high-quality, 21st century education with traditional Christian values, we foster an environment that promotes spiritual growth and wellbeing. As a tight-knit community with a total enrollment of just over 3,000 students, you will not be just another face in the crowd like you might be at a larger institution. Whether you are a recent high school graduate or working adult, you will have all the tools necessary to accelerate your career – and relationship with Christ.
Begin a Career of Service at Faulkner University
For adults seeking an online, Christian-based education, Faulkner University offers over 70 majors in a broad range of formats to best serve the needs of our diverse student base. All of our degree programs include a core of classes that are rich in biblical material and strive to educate the whole person.
If you are interested in earning a Master of Arts in Biblical Studies at Faulkner University, apply now, submit your transcripts, view admission requirements, and request more information today.
Apply Now
Submit a completed online application.
Complete and print the Official Transcript Request form and submit it to all previously attended schools with the appropriate fee.
Send all additional items via mail to:
Faulkner University
Attn: Graduate Enrollment
5345 Atlanta Hwy
Montgomery, AL 36109
Admission Requirements
Prospective students must meet the following admission requirements:
Minimum overall GPA of 2.7
A bachelor's degree from an accredited college or university; you must provide transcripts from all institutions attended.
Three letters of recommendation with specific comments regarding the applicant's academic work, professional experience and ability to successfully complete graduate study.

At least one recommendation letter must be from a church leader.

A goals statement of at least 1000 words specifying personal goals and stating ways that the Master of Arts program at Faulkner University will contribute to those goals.
Include in this goals statement:
(1) background preparation for the degree
(2) basis for the choice of the KGST
(3) spiritual and academic goals
(4) impact of the degree sought on financiers and personal, employment, and family time.

A student must obtain a score of 40 or above (out of 60 possible points) as partial qualification for admission.
Transfer Information:
A maximum of six semester hours can be transferred into the Master of Arts in Biblical Studies program from a institutionally accredited university. Transfer hours must be approved by the dean of biblical studies.
Tuition
2023-2024 Financial Information
| | |
| --- | --- |
| Tuition | $500 per semester hour |
| General Fee | $350 per semester ($250 if 5 hours or less) |
| Online Course Fee | $75 per semester hour |
| Applicable Course Fees | see full tuition and fee schedule |