Expand Your Horizons.
You'll make the right choice when you enroll in Faulkner University's Harris College of Business and Executive Education. We prepare students for careers in business, information systems, finance, and management, as well as graduate work in business.  We are dedicated to providing a first-class education to our students, whether they're traditional on-ground students, degree completion students or online learners.  List of all degrees in alphabetical order »
Internships
For internship information please contact our Internship Coordinator, Natasha Kasarjian.
nkasarjian@faulkner.edu
334-386-7922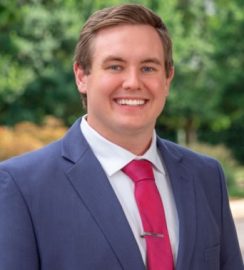 Elliott Graves graduated from Faulkner in 2015 with a Bachelor of Science in Business Administration and Bachelor of Science in Accounting.
"I had a great experience at Faulkner. I came in not knowing my major and not really having any sense of identity. It was relieving to get involved with campus life and football. Not only was I able to meet a diverse group of people with many different backgrounds, but I was able to meet Christ-following men and women among my peer group and the staff and faculty to help guide my path. Especially earlier in my career, there wasn't a day that went by that I didn't recall a lesson from one of my classes to approach a problem."
Undergraduate Majors & Programs
Learn More
Request more info about our degree programs at Faulkner University.
The Harris College of Business & Executive Education offers innovative programs geared toward adult students.
These three programs, designed for students who have completed two years of prior to enrollment, enables adult students to complete the baccalaureate degree on a schedule convenient for them. Most adult classes are scheduled in the evening, on the weekend, or online, depending on the program.
Graduate Degrees & Programs
The Harris College of Business & Executive Education also offers two executive-style master's degrees. Our Executive programs give students the opportunity to earn their degree in one year.