Why Ethics?
With numerous examples of corruption across the business landscape, society is in desperate need of ethical leaders and employees. At the Harris College of Business, we find ourselves uniquely positioned to address this ethical conundrum by combining biblical principles with contemporary research in the field of ethics.
Grounded in Biblical Principles
With Colossians 3:23 as the foundation of the Ethics Institute, we encourage our students to be men and women of high moral character and integrity.
"Whatever you do, work at it with all your heart, as working for the Lord, not for men." Colossians 3:23
As our students develop influence in the world of business, our goal is to provide them with the tools necessary to guide their decision-making processes. As Christians, our model for ethical behavior is Jesus Christ and the Bible provides numerous examples to guide us. Therefore, we believe that modeling ethical behavior, an examination of real-world examples, and discussing potential ethical situations will better prepare our students to be ethical leaders in today's market.
How do we model ethics?
Every fall and spring semester, the Ethics Institute introduces students to successful leaders from industry who exemplify ethical behavior. Our hope is that students will learn from the successes and challenges faced by these real-world business practitioners. Past speakers include Dr. Rick Lytle of the CEO Forum (Fall 2021) and the recently appointed President of Faulkner University, Mitch Henry (Spring 2022).
In addition to our speakers, students encounter business ethics education throughout the curriculum. Whether it be in Accounting, Finance, Management, Marketing, or Information Systems, each of our courses presents an opportunity to introduce students to discipline-specific examples of ethics in the form of lectures, videos, or case analyses.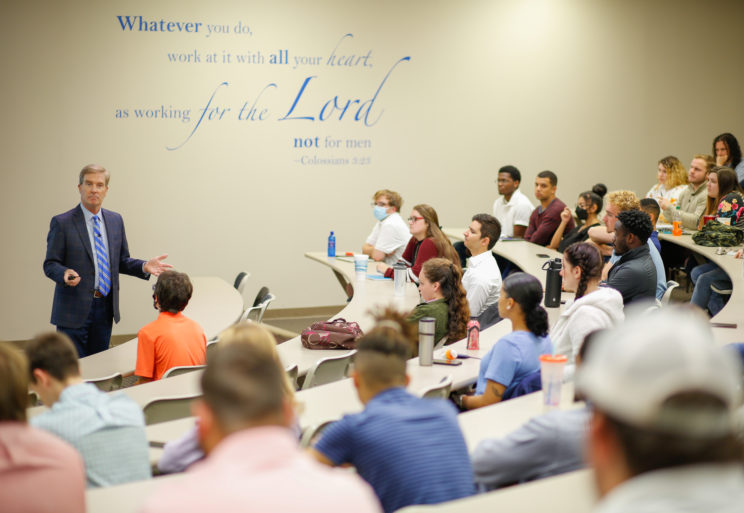 Dr. Rick Lytle speaks to students at the Fall 2021 gathering of the Ethics Institute