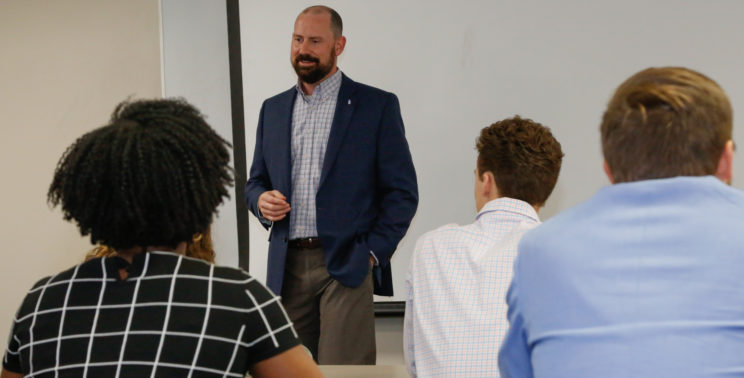 At Faulkner University's Harris College of Business and Executive Education, students seeking to develop the foundation for a career in management can earn a Bachelor of Science in Management degree. Offered at our campus in Montgomery, Alabama, the program follows a traditional daytime schedule and offers a versatile, preparatory curriculum rooted in the Christian faith. Upon graduation, students will have gained the education to help them find employment in management positions or pursue graduate studies.
Program Objectives
The Bachelor of Science in Management program at Faulkner University features a broad-based curriculum that introduces students to all business disciplines, from accounting to marketing. It also seeks to:
Teach the strategic decision-making skills that apply to successful business entities.
Develop the oral and written communication skills necessary for the business world.
Offer a distinctly Christian educational perspective on business, ethical issues, and related concerns that arise in specific course content areas.
Create a framework of skills, experience, and knowledge for meeting and resolving challenges pertaining to personnel and human resource management.
Provide up-to-date lessons on the latest concepts, leading trends, and emerging ideas in the field of management.
Throughout their studies, students will also partake in liberal arts courses that examine social and cultural concepts through a Christian perspective. Furthermore, this program serves as an excellent introductory curriculum to our Master of Science in Management program, which has an emphasis on business analytics.
Why Choose Faulkner University?
Many things attract students to Faulkner University. For some, it's the Christian basis that we incorporate into our educational process. For others, it's the emphasis we place on becoming a well-rounded student through our liberal arts education that accompanies the professional training in our degree programs. But certainly, the inviting atmosphere and student culture at Faulkner University must be one of the biggest draws. We foster this atmosphere by providing students with all the resources they need for success. In addition to a variety of services like career counseling and the Student Success Office, Faulkner University offers the following:
The Freeman-Harrison Student Multiplex is a multi-use facility that offers basketball courts, a walking track, a student lounge, dining, and more.
The Gus Nichols Library is home to over 300,000 volumes and includes a quiet study space on the second floor. A huge collection of academic resources and media is available as well.
Our Academic Center for Excellence (ACE) is open to all Faulkner University students and offers resources, tutoring, and other services to help them succeed.
Learn More or Apply Now
Interested in a career in business management? Apply to Faulkner University's Bachelor of Science in Management program today, which is housed in the Harris College of Business and Executive Education. To explore this field of study further and learn more about our main campus in Montgomery, Alabama, request more information now. You can also explore the numerous other degrees we offer so you can find the best fit for you and your goals.