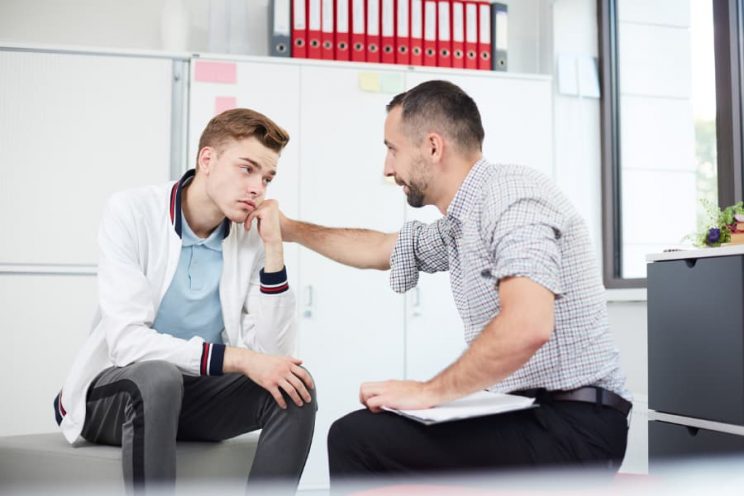 While coaches and athletic trainers are highly visible on the front lines, sports psychologists are behind the scenes helping athletes work through mental issues that might be holding them back. In fact, any athlete will tell you that the mental aspects of the game are just as important as the physical aspects.
At Faulkner University, we offer over 23 online degree programs and more than 60 on-campus majors in Montgomery, Birmingham, Mobile, and Huntsville, Alabama. Whether you choose to attend classes in person, online, or in hybrid form, you will receive a high-quality education taught within the context of a Christian worldview. If you are interested in an online sports psychology degree, Faulkner University might be the right choice for you.
The Advantages of a B.S. in Sports Psychology
When you earn your Bachelor of Science in Sports Psychology from Faulkner University, you will have the skills and knowledge necessary to offer mental and emotional support to all athletes regardless of age, level of competition, or sport. As the holder of our Bachelor of Science in Sports Psychology, some of the careers you may qualify for include:
Head or assistant coach
High school athletic academic advisor
High school athletic counselor
Member of an athletic training team
Fitness instructor
Physical rehabilitation assistant
Exercise science program assistant
While becoming a fully licensed and certified sports psychologist requires a doctoral degree, obtaining your bachelor's degree in sports psychology is a necessary first step if you wish to pursue a career in the sports psychology field. For more in-depth information about our online Bachelor of Science in Sports Psychology, view the complete degree plan.
About the Online Format and Tuition
At Faulkner University, we make it easy and affordable for you to get the education you need no matter how hectic your schedule may be. Our convenient online format provides an individual and customizable experience that lets you learn when and where you want. When you enroll in our online sports psychology program, you will receive a personable, in-depth education just as you would on campus. Still unsure whether this program is right for you? Browse our tuition information and other resources.
What Makes Faulkner University Different?
You will earn more than just a degree at Faulkner University. With students from over 35 countries, you will establish lifelong relationships with people from all over the world. With an average class size of only 15 students, instead of getting lost in the crowd, your professor will know you by name.
Our faith-based curriculum and family-like atmosphere are also what set us apart from other institutions. Prospective students who meet our admission requirements can gain an in-depth understanding of their selected field of study in an intimate classroom setting. Our highly distinguished professors can give you the one-on-one time you deserve and provide a deeper level of mentorship than you would receive at a larger university.
Start Your Higher Education Journey at Faulkner University
Faulkner University has provided a private, faith-based, liberal arts education in Montgomery, Alabama, since 1942. Today, we offer a wide range of undergraduate and graduate degree programs both in-person on our campuses and online. If you are interested in earning your sports psychology degree at Faulkner University, apply now, submit your transcript, or request more information today.
Admission Requriements
Must be a high school graduate with a regular or advanced diploma or have a GED certificate
If out of high school for less than five years, ACT (minimum 18 composite) or SAT (minimum 970) scores are required. ACT or SAT scores are not required for anyone having graduated high school more than five years ago.
ACT or SAT scores are not required for transfer applicants with a minimum of 24 transferable hours from a regionally accredited college or university.
Tuition
2023-2024 Financial Information
| | |
| --- | --- |
| TUITION |   |
| Adult – Montgomery Campus | $325 per semester hour |
| Adult/AA – Birmingham Extension Center | $310 per semester hour |
| Adult/AA – Huntsville Extension Center | $155 per semester hour |
| Adult/AA – Mobile Extension Center | $325 per semester hour |
| Military Qualified Students (60 hours or less) | $250 per semester hour |
| FEES |   |
| General Fee | $350 per semester ($250 if 11 hours or less) |
| Online Course Fee | $75 per semester hour |
| Emergency Response Fee | $10 per semester, if at least one course is on campus |
| Applicable Course Fees | see full tuition and fee schedule |
|   |   |
If enrolling as a traditional student, please see the full tuition and fee schedule for applicable rates.