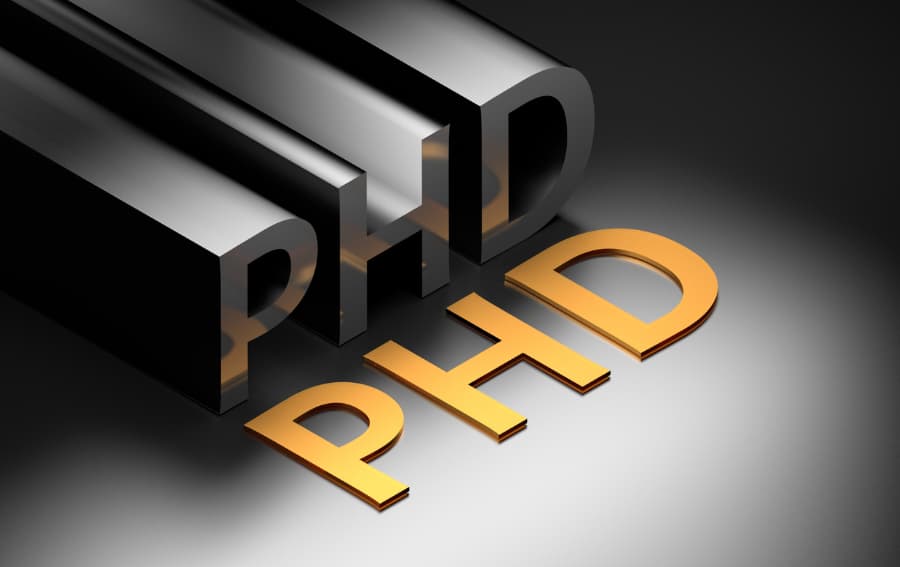 Learning more in your chosen career field or area of interest can deepen your understanding of the subject, further your career, and provide additional benefits across your personal and professional life. A Doctor of Philosophy degree from Faulkner University, based in Montgomery, Alabama, is a particularly versatile field of study for students interested in producing original research and becoming recognized experts in their specialties. Here, we explore the Doctor of Philosophy degree, its benefits, and how the online doctoral degree programs at Faulkner University can help you complete your academic journey.
What Is a Doctor of Philosophy Degree?
A Doctor of Philosophy (Ph.D.) is one of the highest possible degrees in academic studies and is available across a wide array of subjects, specialties, and academic fields. A Ph.D. represents that you've expanded the field of study in your particular area of specialization by completing original research and defending a dissertation in front of a panel of subject matter experts. Holders of a doctorate may be referred to as "Doctor" or add the letters "Ph.D." or "DPhil" after their names. Different countries and even different universities have different requirements and degrees of rigor for earning a Ph.D., but they universally indicate a degree of professional expertise that can further one's career in business, research, academia, and more.
What Subjects Can You Get a Doctor of Philosophy in?
Students and professional experts can pursue a Ph.D. in almost any subject, ranging from hard sciences and mathematics to history and other humanities. The core requirement and value of a doctoral program is that you can produce original research and deepen the knowledge available about your specialization. Private universities, public universities, and online universities across the country offer robust, well-respected doctoral programs that you can apply to in order to pursue this terminal degree. At Faulkner University, we offer Ph.D. programs for the following areas of study:
How Long Does It Take to Earn a Doctor of Philosophy?
Students can complete their journey to earning a Ph.D. across widely varied and customized timelines. Ph.D. programs often take between three and five years to complete. Factors that determine the total time of completion include the difficulty of the program, research resources and access, whether the student is full-time or part-time, and the timeline for completing and defending a dissertation.
At Faulkner University, we've created Ph.D. programs built to streamline and accelerate the degree process without compromising the quality and rigor of the education we provide. Our humanities and biblical studies Ph.D. programs are designed to be completed within four or five years, and our Ph.D. in health sciences program can be completed in as little as 18 months with dedicated study and research.
What Can You Do with a Doctor of Philosophy?
Earning a Ph.D. allows you to pursue advanced academic careers, apply to highly specialized educational and research opportunities, and continue to produce original research in your chosen field of expertise. Common career tracks for professionals with a Ph.D. include:
College professors
Administrative positions in higher education organizations
Leaders in government and corporate organizations
Our unique Ph.D. in health sciences program also equips graduates with the skills to provide in-depth insights into public health and healthcare challenges.
Benefits of Becoming a Doctor of Philosophy
Gaining a Ph.D. in your area of specialization is a rewarding journey. By the time you graduate, you'll have deeply enriched your own understanding of your chosen subject, added to the world's knowledge, and have the skills and knowledge to help others on their academic journeys. Some additional benefits of completing a Ph.D. program include:
Access to Opportunities
Many higher education, administrative, and research job opportunities require a high level of education, often outright requiring applicants to hold a doctoral degree.
Personal and Professional Accomplishment
Holding a Ph.D. conveys expertise and prestige, making you a valuable expert in academic and professional contexts.
Expanded Networking
Through your course of study, you have an opportunity to network with experts in your field of study, including your professors, mentor, other Ph.D. candidates, and more. The connections you build as you complete your studies and produce original research will be invaluable throughout your career. You can also join networking groups exclusive to Ph.D. holders, Faulkner University students, or published experts in your field.
Increased Research and Analytics Skills
Because Ph.D. programs are founded on the ideas of original research and creating, presenting, and defending a dissertation, you'll learn deeper research and critical thinking skills compared to other degrees. These skills are transferrable across virtually any industry, job, or creative pursuit, no matter which area of study you specialize in.
Further Your Education with Faulkner University
At Faulkner University, based in Montgomery, Alabama, we have three online Doctor of Philosophy programs that our students can pursue entirely online and on their preferred timelines. Our flexible degree plans and approach to remote learning allow you to balance work, personal life, and academic goals more easily. Request more information about our doctoral programs or apply today to further your education.