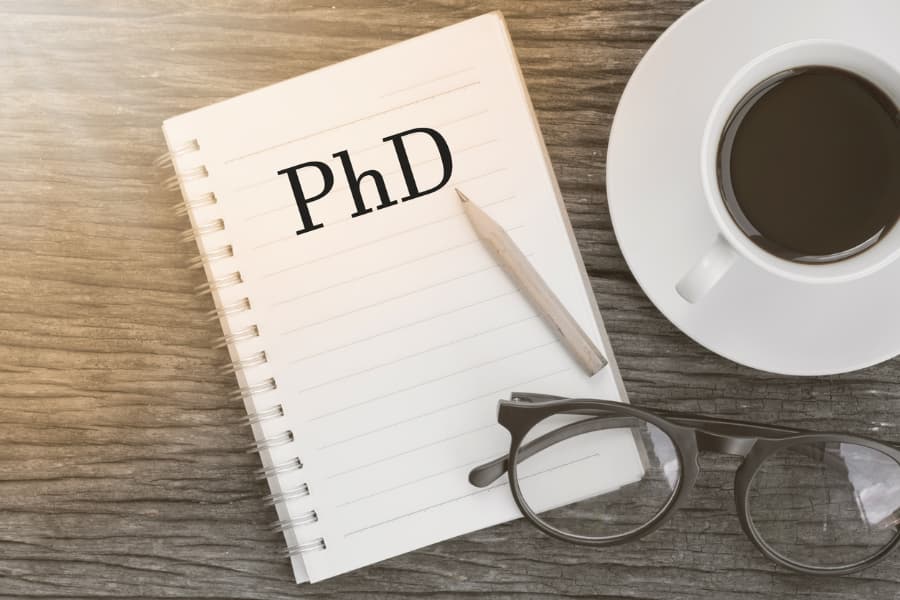 Have you dreamed of getting your Ph.D. but work and family commitments have made it seem impossible? As more students turn away from learning in person on university campuses, it's become more convenient to earn the desired degree, including a Doctor of Philosophy.
It is now possible to earn your Doctor of Philosophy online on a flexible schedule. At Faulkner University in Montgomery, Alabama, we offer three Ph.D. programs online:
Here, we explore eight reasons to earn your Doctor of Philosophy online.
Get Your Ph.D. While You Continue to Work
Many adults have full-time jobs and a family to support, making it almost impossible to go back to school to get a Doctor of Philosophy. When you opt to attend classes and earn your degree online, you aren't attending the same way a student on campus would. You can choose to take only a single class each semester, and you don't have to arrange to attend in-person classes in the middle of the day.
Increase Your Earning Potential
Many employers support their employees who go back to school to get additional degrees, and many businesses pay more to people with advanced degrees. For example, most states offer higher pay to teachers with advanced degrees. If your current employer doesn't offer a pay increase with an advanced degree, you may be able to find a position in the same field with a company that will pay you more.
Enjoy New Career Opportunities
Once you have your Doctor of Philosophy, you'll likely have more career opportunities to explore. It might be a promotion within the organization you're already employed at or a position in a new, unrelated field. You might find your passion for education transfers to teaching college classes and helping the next generation enjoy learning. A Ph.D. makes you an expert in your field, and there are companies that place a high value on that expertise.
No Need to Relocate to Be Near the University
Traditionally, students would have to relocate to another city to be near the university they wanted to attend. With a Doctor of Philosophy online program, you can live anywhere and take care of your coursework online. In some cases, you might need to travel to the university for orientation or the occasional meeting with your doctoral committee. When you don't have to relocate, it makes it easier for you to commit to a Ph.D. program and follow through on it.
Fulfill Your Personal Goals
Throughout your life, you've had a lot of personal goals. If you've always dreamed of earning a Doctor of Philosophy, an online program makes it easier. Fulfilling a personal goal helps you build confidence and encourages you to pursue future goals, knowing that you're capable of finishing them.
Realize Your Full Potential
Not everyone is capable of pursuing and earning a Doctor of Philosophy. It might be a lack of foundational education or an inability to understand the material and complete the high-level work. If you're one of the people who can do the required work, receiving a Ph.D. helps you realize your full potential. With a Ph.D. in hand, your potential employment and career opportunities grow as well.
Enjoy More Flexibility
With a Doctor of Philosophy online program, you will find more flexibility than you would with a traditional Ph.D. program. You aren't forced to attend classes on a schedule. Many online programs provide set dates for things, such as homework, tests, and papers, but other than that, you can complete them on your own schedule. You set the schedule that meets your needs.
Create a Learning Environment That Suits You
Do you think better in a crowd like your favorite coffee shop? Do you prefer a quiet room at your local library? When you opt to pursue your Doctor of Philosophy through an online program, you can create the learning environment that helps you thrive. You can work during your child's soccer game or in your home study. While you'll need the books for your thesis and a computer, you can learn from anywhere.
Partner with Faulkner University to Get Your Doctor of Philosophy
When you're ready to take the next steps to earn your Doctor of Philosophy online, you need to partner with a university that fits your needs. Faulkner University in Montgomery, Alabama, aims to help you be successful and earn your degree. Request more information about our doctoral programs or apply today to get started on your degree.