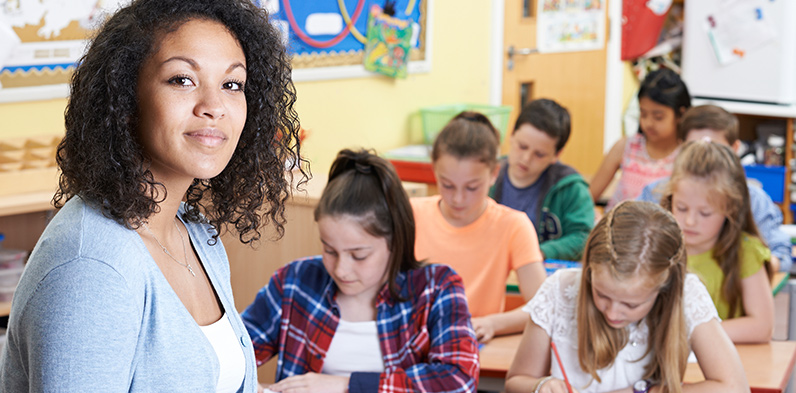 If you already have a bachelor's degree, you don't need to return to campus to earn your master's in education and teaching certification. At Faulkner University in Montgomery, Alabama, we offer an online route to earning both through our online Master of Education in Elementary Education Alternative A certification program. Develop skills as a future educator, earn the credentials needed for achieving advanced pay in the state of Alabama, and do it all with the flexibility of online learning.
About the Program
Proper certification is required to teach in public schools and many private schools across the state and country. In most cases, this certification is earned through a bachelor's degree in education. For students interested in teaching who don't have the right credentials, Faulkner University is proud to offer this program. Aligned with the Alabama State Department of Education (ALSDE) elementary certification, our Master of Education in Elementary Education Alternative A provides the right licensure to students with bachelor's degrees in other areas. It's ideal for individuals who currently do not meet the requirements for the Alabama Class A teaching certification, as well as for those seeking to advance their teaching careers into higher-level opportunities.
Benefits of Studying Online
When you pursue your Master of Education in Elementary Education Alternative A online, you gain the flexibility to complete your studies anytime and anywhere. This benefit is especially valuable to working students. Instead of taking another two years to study full-time, you can fit assignments and coursework into your work or family schedule, making it much easier to balance your commitments. Meanwhile, you can pace your learning, giving yourself the time you need to master the material.
Flexibility does not come at the cost of quality, however. Our online master's degree programs feature the same curriculum and top-notch education as any degree program offered on campus. That curriculum is taught by instructors with years of experience in their field, all of whom are highly skilled, passionate, and excited to share their accumulated knowledge with a new generation of aspiring K-6 educators.
Enrollment Requirements and Process
Getting started on your online Master of Education in Elementary Education Alternative A is simple. Faulkner University accepts new students into the program twice a year. To be considered, make sure you meet our admission requirements by following these simple steps:
Take the Praxis II Multiple Subjects exam for K-6 elementary and receive a passing grade.
Complete and submit an online application to Faulkner University.
Complete and print the Official Transcript Form and submit it to all schools you have previously attended. Remember to include any fees, and follow additional instructions according to the previously attended school.
You may submit up to six credit hours to be transferred from another university. Transfer requests are subject to approval by the ALSDE.
Send requirements by mail to our address at:
Faulkner University
Attn: Graduate Enrollment
5345 Atlanta Hwy
Montgomery, AL 36109
If you qualify and are accepted to the program, tuition is $475 per semester hour. On completion of the program, you will be awarded a Master in Elementary Education and an Alabama Alternative Class A Certification in Elementary Education K-6. To learn more, contact us at our admissions department today or visit our campus in Montgomery, Alabama.
Apply Now
Submit a completed online application.
Complete and print the Official Transcript Request form and submit it to all previously attended schools with the appropriate fee.
Send all additional items via mail to:
Faulkner University
Attn: Graduate Enrollment
5345 Atlanta Hwy
Montgomery, AL 36109
Admission Requirements
New students are accepted into Faulkner University's online M.Ed. Elementary Education – Alternative A certification program twice a year. Students are required to pass the Praxis II Multiple Subjects prior to admission into the program. 
Tuition
Tuition - $475  per semester hour
Online Course Fee - $75 per semester hour
General Fee - $350 ($250 for 11 hours or less)