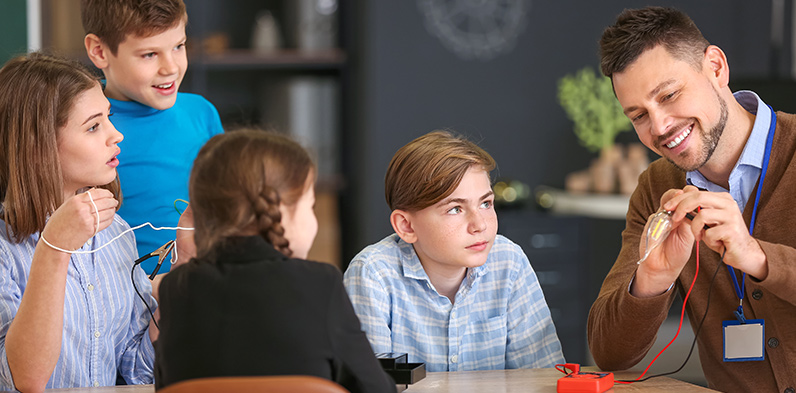 Education is one of the most valuable things a child can receive, and great teachers are essential. Yet if you're a hard-working educator balancing family and other commitments, getting the advanced training you need is easier said than done. At Faulkner University, a private, Christian liberal arts institution in Montgomery, Alabama, teachers can further their careers with our Master of Education in Curriculum and Instruction. A combination of online learning and clinical and field experiences makes it easier to earn your curriculum and instruction master's degree on your terms as you keep pace with your busy life.
Study Online with a Christian Framework
When you can't find time to attend on-campus classes, the Master of Education in Curriculum and Instruction at Faulkner University provides an ideal alternative. Students work with seasoned instructors who bring ample classroom experience to the virtual learning setting, providing the quality education our on-campus students receive at our Montgomery location with no need to travel. The program will help prepare students to:
Lead classrooms more effectively
Design school curricula
Increase knowledge of advanced pedagogy
Provide stronger assessments
Utilize technology for instruction
The program is based on a strong Christian foundation, which is central to all instruction at Faulkner University. This focus on ethics provides an ideal framework for applying essential topics in curriculum and instruction in classrooms for all ages.
Flexible Online Approach to Earning a Curriculum and Instruction Master's
The Master of Education in Curriculum and Instruction program includes 10 three-hour courses that each run for five weeks for a total of 30 credit hours. Students will also attend a week-long orientation and complete community-based, service-oriented field experience hours for a well-rounded learning experience.
The program offers one concentration area:
All students must also complete a core curriculum that includes:
FED 6301 Ethics for Educators
FED 6322 Curriculum Design and Instructional Methods
PY 6325 Advanced Educational Psychology
FED 6349 Advanced Classroom Management
FED 6350 Technology of Learning
FED 6330 Assessment for Teaching and Learning
FED 6345 Differentiated Instruction for Diverse Learners
FED 6342 Multicultural Education
FED 6380 Action Research
FED 6340 Legal Issues in Education
Program participants complete one course at a time, allowing full immersion in each subject area. Please review our degree plan for more information about classes and the program's structure.
Master of Education in Curriculum and Instruction Online Program Requirements
Students seeking admission to the Master of Education in Curriculum and Instruction program must meet specific requirements, including a bachelor's degree from a regionally accredited college or university. Additionally, prospective students must provide a statement, letters of recommendation, and other materials.
Please note to receive advanced pay in the state of Alabama, students must choose the concentration that matches their Class B certification area. Further requirements apply.
Complete Your Curriculum and Instruction Master's Degree Online
If you're ready to become a master teacher and shape the lives of countless children, the Master of Education in Curriculum and Instruction program at Faulkner University can help you achieve your goals. Best of all, a flexible online learning experience means you can manage family, work, and online learning without missing a beat. Apply online now at no cost or contact us for more information.
Apply Now
Submit a completed online application.
Complete and print the Official Transcript Request form and submit it to all previously attended schools with the appropriate fee.
Send all additional items via mail to:
Faulkner University
Attn: Graduate Enrollment
5345 Atlanta Hwy
Montgomery, AL 36109
Admission Requirements
Applicants with an incoming GPA between 2.5 and 2.74 must submit a passing score from one of the following:
A 281 or above on the Graduate Record Examination (GRE) or a score of at least 370 on the Miller Analogies Test (MAT).
Students whose first language is not English must also provide a passing score on the TOEFL. A score of 500 is required of all students for whom English is a second language.
Goals Statement
Applicants must submit a statement of approximately 250 words specifying personal goals for their life as a master teacher and how their teaching and influence will impact the lives of others.
Letters of Recommendation
Three letters of recommendation with specific comments regarding the applicant's academic work,
professional experience, and ability to successfully complete graduate study. The letters are usually from the applicant's faculty members or supervisory personnel.
Summary of Required Application Materials
• Completed Application
• Official transcripts from all schools attended
• Must hold a bachelor's degree from a regionally accredited college or university with a
minimum GPA of 2.5
• Passing scores on the GRE OR the MAT if GPA is between 2.5-2.74. If GPA is 2.75 or
above, a GRE OR MAT score is not required.
• Personal statement of lifetime goals (250 words)
• Three (3) letters of recommendation
• Signed Acknowledgement Form (PDF)
Tuition
Tuition - $475  per semester hour