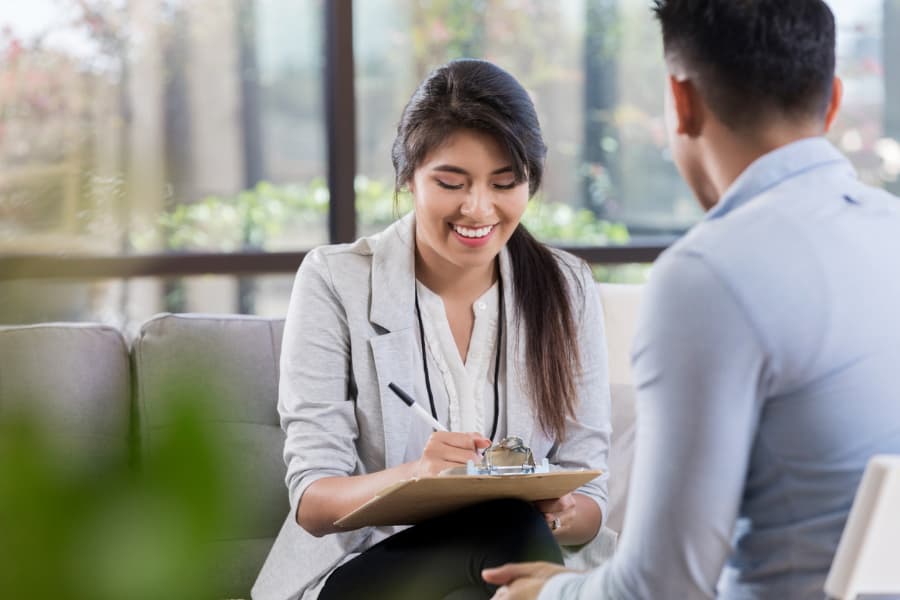 Open up your career options with a bachelor's degree in clinical psychology or counseling psychology from Faulkner University, based in Montgomery, Alabama. Clinical psychologists are active in the healthcare field with an emphasis on mental health. You have the opportunity to work with people of all ages who are struggling with mental health issues. Through counseling, diagnostic testing, and treatment planning for patients, you can make a positive difference for individuals on a personal level. Clinical psychologists are needed in many industries and venues, and you'll find that your degree will open several career paths.
Pursue your passion for helping people with mental health issues by choosing a job in one of these areas. Some jobs are available to recent graduates, while others may require further education or experience.
Child Psychologist
Child psychologists fill up their schedules quickly, as more parents realize the importance of diagnosing and treating mental health issues in their children. These psychologists visit with child patients and their parents, interact with them, and help them cope with emotional distress and other disorders. This includes creating a personalized treatment plan for children and supporting them as they continue through their treatment. Child psychologists are needed in schools, hospitals, clinics, private practices, and juvenile detention centers.
Behavioral Health Therapist
Behavioral health therapists help patients deal with behavioral health issues, such as substance abuse, addiction, and self-harm. Therapists in this field can work with individuals or groups. There is a need to deal with immediate issues as well as long-term recovery processes. It's important to keep the information confidential, to be able to work with very distressed people, and to have a strong desire to help people who are stuck in harmful patterns. Behavioral health therapists find jobs in hospitals, clinics, private practices, schools, business organizations, and other venues.
Clinical Social Worker
Clinical social workers help individuals with resources that will help them live a better life, such as finding a job, applying for rent assistance, and getting into government-funded programs. They can also help individuals with emotional issues, such as depression and anxiety. A clinical social worker typically has a deep-rooted dedication to helping people, flexibility when it comes to treatments, and a general knowledge of many psychological issues.
Marriage and Family Therapist
Marriage and family therapists work within family units that are not functioning properly. They strive to promote better communication so issues can be worked out safely. Therapists who work with married couples, siblings, and entire families need strong problem-solving skills. They need to expose bad habits and form treatment plans that will help families coexist more effectively.
Organizational Psychologist
An organizational psychologist works within a certain organization, giving screening tests to employees, conducting performance reviews, and helping the people within the organization work better together to meet common goals. The skills and qualities of organizational psychologists are applicable in almost every workplace and are highly valued in many areas of employment, including human resources, consumer and market behavior, systems assessment, and administration.
Psychotherapist
Psychotherapists often specialize in a specific branch of psychology, such as hypnotherapy or cognitive behavioral therapy. Using their knowledge and skills, psychotherapists help treat patients who are suffering from mental health illnesses and disorders. This is often accomplished through talk counseling. Psychotherapists can help a wide number of people, including those who are trying to cope with a difficult time in their lives and those who have illnesses such as schizophrenia.
Neuropsychologist
As the name suggests, a neuropsychologist works with brain disorders and mental health disorders, and the connections between the two. Some conditions that a neuropsychologist may be interested in include Alzheimer's disease, epilepsy, attention-deficit/hyperactivity disorder, and dementia. Neuropsychologists help people overcome or cope with these conditions through personalized treatment plans.
Learning Disabilities Specialist
Learning disabilities specialists are needed in educational facilities. These specialists understand various learning disabilities, including attention-deficit/hyperactivity disorder and autism. They work with educators, parents, and students, helping everyone to understand the learning disability that is present and providing an effective treatment plan. They may also oversee educational programs for students with learning disabilities.
Substance Abuse Counselor
Substance abuse counselors have a narrower field of specialty than behavioral health therapists. They specialize in treating patients who are dependent on illegal drugs, prescription medications, or alcohol. The counselor helps patients realize their problems, confront the addiction, and recover from it. This can be challenging and emotionally demanding as patients quite often resist or relapse. However, when there are positive results, substance abuse counselors can feel very accomplished.
Achieve Your Dreams of Helping People Through Clinical Psychology
If you desire to help people through difficult issues, mental health illnesses, and other cases that require specialized knowledge of the mind, get started with a degree in psychology at Faulkner University in Montgomery, Alabama, available on campus or online. With the proper credentials, you could make a positive difference in the lives of many people. Contact us to request more information about the program or get started today by applying online.