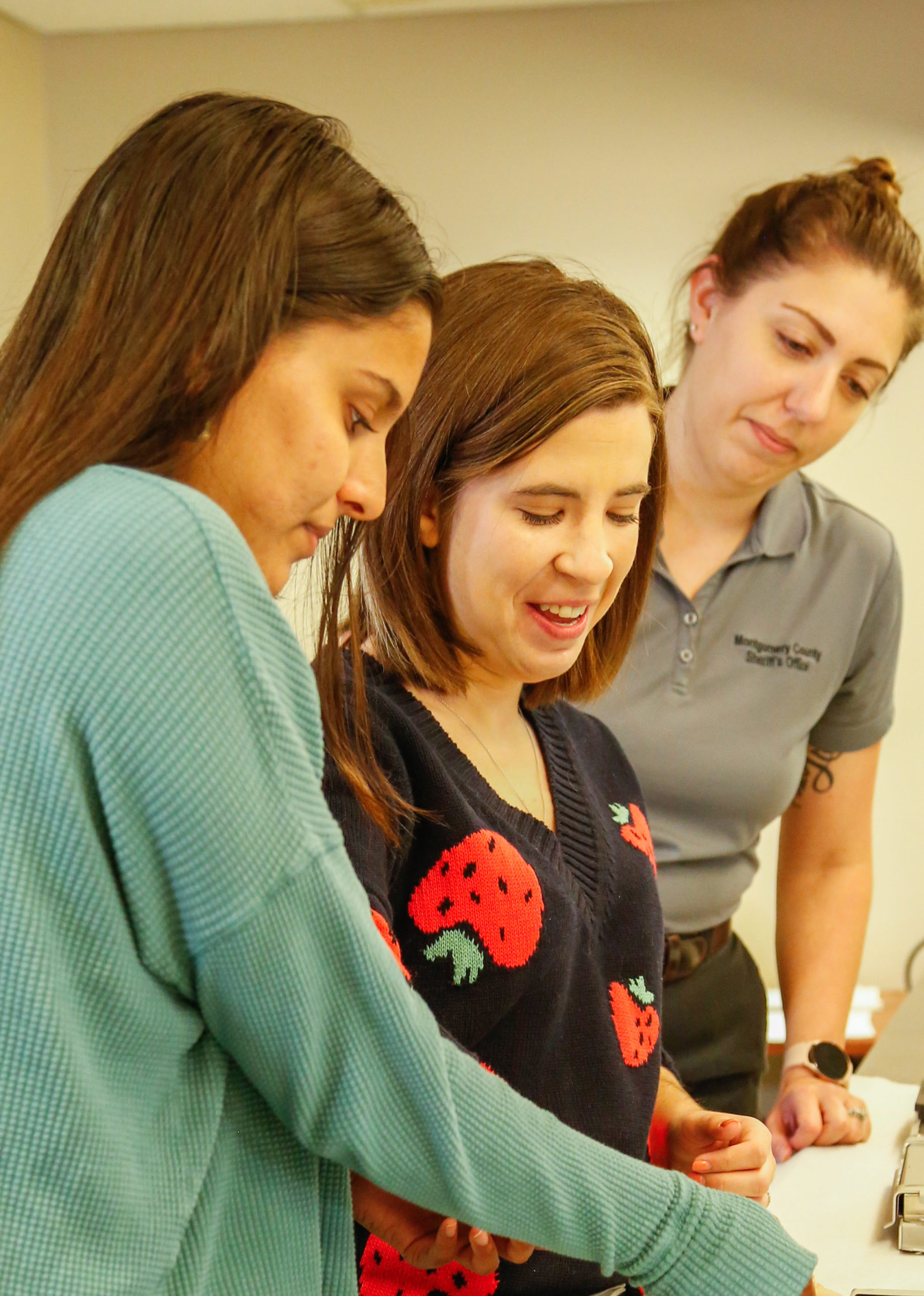 Faulkner's Criminal Justice (CJ) and Legal Studies (LS) department does more than provide an education for students looking to go into those fields. It provides students with a spiritual foundation and confidence to embark into the workforce ready to serve as Christ served.
Whether a student is struggling to pay for textbooks, has a concern in their family or is overwhelmed with anxiety, the professors and staff of the CJ/LS programs make sure their students are cared for in all areas of their life, not just in the classroom.
While working at a Christian university, Cathy Davis, CJ/LS department chair, makes it a point to find those freshmen and new students who are declaring a major in CJ or LS and mentors them as soon as possible to show them Christ's love through her example.
"The biggest thing we try to do to ensure our students' success is to start those relationships early on in their college career so we can learn where they want to be and what they want to do after graduation. Starting them early on the right academic track enables them to reach their goals when entering the workplace," Davis said.
Students who enter Faulkner's CJ/LS department have the opportunity to create a completely customizable educational track depending on what career they want to pursue, whether that's with the troopers, sheriff's office, police department, paralegal, attorney or any other related field.
Davis, who has been in the department 10 years, makes sure she and her team are providing their students with every tool they will need for success. One key component is to listen. Leaving their office doors open so students feel welcomed to come in and sit. They take time to listen to students' concerns, questions about their faith or simply about what's happening in their lives.
"We really focus on learning about the students, encouraging them to come to us sooner rather than later," Davis said. "We all have an open door policy so that our students are very comfortable to come into our offices to say hi, talk about class, or share whatever's on their mind."
President Mitch Henry, who will continue to teach in the CJ/LS Department has taken his students in small groups to lunch to pray with them and hear from them directly.
"I've had students come up to me and say they've never been in a place where the people care for them as much as we do here," Davis said. "For example, when they're talking before class with their peers and we don't interrupt the discussion, but rather chime in to whatever topic they are discussing, we learn what they care about and what's happening in their lives. We begin to build that comradery and they build that comradery with each other, which will serve them well when interacting with future coworkers and to share their faith."
Davis and her team proactively reach out to make sure students are doing well. It's something students can't find in most other universities.
"It comes naturally to us here at Faulkner, but we can't imagine the full impact that has on a student," Davis said. "We get thank you notes, emails and phone calls from alumni years later telling us how grateful they are to Faulkner, excitedly thanking us for the job they are now in and sharing how they are being Christ in the workplace. To hear students reflect on how you personally have changed them is incredible and confirmation we are doing the right thing."
Another unique aspect of Faulkner's CJ/LS department is making sure adjunct professors are either recently retired or currently working in their field. This enables them to share real-world and current experiences to their class from fields that are constantly changing with new laws and policies. It helps students learn the most up-to-date information they will need to succeed in their field upon graduation.
Additionally, a Legal Studies degree from Faulkner is one of approximately 250 American Bar Association (ABA) approved programs nationwide. This ABA approved program for Montgomery's campus can connect to Faulkner's three satellite centers in Birmingham, Huntsville and Mobile as well as anywhere in the world via Zoom connect rooms. Options are available for full-time and part-time students with flexible day, evening, weekend, and online classes to prepare students for paralegal employment with law offices, corporations, governmental agencies, and other entities in real estate, business,  family, probate, civil, and criminal law. Additionally, a bachelor's degree in legal studies allows graduates to apply for law school. 
The CJ/LS department has been preparing students for more than 20 years to launch their careers as vocational ministers. 
Degrees Available from Criminal Justice and Legal Studies
Associate of Science in Legal Studies
Bachelor of Science in Legal Studies
Bachelor of Science in Criminal Justice – includes one-year online hybrid program for completing the junior and senior level requirements. 
Master of Science in Justice Administration fully online 10 course degree can be completed in as little as 13 months.
Earn Your Criminal Justice or Legal Studies Degree from Faulkner University
Law enforcement and legal professions are among the most stable, yet exciting and personally rewarding, careers. If you're ready to start your journey or advance your established career, contact us today. For more information on how to enroll, our admissions portal can help you get started based on your current status as a high school student, adult student, prospective law student, or prospective grad student.