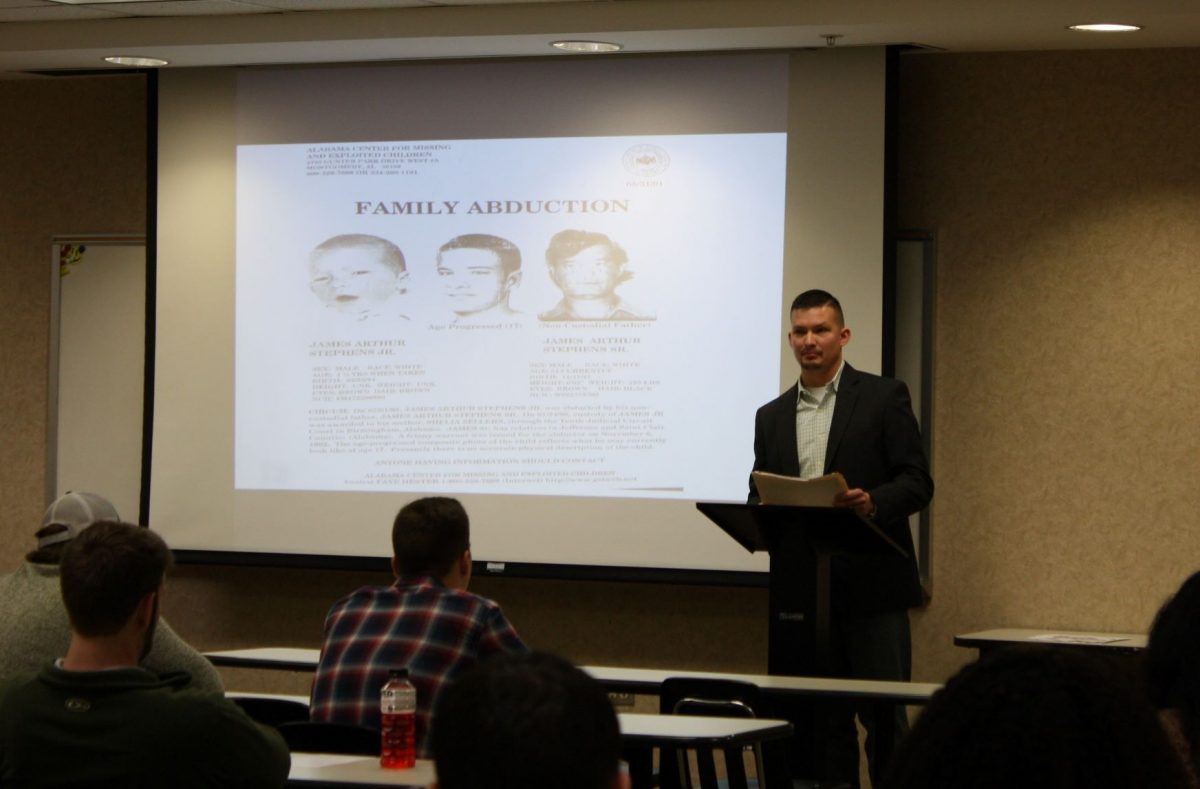 Although his childhood was full of hardships, James Stephens has dedicated his life to serving and protecting the defenseless. His story is one of overcoming and he thanks the Faulkner Criminal Justice department for helping him on his journey.
A year after he was born in Birmingham, Alabama in 1984, Stephens was abducted from his mother by his non-custodial father and kept in isolation for nearly 18 years of his life and the State of Alabama Center for Missing and Exploited Children issued a missing persons report for him.
As a child he experienced poverty, primitive living conditions and emotional abuse as Stephens' father kept him away from the public and on the run for many years.
They eventually moved back to Alabama where Stephens earned his GED at 18. When he was 19, Stephens contacted the St. Clair County Sheriff's Office, told his story and left his father to begin working. He joined the Army and was assigned to the 82nd Airborne Division as an Infantry Paratrooper in Fort Bragg, North Carolina where he served for three years.
Despite his challenging upbringing, Stephens was determined to not let those obstacles prevent him from having a successful life. The Faulkner alumnus spoke to current students about his life, his career and his faith during the 2020 Marketplace Faith Friday Forums where he was honored as the Young Alumnus by the College of Arts and Sciences' Criminal Justice and Legal Studies department.
"James went through trials and obstacles most of us cannot even begin to understand, but those did not define him," said Cathy Davis, Department Chair of the Criminal Justice and Legal Studies department. "He knew that God had bigger plans for him! He persevered and stayed the course to complete his education.  He has served our country well through both the military and the police force."
As a paratrooper, he served two deployments to Iraq. During one of his tours, his convoy was hit by an IED, (Improvised Explosive Device.) Although he was uninjured from that attack, he decided to transfer into the Army Reserve in 2008 and still serves as a member of the Army Reserve. He is a Platoon Sergeant with the 450th Military Police Company in Birmingham, Alabama. He is currently a patrolman at the Oneonta Police Department.
After attending an Alabama community college and graduating with two associate degrees, Stephens graduated from the Faulkner BCJ program in 2018 and plans to complete a master's degree. His goal is to pursue a career as a professor in criminal justice or pursue management in security after retirement from his current position in law enforcement.
He says he believes his life started the way it did for a purpose and it has enabled him to give children he's encountered through is work in law enforcement who have endured hardships, hope and encouragement. He hopes his story gives them strength to embrace the negativity in their past and turn it into something good.
He is married and has two young boys. He counts his family as a tremendous blessings who has been his support through all of the challenges he has encountered in life.