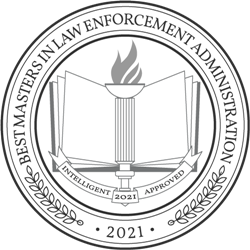 Faulkner offers a fully online Master of Justice Administration (formerly the Master of Criminal Justice program) to college graduates or professionals continuing their education for greater career opportunities. Designed for the self-motivated college graduate or professional, the online program offers more convenience and flexibility compared to the structure of traditional classroom formats.
Faulkner's Master of Justice Administration is ranked #19 nationally in online programs!
Faulkner students represent tremendous diversity, and the program is founded in Christian principles and ethics to drive its foundation and professional reach. Members of the Faulkner faculty are more than instructors; they are professionals in the field with years of experience on the ground and in the classroom.
Program Objectives
Faulkner's Master of Justice Administration can be a launching pad for your career in criminal justice. Graduates of the program are prepared for career advancement within their chosen criminal justice field through the acquisition of new skills and superior knowledge. Discover new career opportunities at the state and federal levels of law enforcement as well as corrections or management positions within criminal justice organizations. And, graduates with limited field experience will have a needed credential to propel them through the ranks faster.
Program Design
The Master of Justice Administration has the following features:
Fully online.
Degree can be completed in 12 months.
Degree consists of 10 courses.
Course length is five weeks.
Each class of students progress through the program as a unit.
Only one course is taken at a time.
Year-round enrollment with regular rotations every six weeks.
Estimated student time per week is 12 to 15 hours per course.
*Transfer credits of up to six hours from comparable programs may be allowed.
To Apply
Submit a completed online application.
Complete and print the Official Transcript Request  form and submit it to all previously attended schools with the appropriate fee.
Send all additional items via mail to:
Faulkner University
Attn: Graduate Enrollment
5345 Atlanta Hwy
Montgomery, AL 36109
Admission Requirements
Admission Requirements
Prospective students enrolling in the Master of Justice Administration program must meet the following admission requirements:
Completed graduate application.
A bachelor's degree in any field from a regionally accredited institution. You must provide transcripts from all institutions attended.
A minimum overall GPA of 2.5 on a 4.0 scale and a minimum major GPA of 3.0 on a 4.0 scale.
If a student's undergraduate transcript contains a 2.5 overall GPA or better, and a 3.0 or better GPA in the student's major, no graduate entrance exam is required.
The MAT will only be required if the transcript contains less than the required 2.5/3.0 GPA.
For students who have less than the 2.5/3.0 GPA minimum, the following formula will be used to determine admissions to the program: (Overall GPA * 330) + MAT score must = 1,250 or above
Three letters of recommendation with specific comments regarding the applicant's academic work, professional experience and ability to successfully complete graduate study. The letters are usually from the applicant's faculty members or supervisory personnel.
A letter of intent (300 word minimum) specifying the applicant's interest in the program plus the applicant's academic and professional background in preparation for graduate study.
A resume including education and work experience.
Tuition
2021-2022 Financial Information
| | |
| --- | --- |
| Tuition | $555 per semester hour |
| General Fee | $300 per semester ($200 if 11 hours or less) |
| Online Course Fee | $70 per semester hour |
| Applicable Course Fees | see full tuition and fee schedule |