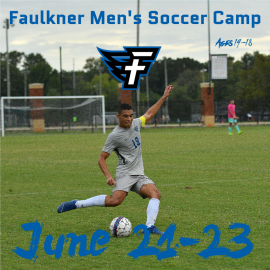 Dates: June 21 @ 12:30pm – June 23 @ 4:00pm
Location: Faulkner University 5345 Atlanta Hwy, Montgomery, AL 36109
Check-in: 12:30-1:30 in the Multiplex
Pick-up: Billy D Hilyer Stadium @ 4:00
What you get:
7 training sessions on new state of the art turf
Night sessions under the lights!
Technical and tactical sessions by current college/university coaches
Matches every session!
2 nights in University dorm
6 meals in University cafeteria
Athletic trainers at every session/training room available between sessions
Camp dri-fit and various awards/prizes throughout camp
College recruiting talk with college coaches and admission counselors
All Camp team announced after final session
Video filming and streaming of matches during camp
Digital Camp schedule provided at check-in
June 21, 2021 - June 23, 2021




12:30 pm - 4:00 pm
Address:
5345 Atlanta Highway
,
Montgomery
,
Alabama
,
36109
Description:

Home to Faulkner Eagles football.
JMS Field is also used as the practice facility and as the home field for the Faulkner Men's and Women's soccer teams.
See "9. John Mark Stallings Football Field" on the Campus Map PDF.