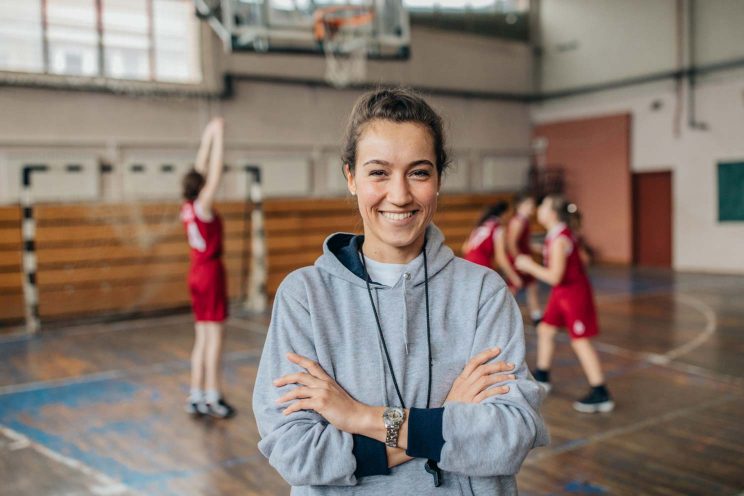 At Faulkner University in Alabama, students can grow in their faith and develop the skills they need to embark on their careers. Our Bachelor of Science in Sports, Recreation, and Fitness Management is an interdisciplinary program that explores health and wellness, management, marketing, and more. Find out more about earning your sports management degree.
Curriculum Overview
Encompassing a total of 121 hours, the B.S. in Sports, Recreation, and Fitness Management program helps prepare students for a future in sports management. This well-rounded program balances philosophical and theoretical concepts with real-world management principles and offers a foundation rooted in Christian values. In addition to student-chosen electives and departmental selections, the coursework includes:
Core Curriculum
Christian Literacy: 18 hours

Biblical Worldview I: 3 hours
Biblical Worldview II: 3 hours
Understanding Biblical Literature: 3 hours
Christian Ethics: 3 hours
Marriage and Family: 3 hours
Christian Cultural Heritage: 3 hours

Cultural Heritage Legacy: 9 hours

Western Tradition I: 3 hours
Western Tradition II: 3 hours
American Cultural Heritage: 3 hours

Mathematics and Science: 7 hours

Finite Mathematics or higher: 3 hours
Natural Science requirement: 4 hours

Information and Communication: 9 hours

English Composition I: 3 hours
English Composition II: 3 hours
EH 2301, EH2303, or EH 2304: 3 hours

Personal and Social Literacy: 7 hours

Lifetime Fitness: 3 hours
Faulkner Foundations or FAF 2111: 1 hour
Macroeconomics: 3 hours
Professional Literacy
Discipline Required Courses: 39 hours

Functional Anatomy Movement: 3 hours
Health Nutrition: 3 hours
Foundations of PE/SM: 3 hours
Individual and Dual Sports: 3 hours
Team and Rec Sports: 3 hours
Kinesiology: 3 hours
Advanced First Aid and CPR: 3 hours
Exercise Physiology: 3 hours
Prevention and Treatment: 3 hours
Ethics in Leadership in SRF: 3 hours
Sports Management Internship: 3 hours
Sport, Rec, Fitness Practicum: 3 hours
Sports Psychology: 3 hours

Departmental Requirements: 17 hours

Conceptual PE: 1 hour
Foundations of HEAL: 1 hour
Financial Principles I: 3 hours
Legal Aspects of Kinesiology: 3 hours
Personal Training Cert or Group Fitness Cert: 3 hours
Principles of Management: 3 hours
Principles of Marketing: 3 hours
Finding Your Purpose at Faulkner University
The field of sport management is vast, offering several opportunities for rewarding careers. Students enrolled in our B.S. in Sports, Recreation, and Fitness Management program learn the skills they need to take the lead in their area of expertise. Common career paths for students with a sports management degree include:
Fitness facility manager
Tourism and resort planner
Community recreation supervisor
Campus activities coordinator
Health and wellness director
Parks and recreation leader
Faith-based recreation minister
Fitness instructor
Coach
Sports business professional
At Faulkner University, we pride ourselves on our Christian heritage. It helps our students find fellowship and adds deeper meaning to the work they do throughout our programs. Graduate and undergraduate students find life at our Christian university fulfilling, as it focuses on education and integrity of character in a positive, welcoming environment. We currently offer more than 70 degree programs, including several online programs, to accommodate students with diverse needs and goals.
Earn Your B.S. in Science in Sports, Recreation, and Fitness Management
Invest in a bright future at Faulkner University today. While based in Montgomery, AL, we also have campuses in Mobile, Birmingham, and Huntsville and offer degree programs online. If you're ready to begin your journey with us, apply online now or request more information about our sports management degree program.