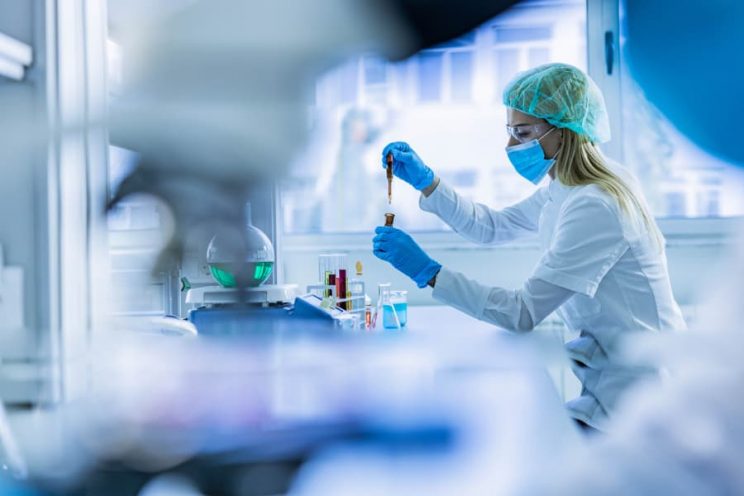 Housed in the Department of Natural and Physical Sciences within our College of Arts and Sciences, Faulkner University's Bachelor of Science in Biology program prepares students in Alabama for careers, research opportunities, and advanced training in a wide variety of biological sciences. From zoology to botany, microbiology, and related subareas, our B.S. in Biology curriculum also fosters an appropriate background for graduates entering pre-professional studies pertaining to human health, including medicine, dentistry, ophthalmology, physical therapy, nutrition, and pharmacy. It also equips students with the necessary knowledge to work in animal science, medicine, agronomy, food science, forensic science, anthropology, and much more.
About the Curriculum
Led by our esteemed faculty members, our B.S. in Biology features comprehensive courses that offer a broader, deeper understanding of the structures, functions, and complex interrelationships of living things. The 123-hour curriculum is designed as follows:
Core Curriculum (50 Hours)
Christian Literacy: 18 hours

Biblical Worldview I: 3 hours
Biblical Worldview II: 3 hours
Understanding Biblical Literature: 3 hours
Christian Ethics: 3 hours
Marriage and Family: 3 hours
Christian Cultural Heritage: 3 hours

Cultural Heritage Literacy: 9 hours

Western Tradition I: 3 hours
Western Tradition II: 3 hours
American Cultural Heritage: 3 hours

Mathematical and Scientific Literacy: 7 hours

Precalculus Algebra (or higher): 3 hours
BIO 1301 (or higher) with lab: 4 hours

Information and Communication Literacy: 9 hours

One of the following courses:

EH 2301: 3 hours
EH 2303: 3 hours
EH 2304: 3 hours

English Composition I: 3 hours
English Composition II: 3 hours

Personal and Social Literacy: 7 hours

Lifetime Fitness: 3 hours
Faulkner Foundations or Faulkner Foundations (Transfer): 1 hour
Approved Social Science Course: 3 hours
Professional Literacy (65 hours)
Discipline-Required Courses: 35 hours as follows:

Principles of Biology II/Lab: 4 hours
Bioethics Seminar: 1 hour
Genetics/Lab: 4 hours
Biology Internship: 3 hours
Scientific Research: 3 hours
Biology Electives: 20 hours

Departmental Requirements: 30 hours as follows:

Statistics: 3 hours
University Physics I/Lab or General Physics I/Lab: 4 hours
General Chemistry I/Lab: 4 hours
General Chemistry II/Lab: 4 hours
Organic Chemistry I/Lab: 4 hours
Organic Chemistry II/Lab: 4 hours
Biochemistry I or Approved Elective: 3 hours

General Electives: 8 hours
B.S. in Biology students will also earn college internship credit in the specialized bio-related area that appeals to them most, equipping them with real-world experience to help them thrive after graduation.
Break into the Field of Biology with Faulkner University
With the pre-professional curriculum offered by our B.S. in Biology program, students can customize their degree plans and take advantage of an uplifting educational experience rooted in Christian principles. Along the way, they also get to enjoy the enriching student life opportunities offered on our campuses in Montgomery, Birmingham, Huntsville, and Mobile, Alabama. For more information, contact Faulkner University, or apply online today.