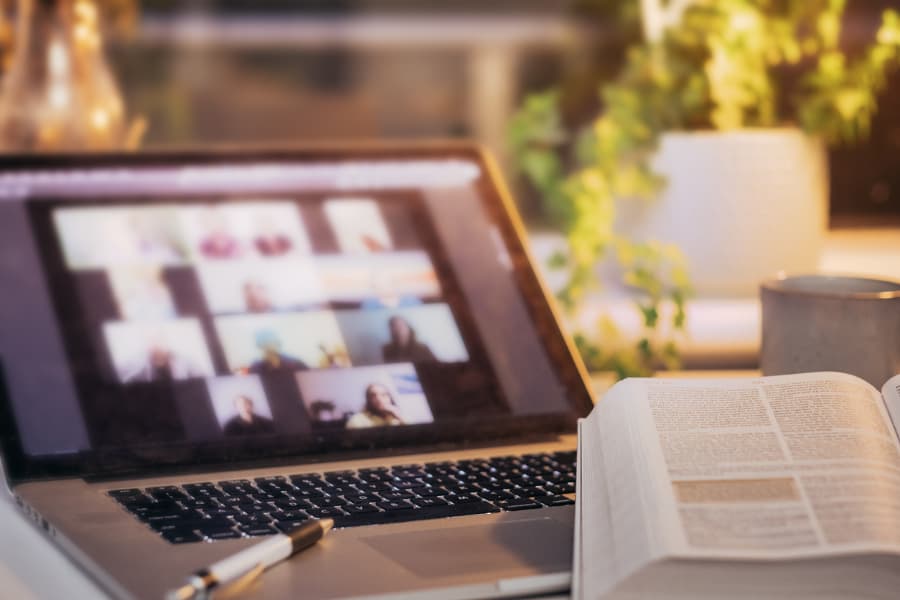 At Faulkner University's V.P. Black College of Biblical Studies, our students in Montgomery, Alabama, have ample opportunities to immerse themselves in the teachings of the Bible. We also offer several Biblical studies degree programs, including a Bachelor of Arts in Biblical Studies (Ministry Track).
About the Curriculum
To prepare students to be effective communicators of the Word of God, this undergraduate ministry degree from Faulkner University features a comprehensive class structure. Comprised of both core and elective courses, students will complete a total of 122 hours to graduate, including courses in the following subjects:
Christian Literacy
Offering an understanding of the Christian background, these core courses examine the life of Christ, Book of Acts, Pentateuch, and marriage and family relations.
Cultural Heritage Literacy
With a look into the Christian religion in modern culture, our professors explore Western tradition and American heritage.
Mathematical and Scientific Literacy
Comparing the Christian view as it pertains to science, these featured courses include Finite Mathematics and electives that carry an additional lab requirement for detailed study.
Information and Communication Literacy
These courses are designed to help the student be able to properly and eloquently translate the Bible to the modern world.
Personal and Social Literacy
Courses like Lifetime Fitness, Faulkner Foundations, and Introduction to Psychology offer a view of society through a Christian lens.
Professional Literacy
Diving into the business of ministry work, these departmental requirements offer instruction and guidance in a variety of helpful subjects including:
Orientation to Biblical Studies
Biblical Interpretation
Survey of Church History
Preparing and Delivering Bible Lessons
Practical Evangelism and Missions
The Restoration Movement in America
Critical Issues of the Bible
Biblical Studies and Christian Ministry
Discipline-Specific Course Requirements
Connecting the Biblical education students have received from studies throughout the program, these courses put practice into action. Finishing off these requirements are electives from either Biblical or foreign language studies, from textual courses to Biblical Hebrew, Greek, and Spanish.
Become Inspired by Experienced Educators
An important aspect of education at Faulkner University is the integration of a Christian worldview present in all topics of study we offer. Students of the V.P. Black College of Biblical Studies especially can enjoy a distinguished roster of faculty members, who are dedicated to inspiring those pursuing ministry careers and devoting themselves to the Church. Through dedicated study, our mission with this B.A. in Biblical Studies (Ministry Track) program is to educate and inspire confidence in preachers and teachers of the gospel.
Start Earning Your B.A. in Biblical Studies (Ministry Track) from Faulkner University
If you are interested in making an educational commitment to the Church and Christian ministry, consider Faulkner University's B.A. in Biblical Studies (Ministry Track). For more information about this ministry degree, contact us today, and if you're ready to get started on the track to a rewarding career, apply online now.