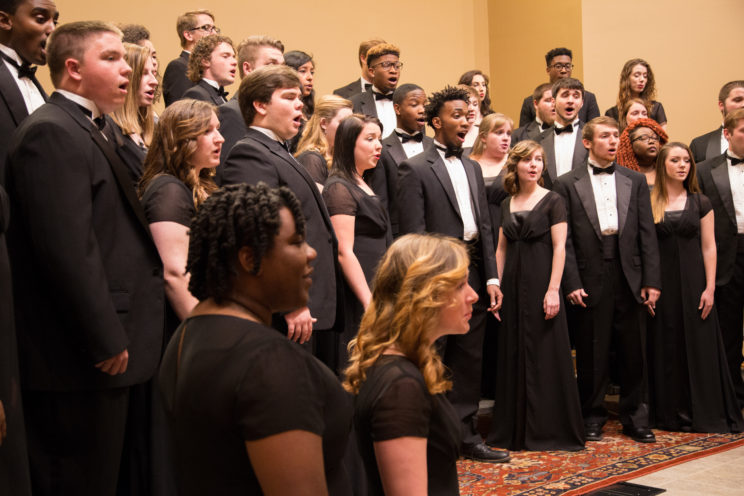 Our Music Department is an important part of the Christian faith-based learning community at Faulkner University. Students who pursue a music degree lift their voices to glorify God and can often be heard on campus with the Faulkner Singers and University Chorus. With a Bachelor of Arts (B.A.) degree in Music – Choral Track, graduates are prepared to actively participate in the life of the arts, teaching and performing in professional, academic, and church settings. Many students also go on to pursue advanced degrees in colleges and universities around the world.
Goals of Our Music Program
To be admitted into the music program, all students must take a Music Theory Entrance Exam and pass an audition on their primary instrument. During the choral music degree program, students are required to complete the following:
Attend student recitals and university-sponsored concerts
Perform in student recitals and serve on juries while receiving private instruction
Pass the Piano Proficiency Exam
Take the ETS Major Field Test in Music during senior year
Complete an internship in a music-related field during senior year (96-hour minimum)
Perform a senior recital and prepare program notes/translations
Students who want to minor in music must take a minimum of 18 course hours, including six hours in upper-level courses.
Our Music Degree (Choral) Curriculum
The choral track curriculum at Faulkner University provides a thorough introduction to all aspects of choral performance. Our music courses encourage students to explore their musical interests and talents and also provide resources for in-depth study. A total of 124 course hours are required for graduation. Twelve hours are required for private lessons, and eight of those course hours must be upper division. Additionally, of the eight hours required for ensemble, four must be upper division.
Core Curriculum (50 hours)
Christian Literacy: 18 hours

Biblical Worldview I: 3 hours
Biblical Worldview II: 3 hours
Understanding Biblical Literature: 3 hours
Christian Ethics: 3 hours
Marriage and Family Relations: 3 hours
Christian Cultural Heritage: 3 hours

Cultural Heritage Literacy: 9 hours

Western Tradition I: 3 hours
Western Tradition II: 3 hours
American Cultural Heritage: 3 hours

Mathematical and Scientific Literacy: 7 hours

Finite Math (or higher): 3 hours
Science and Accompanying Lab: 4 hours

Information and Communication Literacy: 9 hours

English Composition I: 3 hours
English Composition II: 3 hours
English/American Literature: 3 hours

Personal and Social Literacy: 7 hours

Personal Literacy:

Lifetime Fitness: 3 hours
Faulkner Foundations (or FAF 2111): 1 hour

Social Literacy:

Choose from several departments with advisor: 3 hours

Foreign Language Literacy: 6 hours

Two 3-hour courses in the same language
Professional Literacy (57 Hours)
Disciplined Required Courses:

Sight-Singing and Ear-Training I: 1 hour
Sight-Singing and Ear-Training II: 1 hour
Class Piano I: 1 hour
Class Piano II: 1 hour
Sight-Singing and Ear-Training III: 1 hour
Sight-Singing and Ear-Training IV: 1 hour
Music Literature: 2 hours
Music Theory I: 3 hours
Music Theory II: 3 hours
Piano Proficiency Exam: 0 hours
Orchestration and Arranging: 2 hours
Music History I: 3 hours
Music History II: 3 hours
Music History III: 3 hours
Music History IV: 3 hours
Choral Conducting: 3 hours
Senior Recital: 0 hours
Christian Aesthetics and Philosophies of Fine Arts: 3 hours
Music Internship: 3 hours
Lower-Level Private Applied Lessons: 4 hours
Upper-Level Private Applied Lessons: 8 hours
Lower-Level Ensemble University Chorus: 4 hours
Lower-Level Ensemble Faulkner Singers: 4 hours
Upper-Level Ensemble University Chorus: 4 hours
Upper-Level Ensemble Faulkner Singers: 4 hours

General Electives: 11 hours
Please note: Credit earned through membership in ensembles not sanctioned by the Department of Music will not be counted toward graduation.
Opportunities for Music Majors
Students in the music degree (choral) program can find many opportunities, both on campus and within the curriculum. Integrating a Christian worldview into a philosophy of musical arts, our students prepare for exciting futures in music as they learn, create, and perform. Working with experienced, professional faculty in our Music Department, they perform at athletic games, concerts, and special events around Montgomery, Alabama. Going on tours that range from Texas to Washington, D.C., many Faulkner University choral students also perform in schools and churches.
Further professional opportunities include participating in the National Association for Music Education (NAfME) and attending its annual conference. Music department students also attend the Christian College Choral Festival. During the required internship, students can learn what it's like to work in recording studios, churches, and high schools.
Earn Your Choral Music Degree at Faulkner University
Embrace your love of singing and music. Join with other musicians on our beautiful campus in Montgomery, Alabama, to earn a Bachelor of Arts degree in Music – Choral Track. Request info about the music program or apply today.