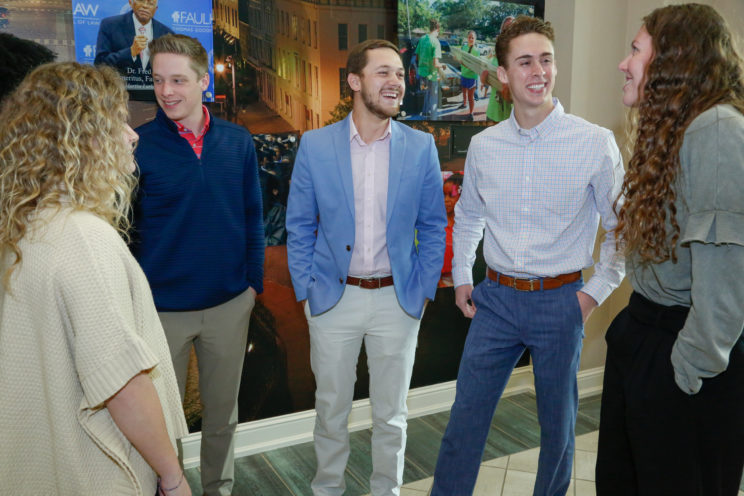 An education in business administration offers a wide perspective on overseeing and managing a business enterprise, touching on subjects like accounting, finance, data analysis, and much more. That's where the Harris College of Business and Executive Education at Faulkner University comes in. We offer a Bachelor of Science in Business Administration degree program, which readies students with the fundamental knowledge and skills needed for a successful career in business. This program is offered at our main campus in Montgomery, Alabama, as well as our satellite campuses in Birmingham, Mobile, and Huntsville.
Program Objectives
Faulkner University's Bachelor of Science in Business Administration is designed to provide students with a wide range of educational experience and prepare them for their careers. The program aims to:
Expose students to a common body of knowledge across the following business disciplines:

Accounting
Economics
Quantitative analysis
Finance
Business law
Management
Information systems
Marketing

Develop strategic decision-making skills in students for use in real-world practice
Cultivate the effective oral and written communication skills that are necessary for succeeding in a business environment
Incorporate an education of ethics and conflict resolution with a Christian lens, which will serve to inform students' decisions in business and information systems course content
Prepare students with the building blocks for a successful career in business, with a focus on the skills, knowledge, and experience necessary for administrative work
Provide the framework from which students may continue their education in business administration, whether they choose to pursue an MBA or other graduate studies
More than half of the credit hours necessary for program completion come from core courses in accounting, business, management, and marketing. Faulkner University also allows students the flexibility to select from several different areas of emphasis and electives while they complete their degree. Finally, the program includes a Christian-based liberal arts component, which is designed to enlighten students on a broad range of social and cultural topics.
Learn and Grow at Faulkner University
With a bachelor's in business administration, students will leave Faulkner University prepared to pursue further education or begin a successful career in business. The experience, knowledge, and skill sets imparted by this program are the foundation for many opportunities the world has to offer. Also, a Faulkner University education in business administration will not only prepare students for administrative work, but the noteworthy liberal arts component and Christian perspective will ready students for the world at large.
Apply Now or Request More Information
If you are interested in pursuing a college degree in business administration and ready to take the next step, apply to Faulkner University today. Or, if you're curious about the program and the future it can offer you, send us an information request. We'll gladly send you materials about Faulkner University, the business administration degree program, and the other degrees you can pursue with us.