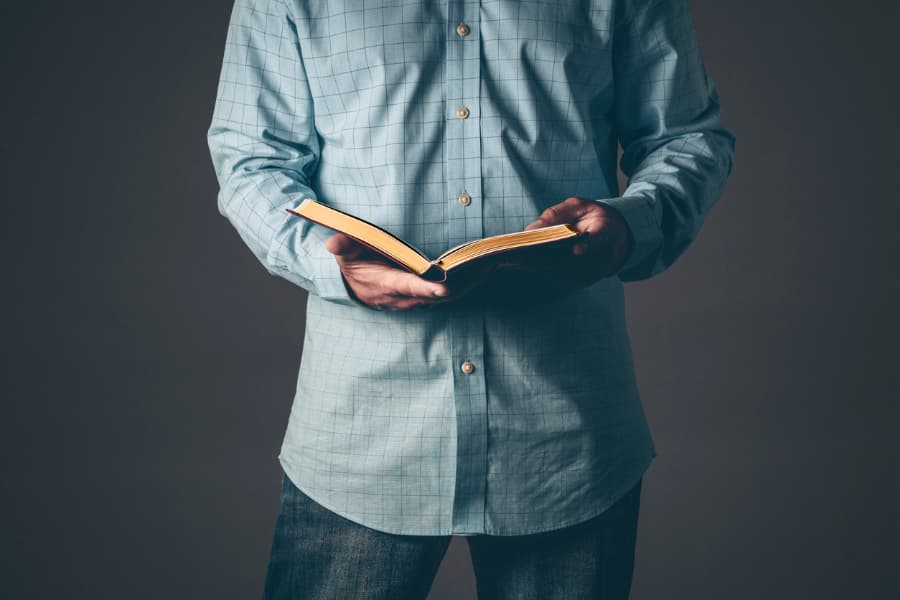 All students at Faulkner University will receive an education in the Word of God, and for those who would like to deepen their study, we are proud to offer a robust Bible degree. Housed in our V.P. Black College of Biblical Studies in Montgomery, Alabama, the Bachelor of Arts in Biblical Studies (Biblical Text Track) degree program provides students with the knowledge and tools necessary to research and study the Bible at the graduate level and beyond.
Program Overview
Faulkner University's B.A. in Biblical Studies (Biblical Text Track) will help students apply Christian meaning to their careers and everyday life upon graduation. Additionally, this program offers a strong academic background for those students who wish to take their education further with a graduate degree in Biblical studies.
Requiring 122 hours of course instruction for graduation, this program covers a broad spectrum of Christian subjects to provide students with a comprehensive understanding of the Bible. Combining an enriching 44 hours of core concepts with interesting electives and more, students will enjoy a dynamic curriculum with course instruction through the following approaches:
Christian Literacy
Christian literacy courses are designed to offer an overview of Christian values, with courses including:
Life of Christ
Book of Acts
Pentateuch
Marriage and Family Relations
Cultural Heritage Literacy
These courses cover Western tradition and American cultural heritage, as well as explain Biblical meaning as it pertains to different demographics.
Mathematical and Scientific Literacy
Creating a foundation for scientific understanding in conjunction with Biblical values, students are required to study Finite Mathematics (or higher) and choose from electives that include a lab portion.
Information and Communication Literacy
This section teaches students to be effective communicators through English Composition and higher-level courses.
Personal and Social Literacy
Providing students with helpful instruction on the basics of a healthy life, the courses in this area include:
Lifetime Fitness
Faulkner Foundations
Introduction of Psychology
Departmental Requirements
Offering well-rounded teachings in the professional literacy of Bible study, these courses cover Biblical interpretation, the history of the Church, how to prepare and deliver Bible lessons, and so much more.
Discipline-Required Courses
In the final curriculum segment, students will immerse themselves in the teachings of language crucial to Biblical writing with courses like:
Elementary New Testament Greek I
Elementary New Testament Greek II
Elementary Biblical Hebrew I
Elementary Biblical Hebrew II
Textual Electives
Why Study at Faulkner University?
At Faulkner University, we believe in providing every student education through the Christian worldview. This provides our distinguished faculty with the opportunity to offer an especially focused education to students interested in further dedication to the Bible and ministry services. Through the V.P. Black College of Biblical Studies, our staff is proud to represent the doctrines, disciplines, and values common to a cappella Churches of Christ.
Pursue Textual Biblical Studies with Faulkner University
Faulkner University is proud to offer Bible degrees like our B.A. in Biblical Studies (Biblical Text Track), as well as other undergraduate and graduate programs, through our Montgomery, Alabama campus. Apply for this program online today, or contact us for more information.