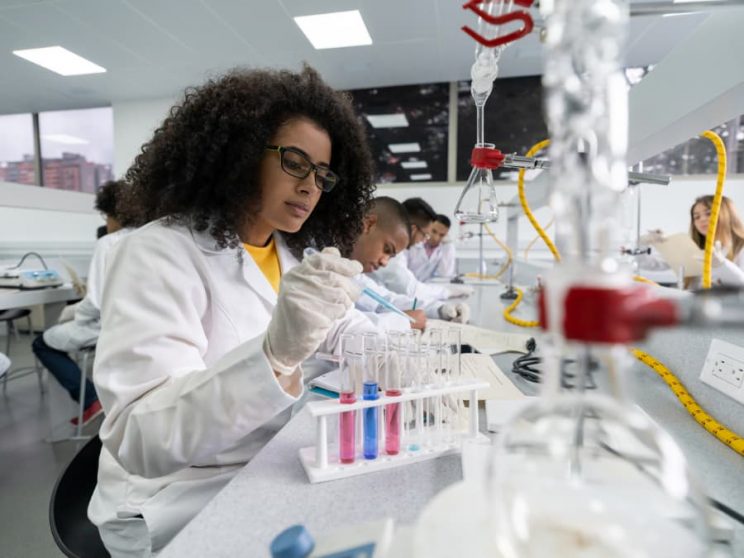 A bachelor's degree in biology offers students in-depth study in the functions and structures of living organisms, as well as their complex relationships. Upon graduation, they are well-prepared for further study or employment in countless fields, from foodservice and agronomy to forensics, microbiology, and research. Additionally, earning a degree in biology enables application to a variety of pre-professional programs in medicine, dentistry, pharmacy, and other healthcare fields.
At Faulkner University's campus in Montgomery, Alabama, students in our Bachelor of Arts in Biology program enjoy the same rigorous scientific education and comprehensive curriculum with courses in mathematics, culture, communication, and the Christian faith as provided by our Bachelor of Science in Biology degree. However, with greater opportunities for elective courses, the B.A. in Biology degree allows students to pursue a minor alongside their primary degree program.
About the Curriculum
The B.A. in Biology degree includes 122 credit hours of classroom and laboratory learning. Students will also earn college internship credit for real-world experience in the biology-related field of their choice. Additionally, 15 hours of electives make it possible to add a minor to your degree program for a more personalized experience. Coursework includes:
Core Curriculum (50 hours)
Christian Literacy: 18 hours

Biblical Worldview I: 3 hours
Biblical Worldview II: 3 hours
Understanding Biblical Literature: 3 hours
Christian Ethics: 3 hours
Marriage and Family: 3 hours
Christian Cultural Heritage: 3 hours

Cultural Heritage Literacy: 9 hours

Western Tradition I: 3 hours
Western Tradition II: 3 hours
American Cultural Heritage: 3 hours

Mathematical and Scientific Literacy: 7 hours

Precalculus Algebra: 3 hours
Principles of Biology I or higher with accompanying lab: 4 hours

Information and Communication Literacy: 9 hours

Lifetime Fitness: 3 hours
Faulkner Foundations or Faulkner Foundations – Transfer: 1 hour
Foreign Language Literacy (6 hours)
Requires two 3-hour courses in the same language
Professional Literacy (55 hours)
Discipline Required Courses: 38 hours

Principles of Biology II/Lab: 4 hours
Bioethics Seminar: 1 hour
Genetics/Lab: 4 hours
Biology Internship: 3 hours
Scientific Research: 3 hours
Biology Electives: 23 hours (see your advisor for recommended courses)
Departmental Requirements (17 hours)
Statistics: 3 hours
General Chemistry I/General Chemistry I Lab: 4 hours
General Chemistry II/General Chemistry II Lab: 4 hours
Developmental Psychology: 3 hours
Abnormal Psychology or approved Psychology elective: 3 hours
General Electives (12 hours)
See your advisor for more information
Student Life at Faulkner University
Faulkner University is the ideal place for undergraduate students to grow as scholars, individuals, and Christians. Our institution was founded in 1942 and has since grown to offer more than 70 majors, seven online degree programs, and 15 graduate degrees. Whether you're seeking immediate entry into the workforce upon graduation or further study, our dedicated faculty and rigorous academic standards will ensure you're well prepared for whatever the future holds.
Beyond academics, life at Faulkner University is filled with friendship and Christian fellowship. Students enjoy a variety of extracurricular opportunities on our small, friendly campus, including service projects, student organizations, musical groups, intramural sports, and more. There's never a shortage of things to do or chances to learn and grow.
Learn More About the B.A. in Biology Degree at Faulkner University
Enjoy the freedom needed for a truly personalized bachelor's degree with the B.A. in Biology at Faulkner University. For additional information about the program, campus life, and financial aid, request more information today. Ready to begin your Bachelor of Arts in Biology degree? Apply online now.