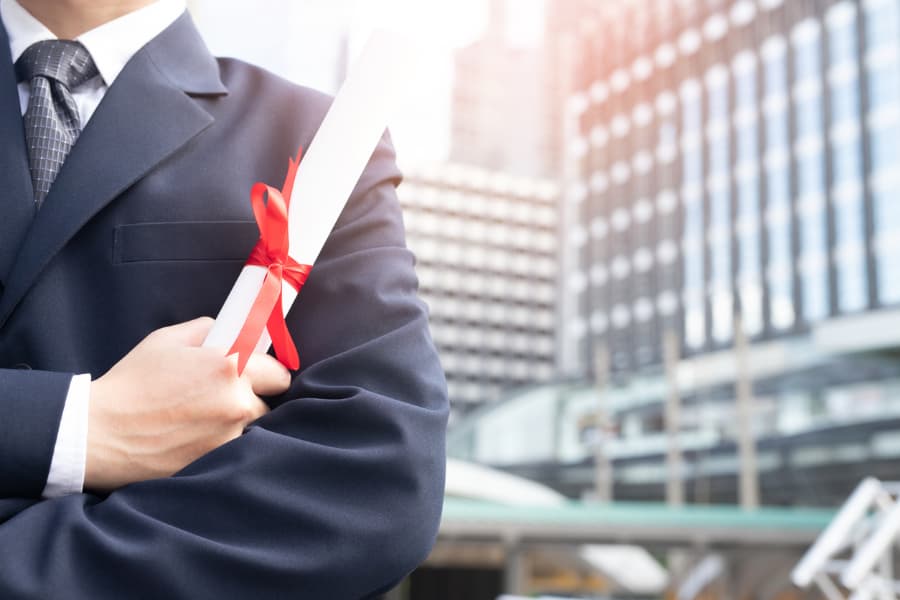 Thinking about getting a business degree? You're not alone. Business degrees are the foundation of a variety of careers, many of which are highly in demand in today's world. Faulkner University online students and students at our four Alabama campuses can receive a Bachelor of Science in Business or a Bachelor of Science in Business Administration. Studying business operations, management, finance, marketing, sales, and other key skills gives our students an edge when seeking further education or applying for a business-related job.
10 In-Demand Jobs That Students With a Degree in Business Could Pursue
Is a business degree worth it? Decide for yourself when you see ten exciting and growing career paths that you could choose after you receive a business degree.
Medical and Health Services Manager
As a business manager in the healthcare field, you will provide vital work to keep the healthcare facility operating smoothly. This could include managing medical records, scheduling healthcare workers, and communicating with healthcare insurance companies. This job requires close attention to detail, close attention to relevant compliance laws, and an interest in healthcare.
Financial Manager
Businesses of all types need managers to oversee the financial side of their companies. From running and analyzing financial reports to developing procedures that help the business meet its financial goals, a financial manager is key to a company's success. If you are good with numbers and analytics, this path can lead you to higher advancements in the future.
Human Resources Specialist
A human resources specialist works closely with management while recruiting and training new employees. They also manage wage compensation, work benefits, and work-related complaints from employees. This career path is good for people who enjoy interacting with other people, show a great deal of tact, and can be flexible.
Business Careers in Retail
Retail is booming, and a business degree can give you a better understanding of global trading, banking, retail business operations, finance, marketing, management, and more. A business career in retail could be an office-based job, a traveling position, or a remote position. There are many options available to those interested in retail.
Business Consultant
Businesses rarely work well without the help of other businesses. As a business consultant, you can assist managers, showing them how to reach their goals efficiently. Consultants usually work in a team environment, have a variety of business knowledge and skills, and have a talent for looking at the big picture to see where something could be improved or changed.
Accountant
An accounting role in a business is a great starting place for business students with financial skills. This job includes processing data, running and evaluating reports, and finding errors. Accountants are good with numbers and have good attention to detail. Moving up to a higher position in many companies is definitely a possibility.
Renewable Energy Technology Manager
Renewable energy sources, such as wind and solar, are desirable in today's eco-conscious business world. It makes sense that people with business degrees can find jobs related to energy technology and engineering. Joining the management team in this exciting, leading-edge career path is one way to make a positive difference and be an influential business leader.
Executive Assistant
Some people are natural assistants. That doesn't mean you need to settle for lesser jobs. An executive assistant position keeps you at the head of important companies, helping executive team members stay on top of their work, taking phone calls, running reports, and performing other key tasks.
Business Operations Manager
A business operations manager understands the way their business operates from the inside out. This knowledge allows the manager to create strategies for improvement, negotiate contracts with other businesses, and make policies for the benefit of the employees. Depending on the company, business operations managers may need a higher business degree or may have to work their way up to this position.
Sales Consultant
Sales consultants have a high understanding of what their company sells and what their clients need. They usually have excellent people skills and the ability to negotiate. Sales consultants are needed in virtually every industry, making this a career that is widely available no matter what you are interested in.
Go Get a Business Degree at Faulkner University
If you are looking for a solid career base that could lead in many directions, apply to Faulkner University, with campuses in Montgomery, Birmingham, Mobile, and Huntsville, AL. We also offer an excellent online program for a Bachelor of Science Degree in Business, which allows you to study at home and receive your degree in as little as one year. At Faulkner University, we provide each student with the building blocks needed to build a successful business career.
Request more information today and begin your journey toward an outstanding career.