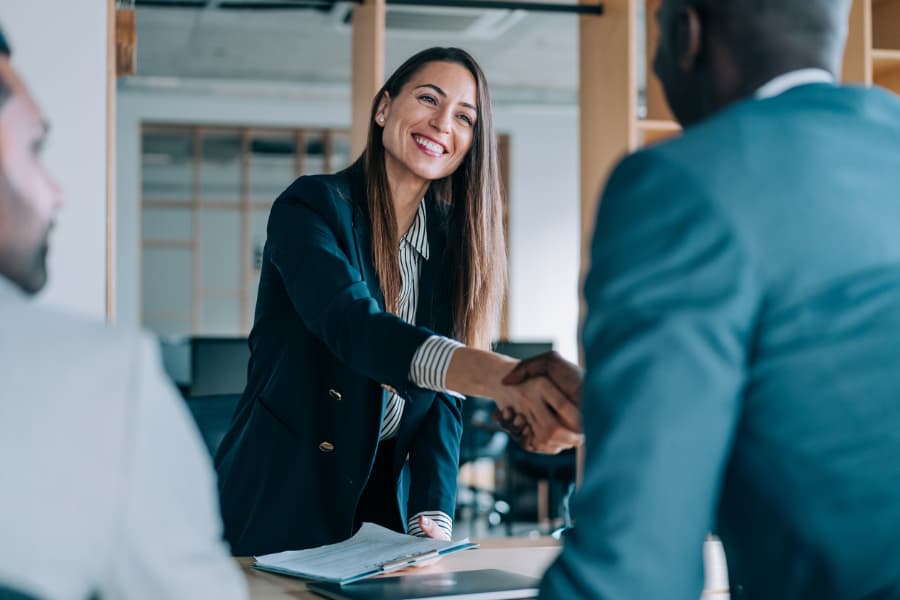 As technology advances and the workforce evolves, organizations depend more on human resources (HR) professionals to recruit, retain, and engage employees. Human resources managers work in almost every industry and oversee recruiting and managing employees.
Taking online classes or on-campus courses to become a human resources manager can lead to a highly lucrative career. If you enjoy the business world and place a premium on assisting others in the workplace, you can start your HR manager career at Faulkner University, a Christian liberal arts university based in Montgomery, AL.
Steps to Become a Human Resources Manager
To become a human resources manager, obtaining the best education and professional experience is a crucial first step. There are many ways to become an HR manager, but if you want to be a leader in this field, you should follow these fundamental steps.
Graduate From High School
High school students can prepare for careers as human resources professionals early, in some cases. If your school offers these courses, enroll in business, economics, psychology, mathematics, speech, technical communications, and professional communications courses. Before enrolling in a university degree program, earn college credits in relevant subjects through a community college or advanced placement (AP) courses.
Earn a Bachelor's Degree in Human Resource Management
A bachelor's degree in human resource management is crucial to becoming an HR manager. At Faulkner University, you can earn a bachelor's degree in human resource management entirely online through an accelerated, success-oriented format.
Our Bachelor of Science in Human Resource Management (HRM) online program enables you to earn a degree in just one year, allowing you to enter the workforce or enhance your career prospects without delay. The coursework addresses the growing impact of globalization, outsourcing, and constant technological change, preparing you to enter the field with a fresh perspective and the technical and theoretical knowledge necessary to produce results on the job.
Complete an Internship Program
Internships will allow you to gain real-world experience. It is the ideal way to begin applying the practical knowledge that is the focus of bachelor's degree programs in human resources management.
If you do not get the opportunity to participate in an internship program while in school, many companies now offer them to recent college graduates. Internships in human resource management provide an opportunity to observe how the industry operates. In addition, these programs provide prospective HR managers with the opportunity to identify, hone, and develop essential interpersonal skills.
Gain HR Work Experience on the Job or at Seminars
After earning a bachelor's degree in human resource management, consider joining the workforce for practical experience. Any advanced or high management position in human resources essentially requires confirmation of seminar attendance or relevant work experience.
What Do HR Managers Do?
Human resources managers are leaders inside HR departments, supervising the employee-care functions of a firm. Many of the essential responsibilities of human resources managers are comparable across firms, although the specifics of the position can differ based on the workplace. Some of their tasks include:
Advising company executives on human resource issues
Supervising and coordinating employees' work
Overseeing the recruitment, interview, and hiring process
Planning and evaluating employee benefits
Managing staff issues and disciplinary processes
Maximizing employees' talents through proper planning
How Much Do Human Resource Managers Earn?
According to the U.S. Bureau of Labor Statistics (BLS), the median annual salary for human resource managers is $126,230. However, this median wage could vary with different specialization courses and certifications that add value.
The BLS also projects the employment of human resources managers to grow by 7 percent from 2021 to 2031, about as fast as the average for all occupations. About 16,300 jobs for human resources managers are predicted each year, on average, across the decade. Many opportunities are likely to emerge from the need to replace workers who shift to alternative occupations or retire.
Is Human Resource Management a Good Job?
If you fancy working with people and want to play a significant role in a company's long-term success, then working as a human resource manager can be a great job for you. It can also be a rewarding and highly collaborative occupation since HR managers influence, develop, and implement organizational strategies that positively impact workers.
Start Your Human Resource Management Career at Faulkner University
Human resource management is a reputable career that can be highly rewarding, especially if you love working with people. HR managers have emerged as key participants in not only the daily administration of a workforce but also in an organization's long-term planning.
Faulkner University welcomes you to pursue a career in human resource management. We offer online and on-campus programs in Montgomery, AL. We also have satellite campuses in Birmingham, Mobile, and Huntsville, AL. Contact us or request information about our online Bachelor of Science in Human Resource Management program. To start the program now, apply online for free.