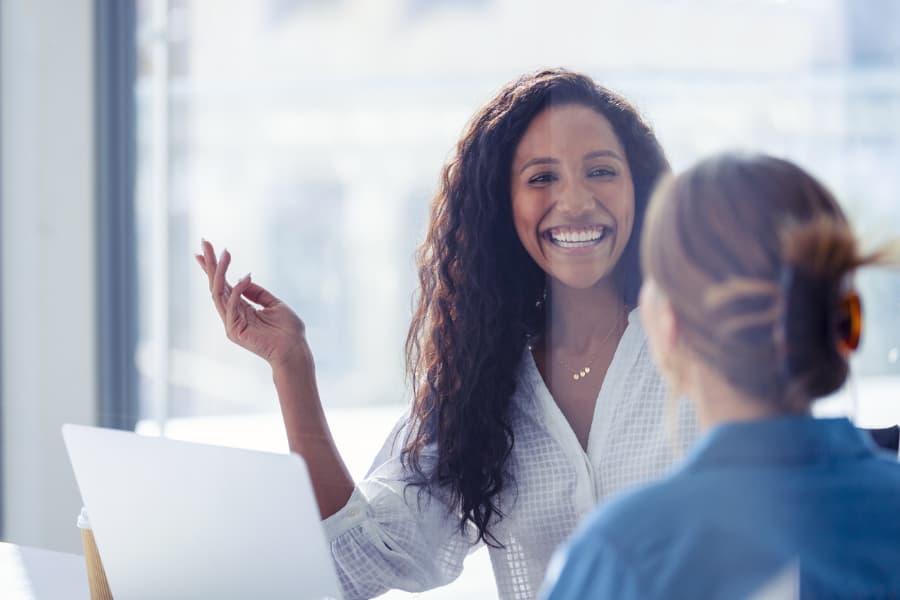 Companies rely on human resource managers to lead the human resource (HR) department and oversee the administrative aspect of the company. Many different types of companies hire human resource managers, so Faulkner University online students and students at the Montgomery, AL, campus are likely to find a variety of options available to them upon graduation. Human resource management includes tasks ranging from interviewing new applicants to ensuring the company's practices comply with current laws and regulations.
Learn what a human resource manager does at work and how they benefit their company and fellow employees.
Tasks That a Human Resource Manager Does
Human resource managers normally handle a variety of duties, including:
Lead the human resources department: This ensures every member of the HR department is doing their job efficiently. The human resource manager gives support and assistance wherever needed in the department.
Recruit new employees: This task involves actively searching for new talent, handling interviews, and creating and implementing an onboarding process for the new employees.
Training: New employees often need some training for the tasks they are expected to perform. The human resource manager may build and implement a training program. Training programs may also be used for current employees whenever new technology is implemented in the workplace.
Provide performance evaluations: This task may be given to the human resource manager as a way for employees to better understand what they are doing well and where they could improve in their jobs. It is also a good opportunity for the human resource manager to listen to each employee and gain a better perspective on employee attitudes and issues.
Oversee employee disciplinary actions: This may include setting disciplinary policies in place, making sure they are enforced by management, and assisting in any termination of jobs.
Oversee payroll: Overseeing the payroll department ensures all payroll processes are being handled correctly. Human resource managers may oversee certain aspects of the payroll, such as bonus payments.
Oversee employee relations: This could include anything from mediating arguments that are disrupting the workplace to dealing with labor laws to building and implementing employee safety programs.
Facilitate communication between employees and company leaders: Many human resource managers act as a mediator between the employees and the management of the company, which may include scheduling meetings and addressing complaints.
Manage company compliance issues: Companies need to abide by certain standards, such as equal opportunity laws. The human resource manager ensures the company legally complies with federal, state, and local policies.
Most of the above tasks involve close collaboration with the executive leaders of the company. An effective human resource manager is on good terms with all company departments and helps establish the overall company culture.
Skills Human Resource Managers Need
The following skills are helpful for human resource managers to achieve success in their workplace:
Leadership skills: Not only are human resource managers leaders in the HR department, but they also need to lead and guide other departments to comply with certain policies.
Organizational skills: With so many tasks to accomplish, good organization is a must, as well as attention to detail.
Communication skills: Human resource managers need to be able to communicate with applicants, current employees, and company executives. This will likely involve communicating one-on-one, in front of a group, on the phone, in official letters, on social media, and through emails and text messages.
Problem-solving skills: Some of the company's toughest problems are solved by the human resource manager, who typically has good knowledge of what is going on in each department.
Conflict resolution skills: Human resource managers need to know how to diffuse and settle conflicts between employees safely and effectively.
Technological skills: Microsoft Office Suite and other management systems are usually part of a human resource manager's daily routine.
Faulkner University's human resource manager degree program helps develop these skills in students, so they will be ready for their day-to-day challenges.
Educational Requirements for Human Resource Managers
Most companies require a bachelor's degree in human resources or human resource management. Some companies prefer at least three years of experience in the field.
How You Can Become a Human Resource Manager
If you have a passion for people, communication, and organization, you may be interested in Faulkner University's Bachelor of Science in Human Resource Management online program. This accelerated learning program can be accomplished in as little as one year, so you can begin working sooner. You will learn how to perform the common tasks that human resource managers handle and develop new skills that will come in useful in the workplace.
Request information about our program, or apply now to Faulkner University, which is based in Montgomery, AL. We also have campuses in Birmingham, Huntsville, and Mobile, AL. Check out our other online degree programs that allow you to pursue your dreams from wherever you are.