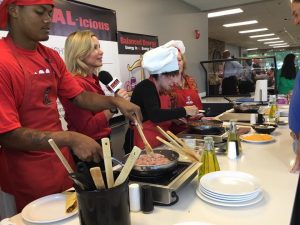 Wellness Week not only promoted the health of the mind, body and spirit of students and staff through a series of fitness classes and cooking demonstrations at Faulkner University, it was a way to highlight a new partnership with HEAL Alabama.
A nonprofit organization that emphasizes preventive health measures, healthy eating and lots of exercise, HEAL Alabama, or Healthy Eating Active Living, has teamed up with Faulkner and the department of exercise science and kinesiology. Faulkner University President Mike Williams is looking to HEAL as an opportunity for students to engage the community and curb the drastic percentage of children and adults suffering from obesity and diabetes.
Alabama is one of the leading states in obesity and diabetes. According to 2016 data from the Centers for Disease Control and Prevention, 16 percent of children ages 2 to 4 were found to be overweight and 15 percent were considered obese. In addition, 15.8 percent of adolescents were overweight and 17 percent were obese.
"HEAL has wonderful and rich goals to improve the lives of the citizens of this state and here at Faulkner University, we want to incorporate HEAL values in everything that we do to better prepare young men and women to live productive lives and go out into the community," Williams said.
Walking through the cafeteria, those filling their plates at breakfast, lunch or dinner will notice small HEAL Alabama logos by certain foods that qualify as foods rich in nutrients.
Several Faulkner students were wearing bright red HEAL shirts that denote those who have begun their own HEAL groups on campus.
Jonathan Hacker proudly wore his as he helped cook healthy turkey tacos for a live cooking demonstration in the cafeteria during Wellness Week.
"Our groups are willing to incorporate and teach healthy eating and active living," Hacker said.
"For instance we bring food ideas of what is healthy. You have your meat, dairy, fruits and vegetables and each one works a different body group like your eyes, your mental health, your skin, your muscle groups and your bones. We firmly believe that needs to be taken into greater consideration in life."
He joined several other students as HEAL's founder, Christy Swaid invited Birmingham's famous caterer and chef, Kathy Mezrano with Kathy G. & Company to tape a segment on ways to incorporate lean protein into "HEAL-icious" meals.
While HEAL Alabama, founded in 2002, is currently serving approximately 100 schools and 24,000 children across the state, Faulkner University is HEAL's first school-wide collaboration with a university.
"Faulkner is an essential learning lab to help us refine the most powerful way of stimulating public health," Swaid said. "We are so thankful Faulkner is the first to make this commitment and help us HEAL Alabama from the bottom up and the top down."
Faulkner students will act as HEAL's "foot soldiers" as students in the physical health department teach and volunteer at Davis Elementary, through internships and new curriculum, said Donna Clemons, the chair of exercise science and kinesiology at Faulkner.
"We would like for all of our education majors to be HEAL certified before they graduate so that way when they go out in the community and work, they can teach HEAL and help the community become healthier," Clemons. "Here, we focus on the mind, body and spirit and HEAL exemplifies that."