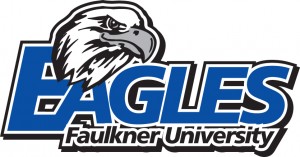 Alumni, students and friends of Faulkner University are invited to cheer on the Faulkner Eagles as the women's and men's basketball teams play on the road on November 2.
The Lady Eagles will head to Mobile to face the Jaguars of South Alabama while Faulkner's men will visit the Rambling Wreck of Georgia Tech. Both games will start at 7 p.m.
Anyone interested in coming to either game will have a chance to ride a bus that will leave from Faulkner University's campus at 2 p.m. the day of the games thanks to Alumni & Friends. Buses will be located in the Bible Building parking lot next to University Church of Christ. Come early to get your seat. The cost to reserve a seat on the bus and entrance to the game is $25, which is due by noon on October 30.
To make a payment via credit card call 334-386-7492 or 334-386-7254 or stop by the Alumni Office on the second floor of the Harris Business Building. Make checks payable to Faulkner University with notation Alumni Mobile trip. Those local to Mobile may contact our Alumni office for tickets.
Contact Robin Bradford and rbradford@faulkner.edu or Adam Donaldson at adonaldson@faulkner.edu for more information.