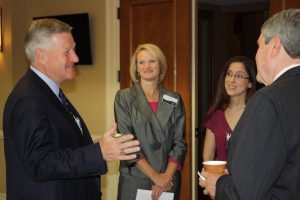 MONTGOMERY, Ala. – The day Mike and Lisa Williams discovered their son was diagnosed with autism, it felt as if a "bomb had gone off" in their home.
The news changed their lives, but it did not mean they would give up on their son, who is now 24 years old and living a full life.
Mike Williams, the president of Faulkner University, knows all too well the mixture of emotions that a parent feels when they are told their child will grow up with autism.
The Williams family is not alone. Since 2000, the number of children diagnosed with autism spectrum disorder, or ASD has more than doubled according to the Center for Disease Control and Prevention.
Now, about one in every 68 children are identified with ASD and Faulkner is working to make sure their chances for a higher education does not suffer.
It's one of the reasons why Williams and his family are invested in spreading awareness and pooling resources together to help other families with autistic children.
At Faulkner's Annual Benefit Dinner on Oct. 5, Williams announced that plans are underway to create an autism center on campus for 2019, which would combine the resources from the College of Education with new Master's and doctoral programs in speech-language pathology and physical therapy respectively. Currently, Faulkner has reached out to Texas Tech University's Burkhart Center for Autism Education and Research to help with "best practices" and moving forward in developing a similar center at Faulkner.
On September 27, Faulkner University held its first autism conference on campus as the first step in that undertaking. The conference, which sold out with more than 100 attendees, helped show students with autism and their families how they can thrive by providing advice on raising and nurturing those with autism from birth, high school, college and beyond.
"For me it's more than a professional conference," Williams said. "Lisa and I have an autistic son who is 24 years old. This is a critical conversation to have simply speaking as a parent."
"One of the challenges of that time of my life is that we found ourselves walking into a situation that was completely out of our element.
"That's why it's important to have broader conversations with thought leaders in our community, academic scholars, students and professors in the field to develop strategies."
Janice Magness, the director of the Transition Academy at the Burkhart Center, visited Faulkner and is excited to share Williams' vision to help those with autism learn on their own and be more independent.
"They are working to bring to Alabama state-of-the-art care for an important and growing segment of our population," Magness said. "This program has the potential to transform lives in the southeastern part of the United States. At Texas Tech, we are proud to partner with Faulkner University."
Themed "Real Life Perspectives," Faulkner's first autism conference focused on the basics of autism across the lifespan of a student from various personal perspectives. Several experts in the fields of applied behavioral analysis, occupational therapy and speech language pathology spoke throughout the day along with professional and parent panels.
The event also included a session on sensory integration to incorporate hands-on learning.
"The conference's mission was to provide a real life perspective for students with autism spectrum disorder to assist educators, other professionals and families in developing effective educational programming," said Dr. Leslie Cowell, the associate professor and Dean of College of Education.
"The River Region has very few services focused to meet the needs of students and families with students with autism."
More than 100 family members, physicians and speech language pathologists, administrators and higher education faculty and special education professionals attended.
The new center would be the first one within nearly 100 miles of the River Region.
Plans are underway to raise funds for construction as well as services. To donate, visit our giving page.