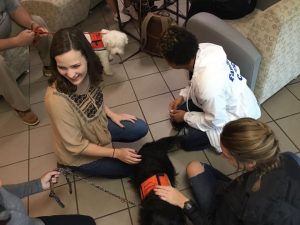 When it comes to relieving stress and uplifting spirits, few do it better than a friendly dog with a wag of their tail and a wide, toothy grin.
Students at Faulkner University had a chance to take a break from their studies to sit and cuddle dogs as the university's Wellness Week kicked off on Monday in an effort to find a balance between caring for the mind, body and
Wellness Week, sponsored by the university's Counseling Center, is a regular campus-wide event that encourages balance in life and for students, faculty and staff to become more aware of improving their mental, physical and spiritual health and is a way to introduce the campus to the counseling center and its staff.
Roxy Wishum, a counselor, helped organize the event and said the mission of the week aligns with what Faulkner encourages every day.
"The week helps students focus on their mind, body and spirit, which is the mission here at Faulkner," Wishum said. "What we do is touch on the foundation of those areas and encourage students to follow up with us for additional information."
Leigh Kincer, with Easter Seals' Dogs on Call walked a 5-year-old Cocker Spaniel on Faulkner's campus. Students stopped what they were doing and came to sit on the floor and pet the therapy dogs that were a few of the guest for the week.
Kincer joined experts and representatives from HEAL Alabama, Lighthouse Counseling Center, STAR Stand Together Against Rape, Council on Substance Abuse and more to provide holistic health to students and staff.
"The dogs are always the star of the show," Kincer said.
"We go to different nursing homes, schools, hospitals and hospice patients and our dogs go through training to become therapy dogs and when we go to visit, people's faces light up when they see them."
The week is also another way to highlight Faulkner's new partnership with HEAL Alabama, or Healthy Eating Active Living, a nonprofit that promotes preventive health measures through healthy eating, exercise and research.
Faulkner University is HEAL's first school-wide collaboration with a university and the pilot program will serve as a template for collaborating with other higher education institutions.
Along with healthier options in the cafeteria, HEAL has provided the university with 100 heart monitors for students, faculty and staff to use in the multiplex to keep track of their heart rate and to encourage aerobic activity each day.
Wellness Week will have offerings and events every day including fitness classes, smoothies and a special cooking demonstration on Tuesday with Birmingham's Kathy Mezrano, the owner of Kathy G. & Co. catering.