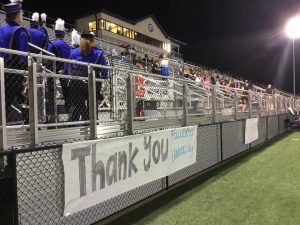 Seeing his old high school teammates burst through the football banner onto Faulkner University's Billy D. Hilyer Stadium filled college sophomore, Jaime Barnett with pride and excitement.
Barnett, now in his second year at Faulkner, was playing ball not too long ago at Billingsley High School, a small rural school in Autauga County. The high school's football team learned that their field was condemned for the season just a few weeks before their first game this year and would be unable to play on their home turf. Thanks to Faulkner,  Billingsley had a chance to play one of their home games on a collegiate field.
"I was really excited to see a bunch of my old friends have a good time tonight," said Barnett, who is studying family and youth ministry at Faulkner. "I know they are enjoying playing on a college field and are just filled with excitement right now."
The seating at Billingsley's Mims Field, built in the 1960s, was deemed unsafe for fans and the team of about 24 boys was forced to look elsewhere to play their home matchups. They were devastated.
That is when they received a surprise call from Faulkner's athletic department offering the use of their Billy D. Hilyer Stadium.
The night of their victory match against Robert C. Hatch High School, Faulkner's Marching Eagles Band came out in full force to support the school. In addition, many Faulkner faculty, staff and students came out to fill the stands alongside cheering Billingsly Bear family and friends.
Faulkner's President Mike Williams learned about Billingsley's situation from the news and suggested the invitation.
"When I heard about the Billingsley High School stadium, I just knew we had to reach out to them and help in some way," Williams said.
"High school football transcends the game and is an important part of the fabric of a community."
For Billingsley, community is everything. In a small town, where Billingsley High School is a small school, everyone pitches in to help, said Billingsley Principal Gregory Pittman.
"We were trying to figure out where we were going to play in our area and needed help. That's when schools in our area came calling and President Williams did the same thing," Pittman said.
"Our students are just so excited to play here and Faulkner University has been gracious in every way. We just loved every minute and it has been such a blessing. It's certainly an all around win for us."