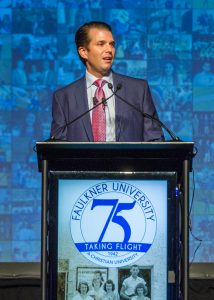 The world has changed in the last 75 years, but one thing has remained steadfast- Faulkner University's mission to be a beacon of hope in a time of darkness and division.
Donald Trump, Jr. spoke of that truth at Faulkner's Annual Benefit Dinner on Oct. 5 to help raise money for student scholarships. He praised the school for maintaining its Christian values, its desire for truth and justice and its mission to build up young men and women over the decades.
Trump follows a long line of memorable Benefit Dinner speakers that includes former president George W. Bush, first lady Laura Bush, former Alaska governor Sarah Palin, neurosurgeon Ben Carson, renowned journalist Tom Brokaw and last year's speaker, former New York City mayor Rudy Giuliani.
On Faulkner's campus "where every individual matters every day," Trump applauded leadership, faculty and staff for nurturing students in diversity of thought, in freedom to express their opinions and in respect for the country, its flag, its founders and the Biblical truths the nation was founded on.
The result is an institution that is set apart from today's culture and is destined for success, said Trump.
"This is an exceptional place. There are not many like it and that's why Faulkner is so important today," Trump said. "The example of Faulkner is what I want to talk about because Faulkner can save higher education by its example."
Trump's message capped a celebratory evening marking Faulkner's 75th anniversary as a Christian institution.  Guests were also treated to a dinner program that highlighted milestones of the university's history along with student choral and band performances..
From humble beginnings, a group of ten men met at a Church of Christ on Panama Street in Montgomery in 1942.
It was during a time when the world was at war and young soldiers were sent to fight on the battlefields of Europe and Asia. That group of men, led by Rex Turner, Leonard Johnson and others, was inspired to start a high school and college that would teach from a Christian worldview.
They called it Montgomery Bible College. There was no campus, no faculty or staff, no admission applications and not even a single library book at the time they made their decision. What they had was a vision, said Faulkner University President Mike Williams.
"In 1942, you would have called them crazy, reckless and impulsive, but tonight we call them courageous visionaries," Williams said.
"They truly are heroes of faith. Faulkner University was built on heroic sacrifice, on unwavering resolve and on uncompromised faith."
A mere five months after that gathering of visionaries, Montgomery Bible College opened its doors on Ann Street. After relocating to its current location on Atlanta Highway, the school was renamed Alabama Christian College and later, Faulkner University.  Seventy-five years later, the university system comprises Montgomery's sprawling main campus with an enrollment of more than 3,000 students, campuses in Birmingham, Huntsville and Mobile; and a burgeoning online program poised to meet the needs of non-traditional students from anywhere in the world.
But the mission remains the same.
"Our Christian mission compels the next generation of revolutionaries, peacemakers and humble servants of God," Williams said.
"We want to have a first responder mentality – run toward the challenges of our society and contribute to the solutions. We want to lock arms with Montgomery to address the challenges of our time."
After meeting with Williams and other Faulkner leaders, students and alumni, Trump said he was impressed by the university's values that shine like a light in a world where division is prevalent and "hate is acceptable."
Following his father on the campaign trail, Trump visited many states including Alabama where rallies drew crowds of 40,000 people. He talked with people from all walks of life who felt their voices and their conservative opinions were being silenced and condemned, he said.
"The country is in need of more places like Faulkner where people feel safe to express their opinions," he said.
"Here you teach that everyone has a soul and therefore deserves respect, but what happens when Christian tradition is lost? Other things take its place, and today in America that's going to be politics.
"That is why Faulkner is so exceptional. It shines like a light of the American academy. It is a place where learning is prized, where the faculty upholds the highest standards of learning, whose students become honored members of the community and where, for 75 years, Faulkner has moved from strength to strength."