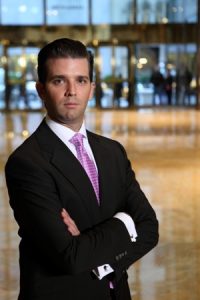 Faulkner University announced today that tickets are sold out to its Annual Benefit Dinner, Thursday Oct. 5, according to Rebecca Burylo, a spokesman for Faulkner University.
"This year's event will be one of our largest ever. We are incredibly excited about the event since this celebrates our 75th anniversary as an institution, but also for the educational opportunities this will provide our students," Burylo said. "We're incredibly thankful to all our attendees who are supporting this event and Faulkner University."
Donald Trump, Jr. is the featured speaker at this year's Annual Benefit Dinner. The event is a longstanding tradition and a red-letter event on the social calendar every year for Montgomery and the River Region.
Proceeds from the dinner go to support the university, and primarily, student scholarships. Over the years, many students have benefited from receiving scholarships thanks to the generosity of those who attend these benefit dinners.
Faulkner University is a private, Christian liberal arts university based in Montgomery, Alabama. With a mission to provide an education anchored by not only intellect but also character and service, the Faulkner experience aims to educate the whole person. Serving both traditional and non-traditional students, the university is home to five colleges: the Alabama Christian College of Arts and Sciences, the Harris College of Business and Executive Education, the V.P. Black College of Biblical Studies, the College of Education and the Thomas Goode Jones School of Law. In addition to its main campus in Montgomery, Faulkner operates extension campuses in Birmingham, Huntsville and Mobile, along with its online degree programs.