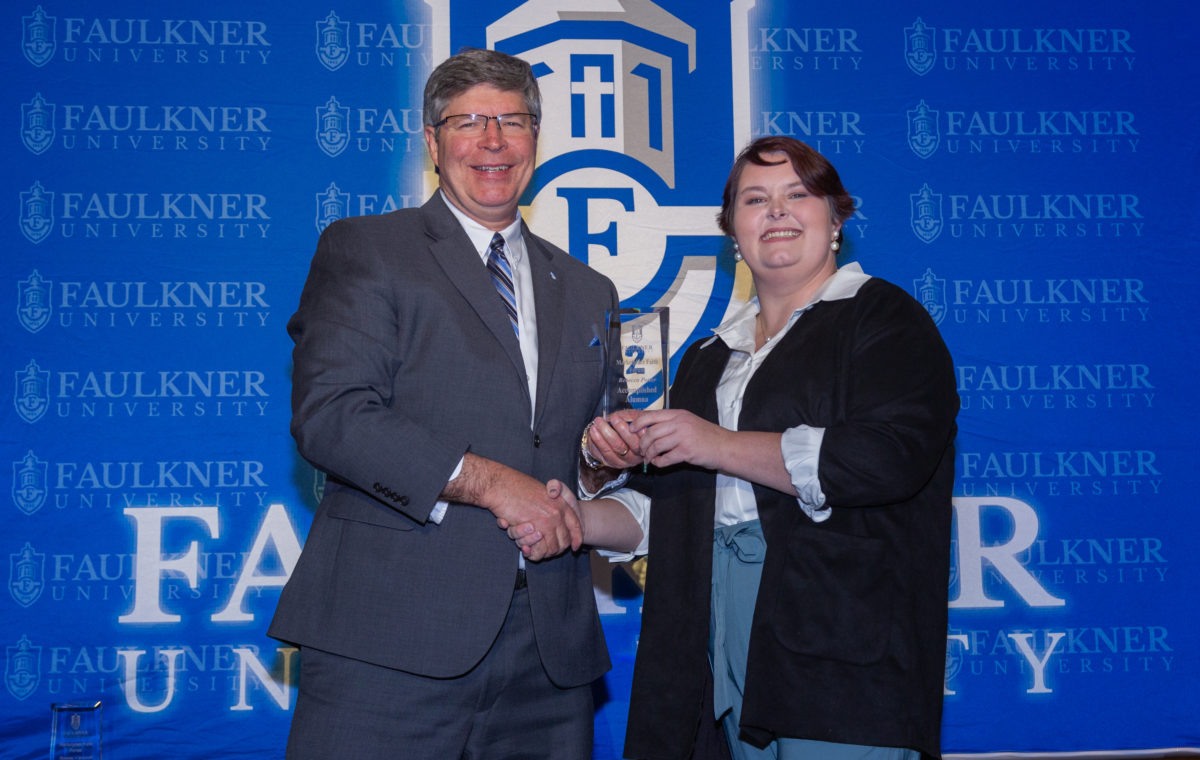 Rebecca Potter came to Faulkner in the fall of 2013 to study music and is now sharing her love of music with others. She is the McEwen High School Band Director and was voted the best band director in Humphreys County, Tennessee in the local paper's People Choice Awards this past year.
Potter graduated from Faulkner in December of 2018 with a bachelor's degree in music education with an emphasis in instrumental music. She was the first and last student to graduate with that degree.
She was most recently honored as the College of Arts and Sciences' English, Humanities, Music and Great Books Honors Accomplished Alumna.
Although Potter loves her job, she admits working in public education has its challenges, which she is able to overcome through her faith.
"Being in public education has been hard, but having that basis of a Christian education from Faulkner really helps me in my own faith and I still help guide students with a Christian attitude as I was guided," Potter said. "My professors who prayed for me and let me cry in their office are the reason I believe I am able to have that kind of relationship with my students."
"The professors in both music, and education departments really helped me spiritually. I remember my freshman year working in the education lab and I witnessed a professor praying with a student who was very stressed," Potter added. "I remember thinking that there is nowhere else I would rather be."  
While at Faulkner, Potter played trumpet for the Faulkner University Marching Eagles marching band. She was also a member of the Chi Omicron Chi social club and held many offices including Jamboree coordinator her senior year. During her time in Montgomery, she attended the Easter Meadows Church of Christ and completed her internship at Prattville Christian academy and Prattville High School.
She currently works at McEwen High School where she serves as Director of Bands and also teaches music to students in grades 6-12.
"In the past year I have had two students come to me explaining their love of music and that is what makes my job worth everything," Potter said.
Potter has worked there for four years and this next spring she will be taking her student band to New York to perform in Carnegie Hall. They will be performing April 1 alongside other ensembles in the performance festival. They are currently raising funds to attend. If you would like to make a donation, contact Potter at potterr@hcss.org.
Potter worships at McEwen Church of Christ and attends Middle Tennessee State University where she is pursuing a master's degree in music education.