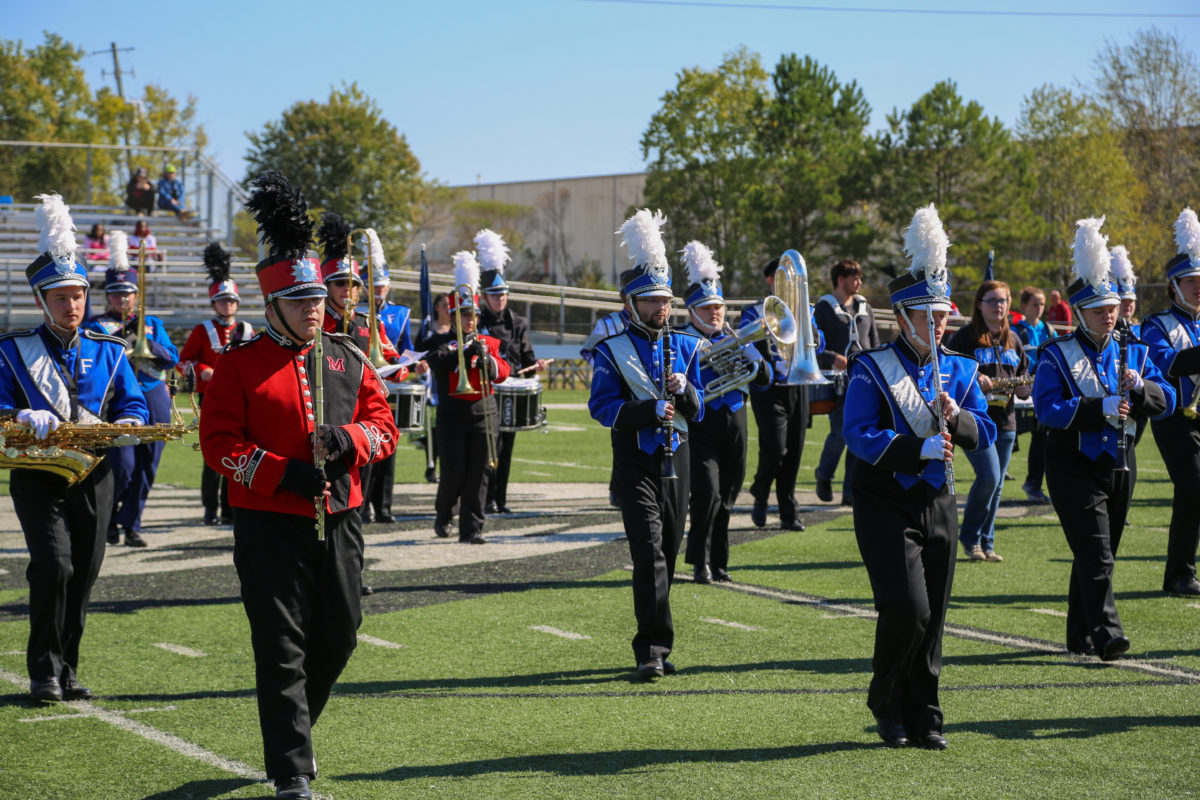 For high school band students, March with the Eagles at Faulkner University provides a unique opportunity to be a part of a university marching band for a day. Hosted during Homecoming week, March with the Eagles is an avenue Director of Band at Faulkner Dr. Stephen Foster uses to provide a fun and enjoyable experience for potential students. 
High school students from all across Alabama are invited to participate in March with the Eagles. This past year, the eleventh March with the Eagles event took place at Homecoming on November 6, 2021 with about 35 high school students in attendance. Students from fourteen schools, including one school from Tennessee, attended the event. These students perform alongside the Faulkner University Marching Eagles in the stands as well as in their pregame and halftime shows on the field. Not only do they participate in an exciting college game day, but they also meet Faulkner's marching band director and students in order to learn more about the program.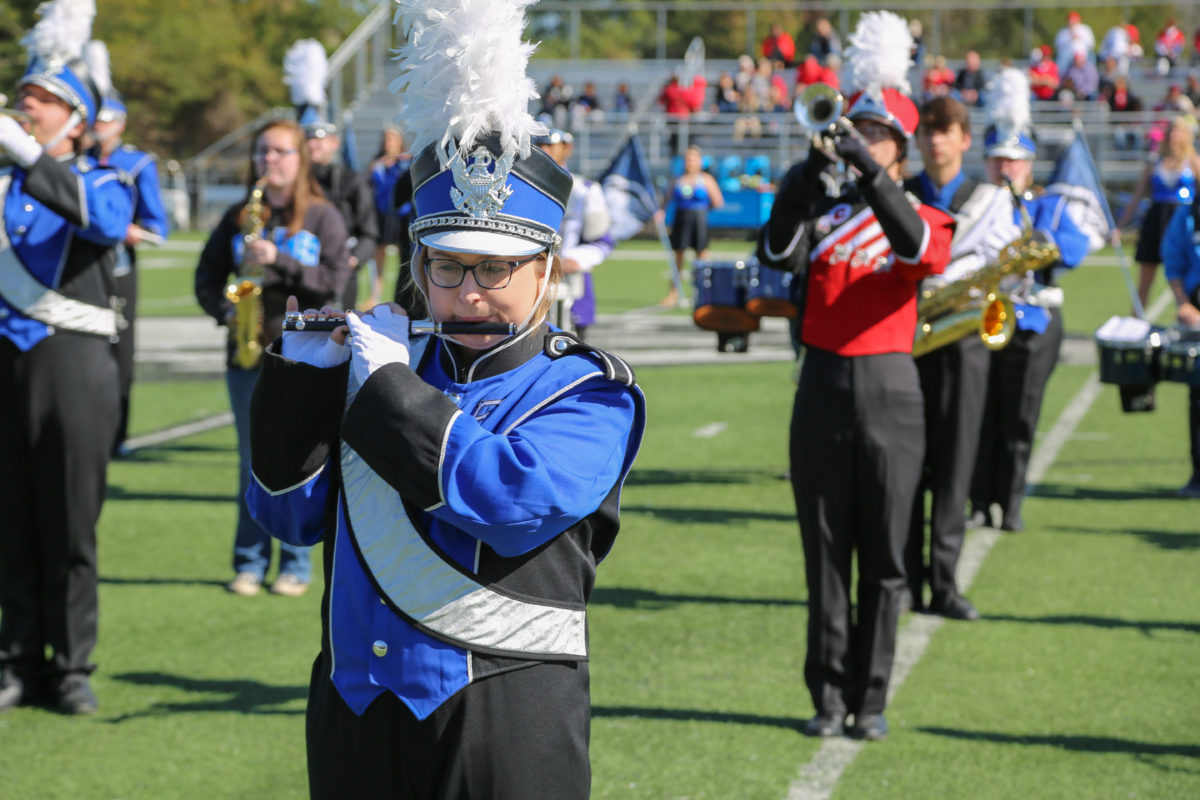 Student band managers Jolie Tucker and Angelina Guilbert were once such students and are grateful they decided to participate in March with the Eagles when they were freshmen in high school.
Tucker was sure she would leave the band scene after she graduated from high school. Because of the pressure that accompanied her high school band, she had no intention of joining Faulkner's. Her entire mindset changed when she met Foster and the students at the March with the Eagles event. She immediately knew participating in Faulkner's band was a completely different and more positive experience than in high school.
"I couldn't imagine what my college experience would be like had I not joined band," she said. The people surrounding her at March with the Eagles quickly became like her family when she enrolled at Faulkner, and band continues to provide her with a sense of unity.
Tucker has a passion for music and has cultivated her talent every day at Faulkner. "If I had to live through college with no music, I would be so depressed," she said.
For Guilbert, Faulkner's band also changed her experience at college. Because of March with the Eagles, she knew people in the band and already formed a friend group before her first day of classes. From day one, she felt a connection and sense of belonging. They were excited and welcoming, ultimately treating her like she was one of them. While many of her fellow freshmen were trying to form friendships at the beginning of the school year, she already knew she had a place to call "home" and people with whom she could depend on and trust.
Whenever she has a problem or is feeling discouraged, band provides a sanctuary and a means of support. "When I come to band, I know they have my back and will be there for me," Guilbert said. When she walks into the band room, smiling faces greet her, and she is able to let her problems and stress melt away.
Both Guilbert and Tucker encourage students to take advantage of March with the Eagles and see for themselves how supportive bandmates and a good leadership team make all the difference. Tucker especially hopes March with the Eagles will expose these students to what college band is like in comparison to high school. She thinks this introduction will encourage them to continue playing. Likewise Foster hopes March with the Eagles will showcase what Faulkner's band has to offer and encourage them to join and make their time at college even better.