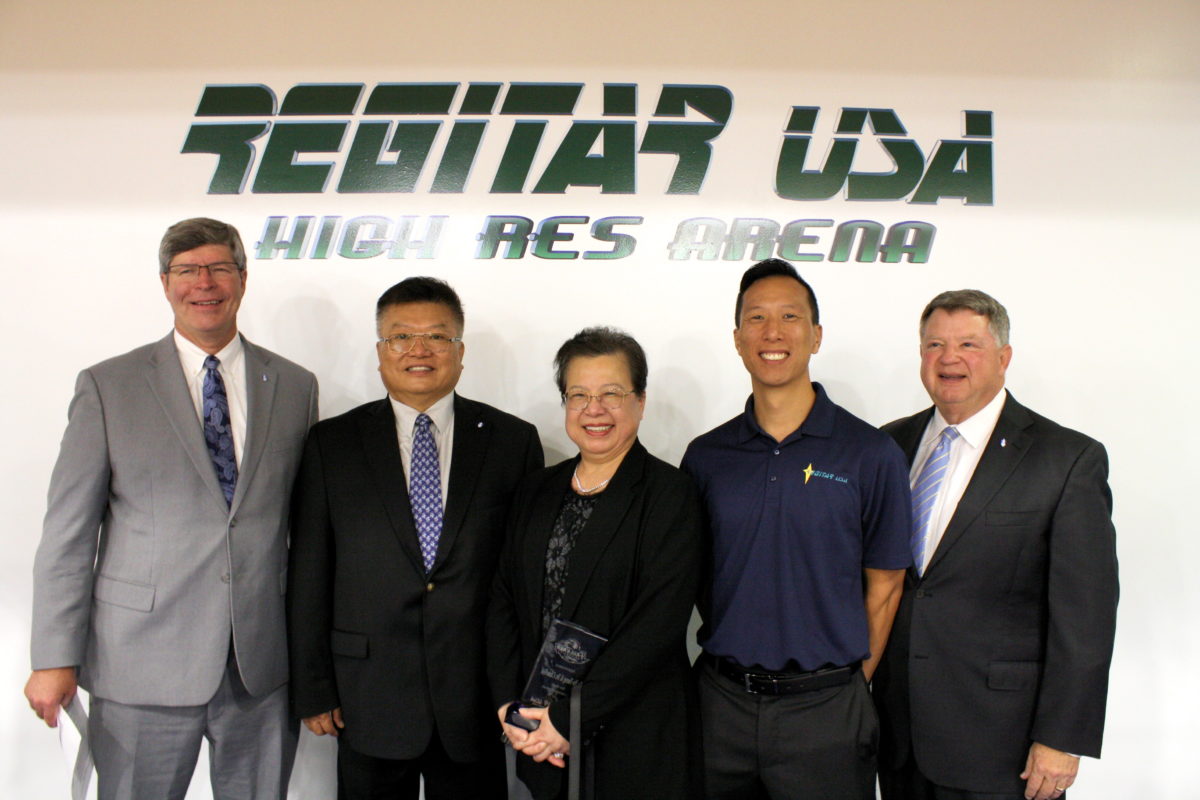 Faulkner University's new esports arena, the REGITAR USA High Res Arena was unveiled to the public on the Montgomery campus on September 8, 2022 and is the result of the combined efforts of many contributors on and off campus.
A grand opening ceremony was held outside the area located on the second floor of the Freeman-Harrison Student Multiplex where Faulkner leadership thanked donors and sponsors Dr. Y.T. Tsai, President and CEO of REGITAR USA, INC., Faulkner alumni Kevin Arvin, and Harry Slaughter and Hank Appleton with E-Footprints Partners and Scott Champagne with AVI Systems for making the arena a reality.
"On behalf of my wife and my son Henry Tsai and REGITAR USA. INC., I would like to say this is truly our honor to support and sponsor Faulkner University's high res arena for the esports program," Tsai said. "Esports is gaining traction and popularity, not just across this country, but in the whole world. And to be able to have this new arena in Montgomery is a testament to the leadership and forward thinking this university has and we are just happy to be part of this."
REGITAR USA, INC. is a leading manufacturer and distributor of charging system components; ignition system components and other automotive components in Montgomery, Alabama. Their warehousing and distribution facility located in Montgomery services the United States, Canada, Mexico, Caribbean and Central and South America.
Esports, organized video competitions, has exploded in popularity across high schools, colleges and universities throughout the country. Since competitions are virtual, they can be broadcast online for viewers to watch around the world. Faulkner has recognized esports as a great opportunity to attract prospective students and hopes to be a part of building it into an established competitive collegiate sport.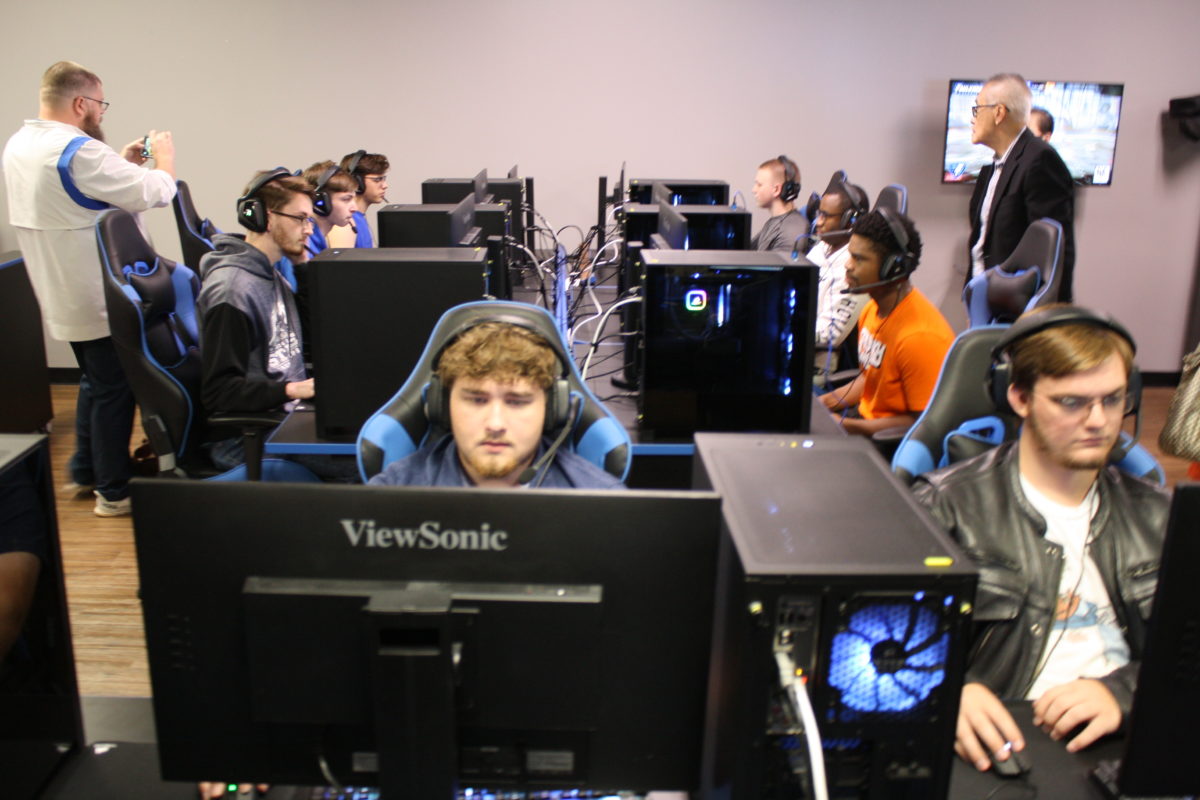 Faulkner's varsity esports team consists of more than 30 students and is a part of the National Association of Colligate eSports (NACE). Students will have two seasons per year; one in the fall and one in the spring.
Organized under the Faulkner Athletics Department and led by head coach Caleb Colquitt, Faulkner's esports varsity team will have three to six players at a time for a match. Games include Nintendo's Super Smash Bros and Mario Kart, and traditional esports games such as League of Legends, Overwatch, and Rocket League. Colquitt's brother, Levi Colquitt acted as a consultant for the program and helped train the Counter Strike: Global Offensive team.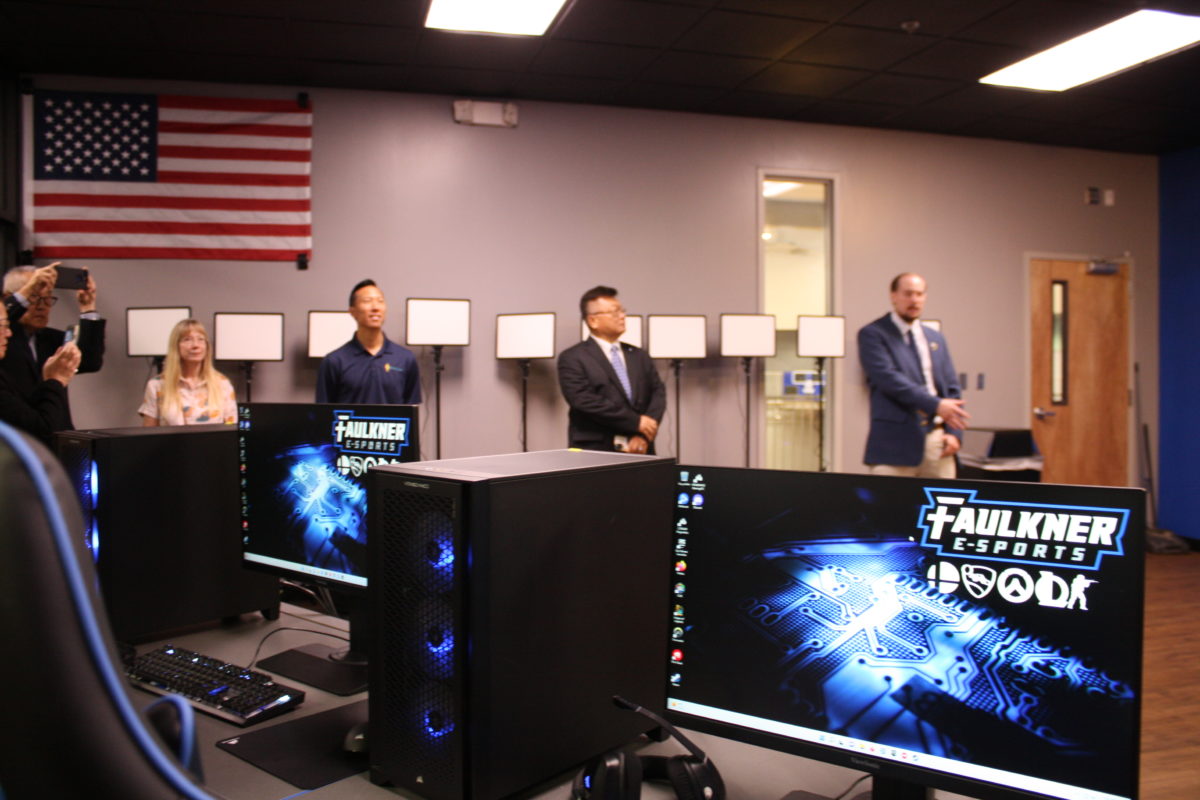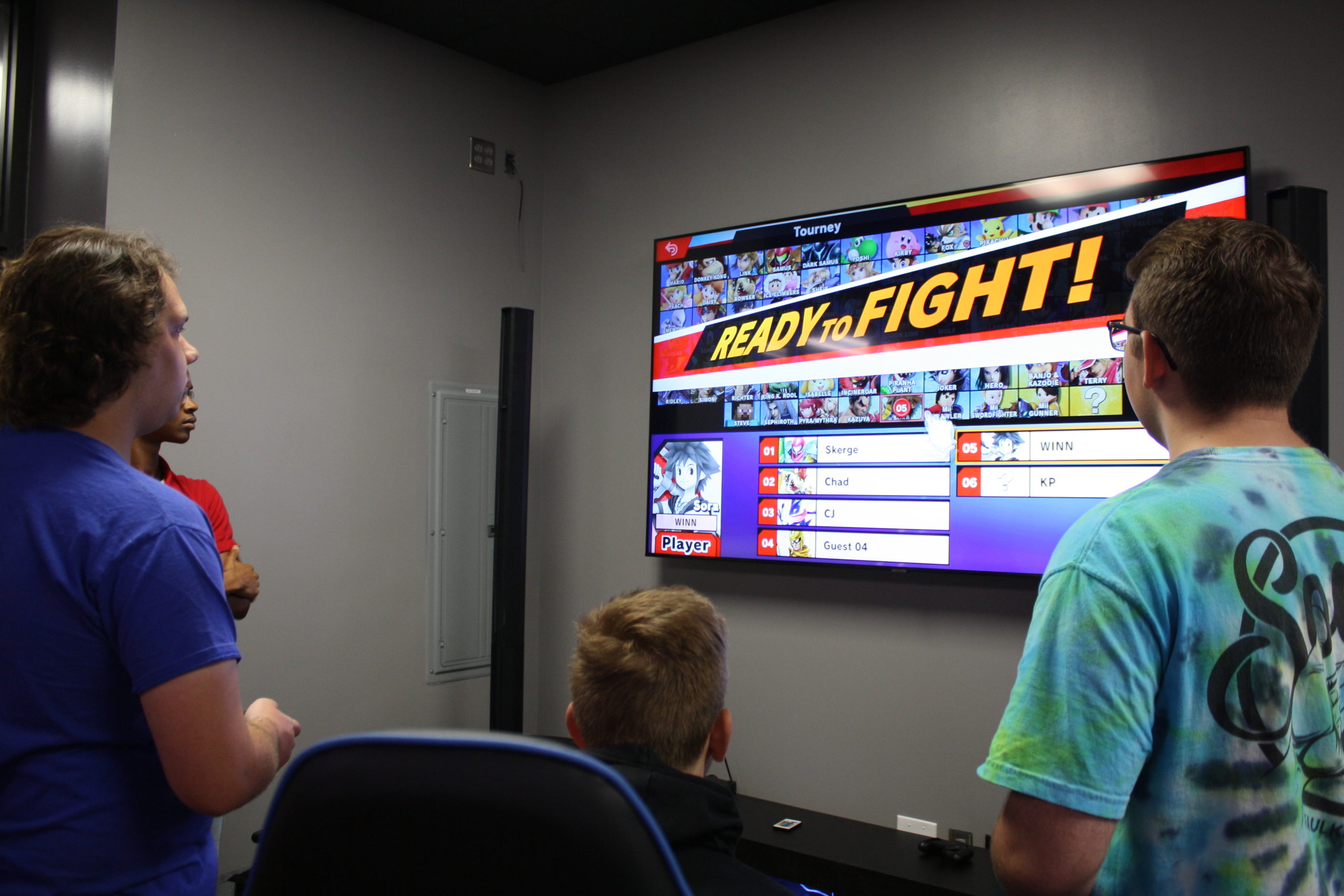 Not only will the esports team hone the players' skills using teamwork, strategy, adaptability and instruction on advanced technology, the arena and the program creates an environment of belonging for the players, Colquitt said.
"This facility has a lot of high-tech computers and video game consoles and TVs and that's great, but at the end of the day what we have created is a home for our students," Colquitt said. "I've already seen it happen in the couple of weeks since school has started. Students come down here after class to hang out, enjoy one another, even when they didn't have practice and even with those who are not a part of the esports team, but they come here to congregate and to bond over their love for video games. So ultimately your contributions that's what it has created, it has created a home for students who may not have had a place to go on campus if they didn't have this facility and ultimately that sense of community that God understood from the very creation of man that we all need."
The esports arena is broken into three sections. The training area, which holds 12 individual gaming stations, a commentator booth and a communal gaming area. A dividing glass wall leads into the next area, the official arena where matches are played, recorded and broadcast and includes six gaming stations. The next room includes a theater for spectators to watch a livestream of each esports match.
The design and equipment for Faulkner's esports arena were made possible by working with Faulkner alumni Kevin Arvin and Harry Slaughter, including new computers, monitors, gaming chairs, desks, special lighting, and production equipment.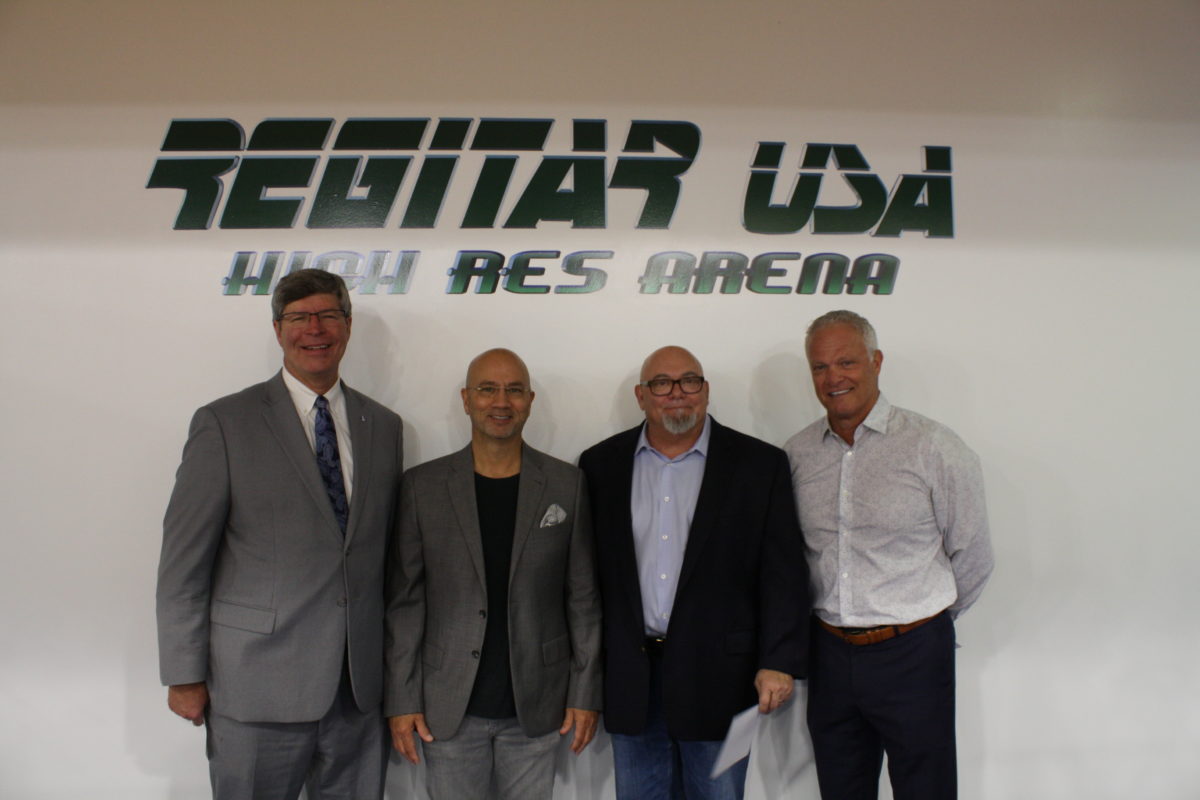 E-Footprints Partners already assisted Faulkner with a number of projects including upgrading the campus's broadband internet capabilities, creating a true redundant backup network for the university, and outfitting Faulkner classrooms with technology upgrades.
"Our Higher Education Services division was created to help independent colleges and universities future-proof their institutions," Arvin said. "E-Footprints Partners has assisted clients in higher ed with state-of-the-art projects and engagements that position them to 'differentiate' themselves from their competition with unique branding and revenue-generating opportunities, like esports programs, Cyber Security Training Centers, Synthetic Turf/Multipurpose Athletic Playing Surfaces, Campus and Classroom Technology Upgrades, and more – that better position the institution to increase brand visibility, grow enrollment, attract higher academic profile students, elevate retention, and improve graduation rates, thus impacting bottom line revenue. As alumni and committed supporters of Faulkner, the decision to help our alma mater create an esports program was something our team was eager and well positioned to do."
Faulkner's REGITAR USA High Res Arena is like none other in the southeast. It's not just a major accomplishment for esports and Faulkner university, but is a great asset for the city of Montgomery.
"It's a blessing to be a part of Christian education and one the best things about being a part of Christian education is building partnerships with good people who care about educating our young people as well as the all-around education of young people not just from book learning but in practical skills and practical learning," said Faulkner President Mitch Henry. "We're excited about the esports team here and the program. We're excited about the opportunity we have to share this with our community."
Prospective students interested in esports should contact the Admissions Office at 334-386-7200 or inquire by email to admissions@faulkner.edu.