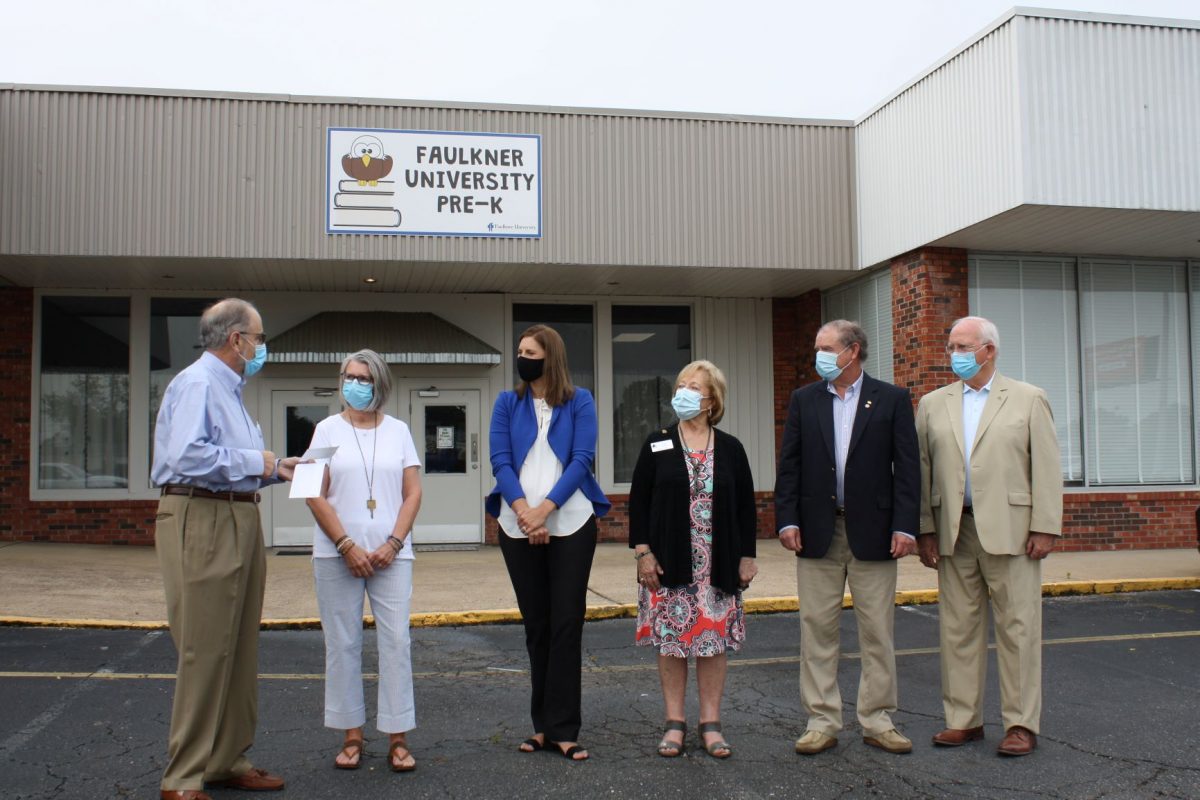 Members of the Montgomery Rotary Club presented a generous donation to Faulkner University's Pre-K program to provide students this fall with new books
The check, totaling $500 was presented by Montgomery Rotary Club members to Faulkner Pre-K lead teacher Mila Stevens and director of the Faulkner University Pre-K program, Dr. Leslie Cowell on June 26.
For more than 100 years, the Montgomery Rotary Club has supported community projects large and small. When they were asked to help the students at Faulkner's Pre-K classrooms, they immediately agreed.
"Our goal is to strengthen the capacity of communities to support basic education and literacy, reduce gender disparity in education, and increase adult literacy," said Graham L. Champion, President of the Montgomery Rotary Club. "One of Rotary International's six goals is supporting education. We support education for all children and literacy for children and adults. Supporting these classrooms that are a vital part of Alabama's award winning First Class Pre-K program compliments our Club's efforts in supporting education which also includes delivering a dictionary each year to every third grade student in public schools in Montgomery County. We appreciate the opportunity to be a small part in the support of this great program."
Faulkner University's Pre-K which began in 2018, is the site for two of Alabama's First Class Pre-K program classrooms in an effort to increase enrollment of four-year-olds statewide. Both classrooms accommodate a total of 32 four-year-olds.
"We want to thank the Montgomery Rotary Club for their generosity and willingness to help our Pre-K students," Cowell said. "Being able to offer a Pre-K program to this area of the city is a perfect opportunity to serve the community where the need is so great. Especially during this time, whenever you have the community come together for our children, it's a beautiful thing."
Faulkner University's Dean of the College of Education, Leslie Cowell Ph.D., applied for the state grants to provide Pre-K classrooms in Montgomery and was approved for two classrooms.
Tuition is free and families must live in Alabama.