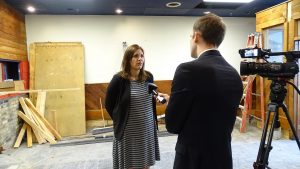 Faulkner University is excited to announce the opening of the Faulkner University Pre-K this fall.
Following the announcement by the Alabama Governor's office on Monday, Faulkner University will be the site for two of Alabama's First Class Pre-K program classrooms in an effort to increase enrollment of four-year-olds to 32 percent statewide.
Governor Kay Ivey and the Alabama Department of Early Childhood Education announced that the state's First Class Pre-K Program will add 107 new classrooms this fall to 1,040 classrooms enrolling approximately 18,864 four-year-olds.
Faulkner University's Leslie Cowell, Ph.D., dean of the College of Education applied for the state grants to provide Pre-K classrooms in Montgomery and was approved for two classrooms. She will serve as the director of the pre-k program.
"There was no other First Class Pre-K site anywhere around Faulkner University," Cowell said. "This is a perfect opportunity to serve the community. First Class Pre-K program asked if we could do two classrooms, because the need in this area of Montgomery was so great."
Beginning this fall, a total of 32 four-year-olds will be able to come and learn at Faulkner University Pre-K's two classrooms. Only six other new classrooms were approved for the Montgomery area.
Tuition is free and families must live in Alabama.
Faulkner University is currently in the process of renovating its property, the former Peyton's Place location across Atlanta Highway from the university's main Montgomery campus, to house the classrooms. The property will include the construction of a playground provided through the grant. An additional four staff members will be hired to work with the children.
The new classrooms were made possible due to increased appropriations in the FY 2019 Education Trust Fund Budget along with funding from Alabama's four-year federal Preschool Development Grant.
Faulkner University is also in the process of establishing an autism center on campus that would be open for public use in 2019.
To register for Faulkner University Pre-K follow the First Class Pre-K Alabama Voluntary Pre-K Program Pre-Registration Guide .