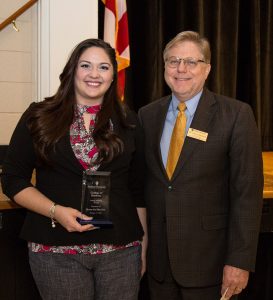 When Sheena Ariel Riley Gore first came to Faulkner University as a student, it was because she wanted a place that respected her Christian faith. It would also propel her on a successful career path within the expansive Cintas enterprise.
Ariel graduated with a Bachelor of Science in business administration in 2014 and was also on the Faulkner University volleyball team, a member of Alpha Chi, Sigma Tau Delta, the National Society of Leadership and Success, National College Athlete Honors Society and an honorary member of Delta Xi Omega.
By taking advantage of the Faulkner career services opportunities, she began her career with Cintas in 2013 as an intern. Upon graduating magna cum laude in 2014, she began as the Management Trainee there and was later selected to train over 300 locations across North America on new computer software that connects the Cintas enterprise.
She recently returned to Faulkner to be honored as the College of Business' Young Alumna of the Year during Homecoming Weekend.
"Faulkner allowed me to self-reflect and evaluate my personal relationship with God," Ariel said. "I grew textually and had inspiring examples around me in friends, professors and coaches. By the end of my time there, I had rooted myself deeply in my faith and who I am as a person and to make ethical decisions in the workplace.
"I hope fellow graduates realize that despite what the world wants us to believe, our Christian values make us more successful in the workplace. The workplace ministry is a place where we can glorify God and lead others to Him by simply living authentically in our Christian walk."
Ariel is 26 years old and is married to fellow Faulkner graduate, Harrison Gore and they live in Georgia. She assists in Go Red with the American Heart Association, Clothe the Kids ministry and Making Strides Against Breast Cancer.