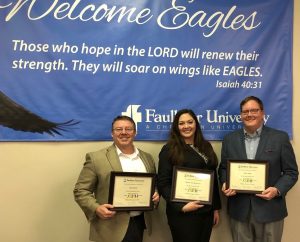 Jason Isbell's story began when he was a 6th grade student on a visit to Faulkner's Montgomery campus. He knew then, he would become a Faulkner Eagle.
Now, he is the current vice president of Legal and Governmental Affairs at the Alabama Bankers Association and he said he owes his success to the Christian education he gained at Faulkner.
Isbell graduated from Faulkner in 2002 with a Bachelor's degree in business administration and filled much of his time singing in Cornerstone for three years, being a Jamboree host for two and serving in the Student Government Association as president, vice-president and senator.
He was recently honored as the College of Business' Distinguished Alumnus of the Year at this year's annual Marketplace Faith Forums, a part of Homecoming Weekend.
"I'm grateful that God led me to feel at peace with that decision, especially at a young age," he said. "Faulkner's faculty and staff are living examples of the Christian principles of working hard, treating people with respect and leading others through service."
After graduation, he enrolled at Auburn University Montgomery in 2004 and graduated with a Master's degree in business administration. He later enrolled in Faulkner Law in 2006, finished in 2010 and passed the Alabama Bar a few months later. In 2017, he earned a diploma from the Alabama Banking School at the University of South Alabama. He has also worked for the Alabama Legislature for more than a decade.
"I'm hopeful that other students at Faulkner will have a better understanding of how a strong work ethic, ability to work well with others and a desire to lead can mean more for a career than a lengthy resume, wall full of degrees or a stellar GPA," Isbell said.
He lives with his family in Pike Road and is on the board of the local nonprofit, Agape, a ministry to help orphaned children find permanent, safe and nurturing families. He is also a new member of Faulkner's Board of Trustees.