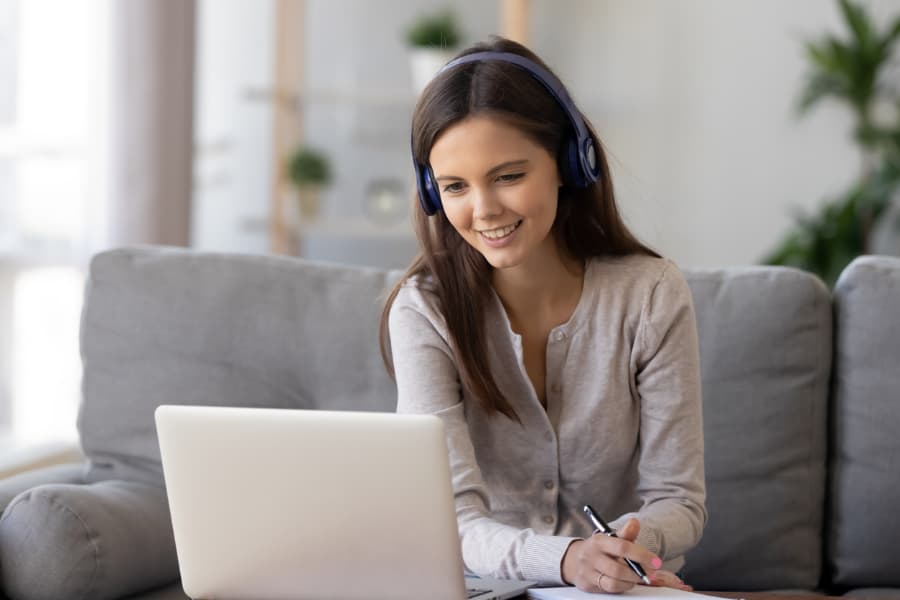 Online learning is a form of distance learning you can do from the comfort of your home. From instruction to exams, everything is done outside of the classroom. Our online programs remain true to our mission as a Christian university, ensuring all students receive the Faulkner experience no matter where learning takes place. Here, we'll explore the benefits of learning online and dive deeper into how online classes work at Faulkner University.
How Can Online Learning Benefit Me?
One of the biggest benefits of online learning is flexibility. Online students can choose from a wide range of subjects, and classes are scheduled on days, evenings, and weekends. Many programs can be completed in less time than their on-campus alternatives, sending you on your path toward a rewarding career faster. Faulkner University online degree programs include:
While the expectations of online courses are similar to in-person classes, the freedom to study where and when you want makes it easy to balance your busy schedule in a way that works best for you.
What Can I Expect at Faulkner University?
Specific requirements are outlined in our student handbook, so you can make sure you have everything you need. Remote students use a specific Learning Management System (LMS) to participate in classes. Most classes are asynchronous (they don't require attendance at a particular time of day). However, some programs may include synchronous components, such as a final exam. Synchronous components occur via web conferencing or teleconferencing platforms, such as Canvas Conferences, Google Meet, or Zoom. To get started, enrolled online students will need a few basics, including:
Personal computer (laptop or desktop)
Broadband Internet access
Web browser
University email account
Productivity software (Microsoft Office, Google Drive, etc.)
Don't worry — you don't have to be a tech wizard to find or log into your classes and help is always available. Students can reach out if they're unsure about these and other requirements as requested by individual instructors.
What Support Systems Are Available To Online Students?
No student at Faulkner University is left to navigate their college journey alone. As a remote student, a host of resources are at your fingertips. Students enrolled in online classes continue to receive support from the following departments throughout enrollment:
Student Success Advisors (SSAs)
Student Success Advisors are with you every step of the way. SSAs help you access counseling, career services, financial aid, and other critical sources of support. They can also connect you with departments across the university and help you find strategies for success.
Technical Support
Are you experiencing technical difficulties? No worries. If your instructor can't help you resolve the issue, our IT Help Desk is on standby 24/7. They can be contacted via telephone and write-in requests.
Accessibility Support
We want everyone to be able to fully participate in the university community. To foster an inclusive environment throughout campus and beyond to our online students, the Center for Disability Services: Project Key is ready to assist.
Career Services
Our Career Services Department brings students, alumni, and employers together to help put you on a path toward a successful future in your field. From deciding on a major to job searching, all students have access to this valuable resource.
Enroll For Online Classes at Faulkner University
If online courses might be right for you, consider enrolling as a student in one of our degree programs. At Faulkner University in Alabama, online and in-person students enjoy a caring, Christian environment that balances learning with spiritual growth. Reach out to request additional information about how online classes work or apply online today.