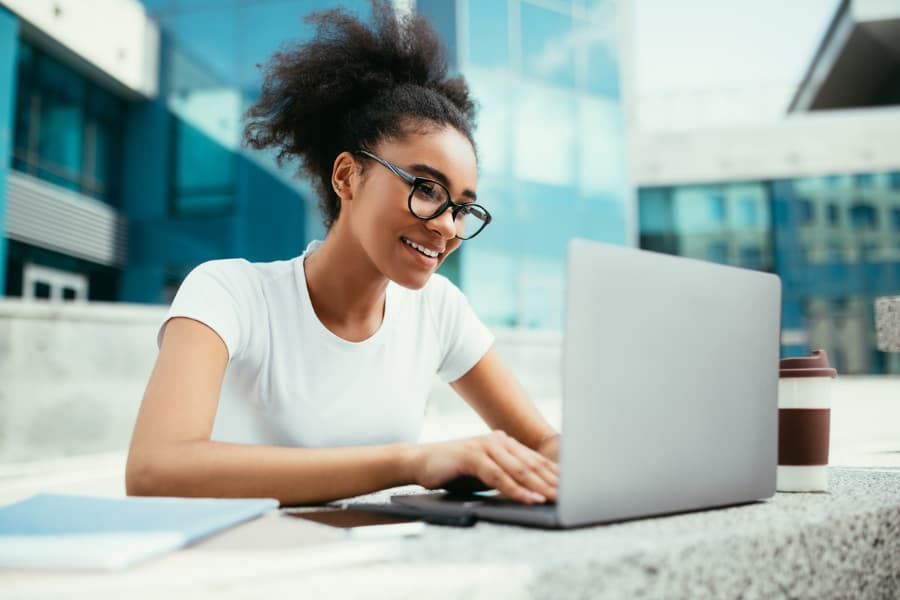 Are you preparing for digital learning in a virtual classroom and feeling a bit unclear about how to navigate the transition and make the most of your new learning environment? When going from traditional in-person classroom learning to an online learning program, there are a few things that take some getting used to. Faulkner University based in Montgomery, Alabama, offers several online programs to make earning a degree more possible on your own schedule around your busy life. Here, we offer tips to help you be successful when taking online courses.
Be Open-Minded
Is online learning as good as in-person learning? This is a question many students ask when considering taking online classes. And the short answer is yes! In most cases, an online program can provide you with all the knowledge and skills you need. It's important to be open-minded about the new possibilities and benefits of digital learning, which has become the "new normal" in many places worldwide. Although online classes may not be what you had originally envisioned for your college or postgraduate education, they can be just as enriching as their in-person counterparts.
Create a Productive Work Environment
To set the stage for a successful online classroom experience, carve out a dedicated workspace. This could be a particular spot in your house or apartment that, when you enter it, puts you in studying mode.
Why is this a good idea? Just because you can participate in an online class anywhere doesn't always mean that every place is equally conducive to motivation and productivity.
Your workspace could be a separate room or even just a corner in your living room. You might have music playing or opt for silence. Some inspiring artwork can nourish creativity as well. A nice houseplant can enhance wellness and vitality. The important thing is to find what works best for you!
Befriend Your Technology
Before your classes begin, it's a good idea to learn as much as you can about the technical equipment you plan to use. For starters, make sure you have a good internet connection.
Then, channel your inner tech geek to help you navigate the world of webcams, microphones, Zoom features, and online chat forums. Explore how to find your school's library portals, how to share files, and how to video conference with instructors and other students.
Finally, be sure to utilize any resources offered by your school. For example, Faulkner University provides an abundance of resources for online learning. Get to know how to access these resources so that you'll know where to find them when the need arises.
Learn to Manage Your Time Wisely
In a traditional classroom setting, you have your professor and classmates right there to provide motivation and keep you on track. But in a virtual learning format, you need to provide this structure and motivation for yourself. You'll still have live lectures, assignments, and paper deadlines to attend to. So, make a schedule for both classes and homework and be sure to stick to it!
Maintain a Healthy Daily Routine
As support for managing your time wisely, it's good to follow a similar routine every day. For instance:
Wake up at the same time each morning.
Eat your meals at basically the same time.
Set aside time each day for studying.
Plan time for exercise, yoga, or meditation.
Prepare materials for the next day.
Go to sleep at the same time each evening.
Maintaining a routine will make it easier for you to accomplish everything that you need to in each day, including focusing on your coursework.
Eliminate Distractions
Avoiding distractions can be one of the most difficult aspects of online learning since there are so many more potential distractions at home than in physical classrooms. But it's also one of the most vital things you can do to ensure a successful online learning experience.
Even if you can't get rid of every distraction, do your best to minimize them. For instance:
Wear noise-reducing headphones to eliminate some of the ambient noise.
Share a copy of your class schedule with your family or roommates so they know when to keep the volume down and not distract you.
Utilize your phone's do-not-disturb feature or turn it off.
Hide the TV remote and game controller in another room.
Taking these proactive steps to reduce distractions will help you stay more focused on your online classes and schoolwork.
Cultivate Your Online Communication Skills
Be mindful of the differences between in-person and online conversations. Understand that the way others perceive your online text or video is not always as you had intended. Something you meant as a joke, for instance, may end up offending the reader.
It's important to be as courteous and professional as possible when communicating online with your professors or classmates. This will set the foundation for mutually productive and enjoyable relationships, which will enhance your learning experience.
Remain Engaged by Asking Questions in Class
If you have a question about the technology, assignments, or contents of a lecture, don't be afraid to raise your hand (virtually) and ask it. Chances are good that at least one other person has the exact same question. Plus, questions that arise out of genuine interest and curiosity about the course material enrich the learning experience for everyone.
Learn How to Counteract Zoom Fatigue
Video meetings – including virtual classes – can be mentally and physically draining. This is especially true if you have several classes in succession. Even if the content is interesting, you may feel exhausted at the end.
There are several scientific reasons for Zoom fatigue. Some strategies to avoid and recover from it include:
Use a standing desk.
Alternate the position of your legs frequently when sitting on a chair or floor.
Take a walk or enjoy some other type of exercise between classes.
To take a break from your screen, rub the palms of your hands together and then cup them over your eyes for a minute or two.
Periodically gaze out a window to give your eyes a break from the screen.
Write or doodle in a journal between classes.
Step away from your screen for a few minutes to stretch your body and recharge.
Be Kind and Patient with Yourself and Others
Everyone is on a learning curve when it comes to the transition to virtual classrooms. Even though everyone is doing their best to adjust rapidly, there are bound to be a few hiccups, some blunders, and the occasional faux pas. It's OK to acknowledge feelings of frustration, fear, or confusion, and to ask for support. Whether it's with a school administrator, your instructor, your classmate, or yourself, do your best to be kind and patient. Remember: we're all in this together.
Pursue an Online Education from Faulkner University
At Faulkner University, we offer several degree programs both in-person and virtually, all rooted in Christian values. Our programs are available online and at our campuses in Montgomery, Birmingham, Mobile, and Huntsville. To learn more about our degree programs, request more information, or, if you're ready to start your educational journey, apply today.