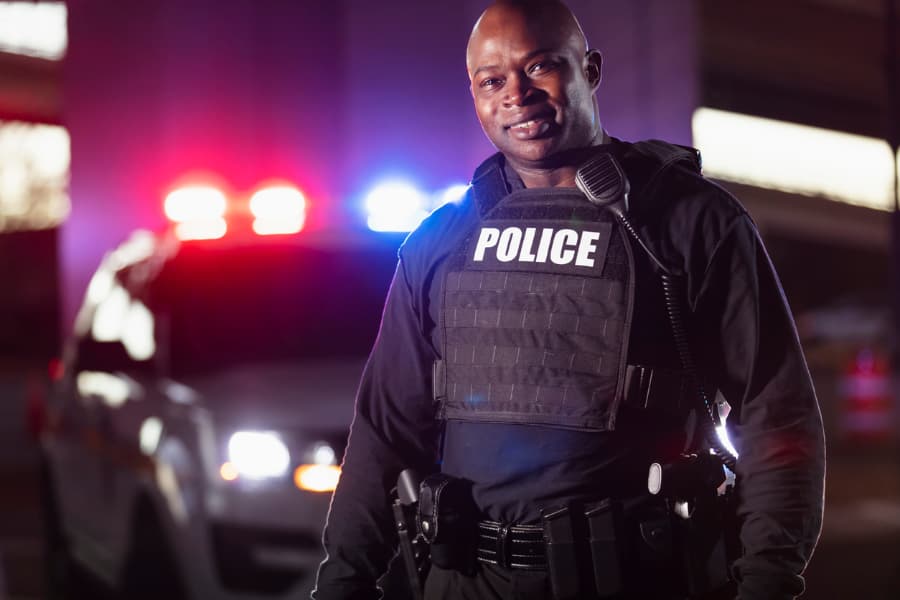 If you want to make a difference in your community by becoming a police officer, majoring in criminal justice may be the right choice. Joining a law enforcement agency can be physically and mentally demanding, but extremely rewarding.
Aspiring police officers holding a degree in criminal justice can have an advantage over other candidates. Faulkner University, a Christian liberal arts university based in Montgomery, Alabama, provides an outstanding education that will help you become a police officer. We offer an online criminal justice degree program and an in-person criminal justice degree at our Birmingham campus, depending on your needs.
Although the hiring process for law enforcement varies between police departments, cities, counties, and states, there are general requirements for becoming a police officer. Here, we explore the career path from earning a criminal justice degree to becoming a police officer.
Requirements to Become a Police Officer
The selection process for the police academy is competitive, and your eligibility will be assessed using a scoring system to determine if you can join the police force. In general, applicants must:
Be at least 18 or 21 years old, depending on the division in which they wish to work
Be U.S. citizens
Meet physical fitness standards
Have no criminal record
Educational Requirements for Police Officers
In the coming decades, the demand for police officers at all levels is anticipated to increase. Proper training and education can help prospective officers gain insightful knowledge.
The educational requirements for becoming a police officer may vary by employer and location. Some agencies may hire individuals with a high school diploma and provide them with on-the-job training. Other agencies may require applicants to hold a college degree.
In many cases, individuals who want to start careers as police officers enroll in a criminal justice or law enforcement degree program at a college or university. It is becoming increasingly common for local and state police forces to require a criminal justice degree for hiring or promotion opportunities.
Improve Your Chances of Becoming a Police Officer with a Degree
A bachelor's degree in criminal justice gives you an advantage in the police academy selection process and positions you for future promotions. Earning this degree will offer you a deep understanding of the justice system. Subjects you will study when earning a criminal justice degree include:
Criminal behavior and victimology
Criminal procedure and public policy
Professional responsibility in justice
Threat assessment and behavioral analysis
Other Benefits of Having a Criminal Justice Degree
Other ways a criminal justice degree can help you achieve your goal of becoming a police officer include:
Gaining an advantage over academy candidates without a degree
Gaining eligibility for federal law enforcement agencies that require a bachelor's degree, such as the FBI
Learning more about forensics, homeland security, private security, and juvenile justice
Enhancing your promotion opportunities
Salary and Career Outlook
Many factors influence police officer salary, including job type, location, and supplementary compensation and benefits. Some police departments even pay more for officers who have a college degree or speak multiple languages.
According to the U.S. Bureau of Labor Statistics, the median annual wage for officers in 2021 was $66,020. Employment of police officers and detectives is anticipated to increase by 3 percent from 2021 to 2031, which is less than the average projection for all occupations.
Despite slow job growth, an average of 68,500 openings per year for police and detectives are anticipated during the next decade. Most of these opportunities are expected due to the need to replace officers and detectives who switch occupations or leave the labor force, such as through retirement.
How to Choose the Best Criminal Justice Degree Program
Most colleges and universities offer criminal justice degrees, but you should choose one that will provide what you need in a format that fits your lifestyle and timeline. When researching the universities that will make your shortlist, ensure they are accredited.
Most universities are accredited. However, regionally accredited programs are frequently regarded as the highest possible accreditation level. Credits from these institutions are widely recognized and easily transferable to other schools.
Check if the institution offers online classes that will be convenient for your current work-life balance. Online courses can be very convenient and help you complete your degree promptly.
Start Your Career Search at Faulkner University
A criminal justice degree can improve your chances of becoming a police officer because you will have more knowledge about the justice system and law enforcement. At Faulkner University, we offer several degree programs at our Mobile, Montgomery, Birmingham, and Huntsville campuses, as well as online courses. To get started, apply for our programs or request information about our courses.