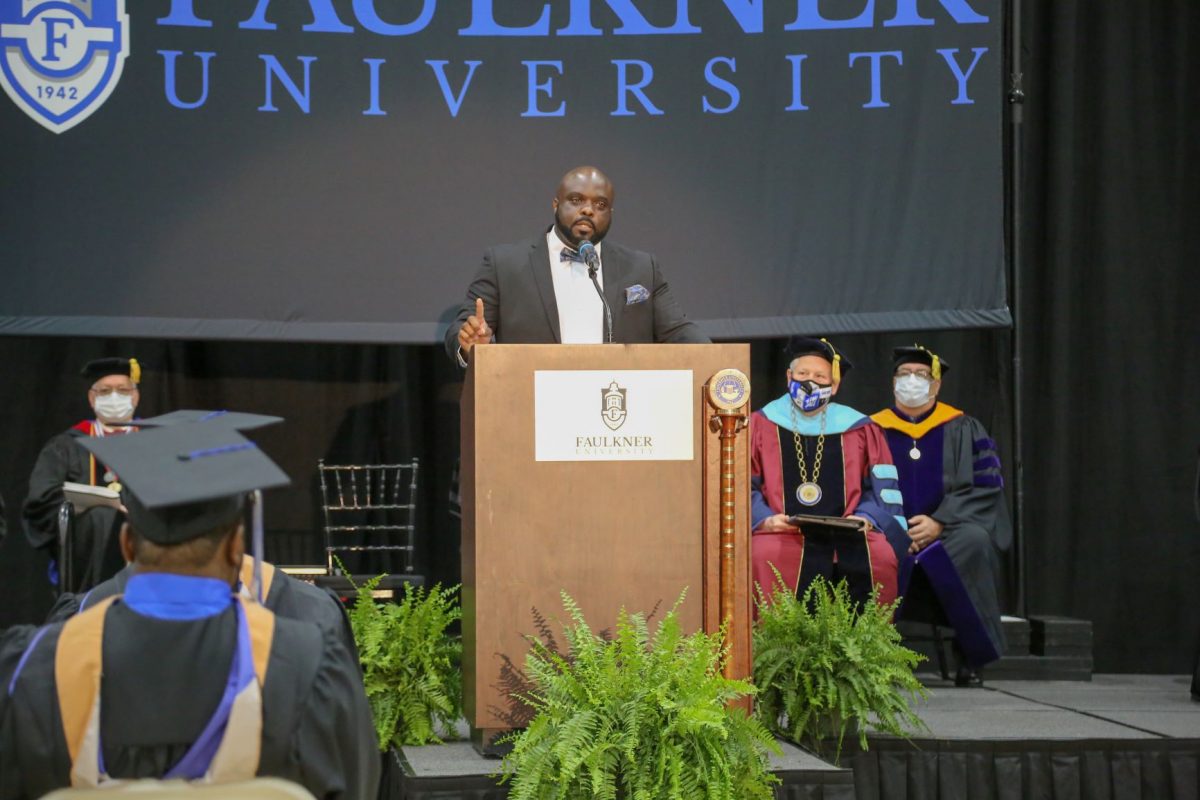 Living a life of service is what Faulkner alumnus and Sheriff of Burke County, Georgia Alfonzo Williams encouraged graduates to pursue, during his commencement speech on May 1, 2021.
Throughout the day, 415 Faulkner graduates attended one of four commencement ceremonies held on campus. Donning cap and gown, graduates filed into the Tine Davis Gym in order to hear their name called, walk across the stage and turn their tassel.
For any student, graduation is a defining moment in their lives. Friends and families who have supported their arduous journey were there to celebrate their accomplishment.
With such an accomplishment comes a responsibility, said Sheriff Williams. The responsibility to serve others and the community.
"I want you to understand that no matter the degree field you have chosen, it's all about service to mankind," Sheriff Williams said. "God put us on this earth for no other reason than to serve. The Word of God says the Son of Man came not to be serve, but to serve and if Jesus wasn't here to be served, I'm not here to be served either."
As a respected and long-time law enforcement officer of 31 years and a Christian, Sheriff Williams understands the role of servanthood. He also knows that education is pivotal in serving a community and meeting an individual's needs. That is why he enrolled at Faulkner to earn his second Master's degree in Justice Administration in 2019 and encourages his colleagues to pursue higher education as well.
"By the time I got my second master's degree, I thought educating myself would help me, but the bigger picture is that I would be better prepared to help others," he said. "You're graduating today with these degrees, and you may get that promotion, make more money, and doors will open for many of you, but I want you to remember that is not about you, it's about those you serve."
When Faulkner President Mike Williams introduced Sheriff Williams, he said the ideal Faulkner graduate is one who unabashedly runs into a crisis and offers solutions.
"When there are challenges and crises, rather than the masses who run away, an ideal Faulkner graduate will run toward the challenge. They run toward the brokenness of humanity and they are a part of the solution. So it's only fitting that our commencement speaker is one of our own graduates, Alfonzo Williams, who is truly a first responder."
Growing up in poverty to a single mom of seven children, Sheriff Williams is no stranger to hard times. His childhood home did not have running water until 1978. His family depended on welfare until 1989. He grew up witnessing fighting, crime and desperation, yet his mother's faith strengthened him and their family. He pursued an associate's degree and later earned a bachelor's degree and a master's degree all while coming up through the ranks of the police department in an area outside of Augusta, Georgia. Williams became the first African American police chief of the city of Waynesboro and the first African American sheriff of Burke Country. He received three Police Officer of the Year awards from various civic organizations during his tenure with Augusta Police Department and has a total of six Officer of the Year awards.
In recent months, he's been a voice of reason and truth during a time of racial unrest and has been interviewed several times on CNN and Fox News and other media outlets for his sound policing insight and his perspective on using his badge to serve and better his community.
"He has been a light in the darkness this past year and we are proud to have him as one of our graduates," President Williams said.
Sheriff Williams encouraged graduates to change the world, better their communities and be ready for God's calling with their new degrees.
"If you came to Faulkner to get an education so you can help change the world and to compete in this global community, to help rid this nation of poverty and homeless and drugs abuse and teen pregnancy and idolatry and ignorance and child sex trafficking and an addiction to pain medication, the only way to do it, the only way to reduce violent crime and the help the mentally ill is through education. There is no other way," Sheriff Williams said. That education can come in many forms but I submit spiritual education, academic education and socio-economic education are the three most important."
"Make no mistake, greatness cannot come until you are serving others," he added. "Whatever it is, it's all about serving others. You got to be ready when the call comes your way. Don't miss your calling because you're not educationally prepared."