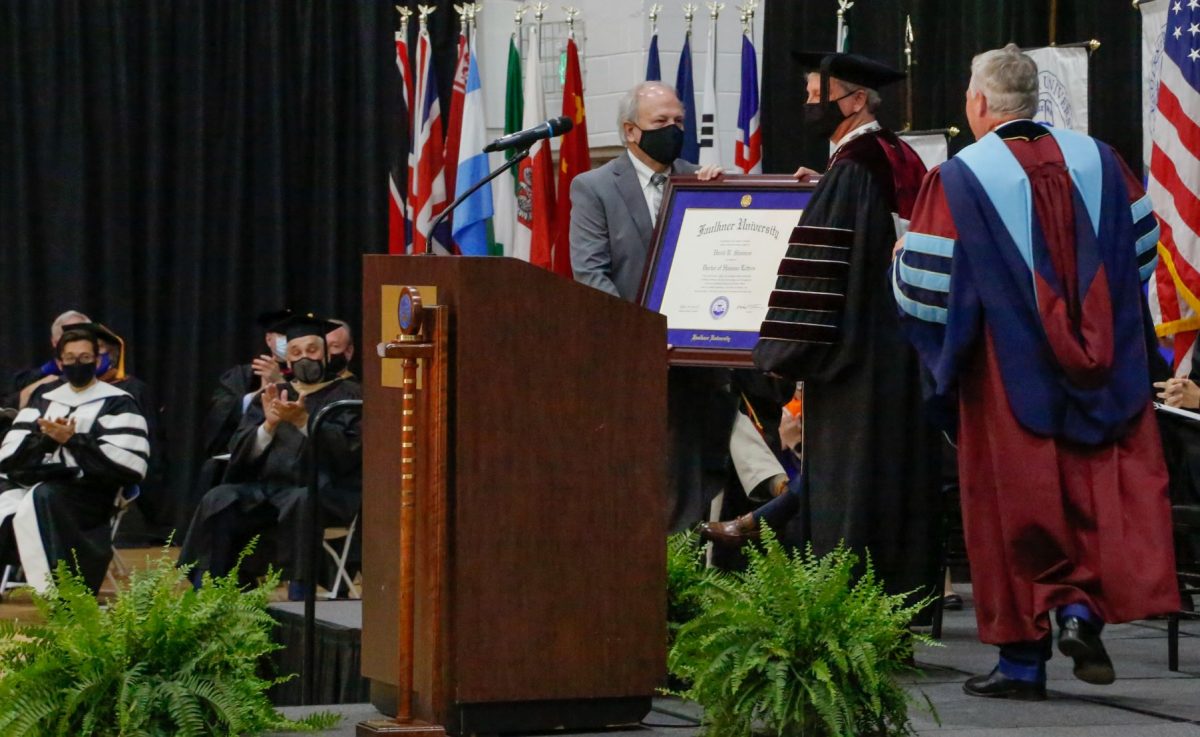 Faulkner University President Mike Williams and Faulkner University Board of Trustees Chairman Dale Kirkland conferred an honorary Doctorate of Humane Letters to President of Freed-Hardeman University David R. Shannon on May 1, 2020.
The presentation was made during the second commencement ceremony of the day before Shannon provided the graduation address.
In October, during Faulkner's semi-annual Board of Trustees meeting, members agreed to confer the honorary doctorate for Shannon's commitment to the Kingdom of God, his commitment to Christian education and his commitment to propel God's word throughout the world, said Williams.
"He's been a passionate believer in Jesus Christ, a gospel minister and an ardent advocate for Christian education and we're honored to have him here," Williams said. "He's dedicated his life to helping young men and women find their belief in Jesus Christ and their calling that comes from that."
Shannon thanked Williams and the entire Board of Trustees for the honor.
"This honor points to the unity among our Christian education community and I appreciate that Faulkner would look to a Christian sister school and recognize someone there. I think that speaks highly of your Board of Trustees," Shannon said.
Before being selected as the 16th president of Freed-Hardeman University, Shannon was a fulltime gospel minister.
Since 1989, he served two congregations of churches of Christ in Alabama and Tennessee. During his time at each, both congregations doubled in attendance. Preaching and teaching are two of his passions. He has conducted leadership, marriage, parenting and church growth seminars, held Gospel meetings, spoken at youth events, and traveled on evangelistic campaigns.
He has spoken approximately 500 times each year for each of the last several years while in full-time ministry. Yet some of his favorite times were studying the Bible with one or two people at a time. A practice begun in his mid-20s, he has studied the Bible weekly with unbelievers, an evangelistic challenge from the late Jerry Jenkins of the former Roebuck Parkway church of Christ.
In 2016, Shannon shared a dream with four other ministers who together created the "One Word" devotional book and the "One Word Study Guide" that sold more than 30,000 copies during the first year. He co-authored a study guide on how to become a Christian, entitled "Access to God," with an estimated printing of more than 60,000 copies.
Shannon graduated from Freed-Hardeman College in 1989 with a B.S. degree in Finance and a minor in Bible. During his tenure as president of his alma mater, enrollment and fundraising have set new records and the university has successfully launched a $93 million comprehensive campaign.
Shannon and his wife, Tracie, have been married for more than 30 years, have five children, and six grandchildren.