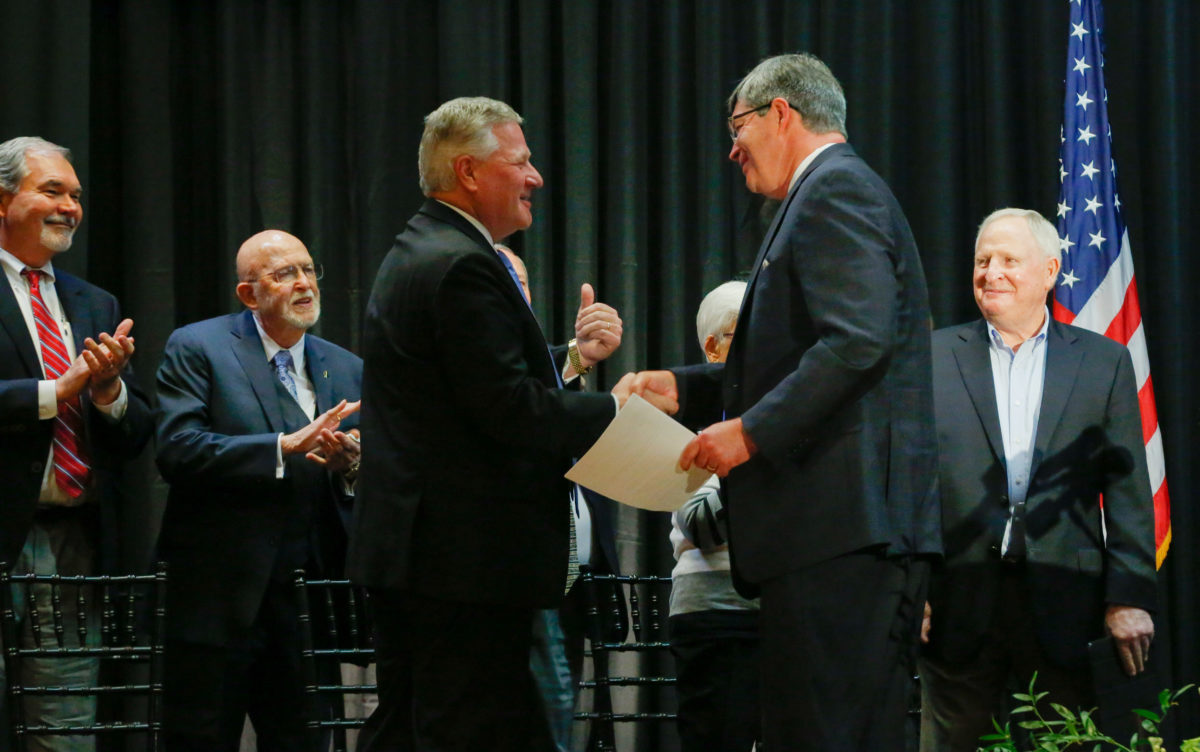 MONTGOMERY, Ala. – Faulkner University is pleased to announce Dennis Mitchell Henry, J.D. as the University's newest president. Faulkner's Board of Trustees Chair Dale Kirkland, Chancellor Billy Hilyer and President Mike Williams made the announcement on the Montgomery campus on March 9, 2022.
Henry is Faulkner's 9th president in its 80 year history.
Out of 26 candidates, Henry was unanimously accepted as president-elect by the university's Board of Trustees on March 8, 2022.
Currently serving as an Associate Professor at Faulkner University, Henry teaches law to undergraduate and graduate students. He has also taught dispute resolution as an adjunct law professor at Faulkner's Thomas Goode Jones School of Law and thus knows the Faulkner community and the university's mission well. In addition, Henry serves as Professor of Practice in Auburn University's College of Agriculture, Department of Agriculture Economics and Rural Sociology, teaching agriculture law.
While teaching, Henry maintained his law practice, is a 29-year practicing attorney, and a founding member of Webster, Henry, Bradwell, Cohan, Speagle, and DeShazo, P.C. His practice has specialized in insurance defense, business litigation, estate planning, and agriculture law. He's also previously worked closely with Faulkner University's legal counsel.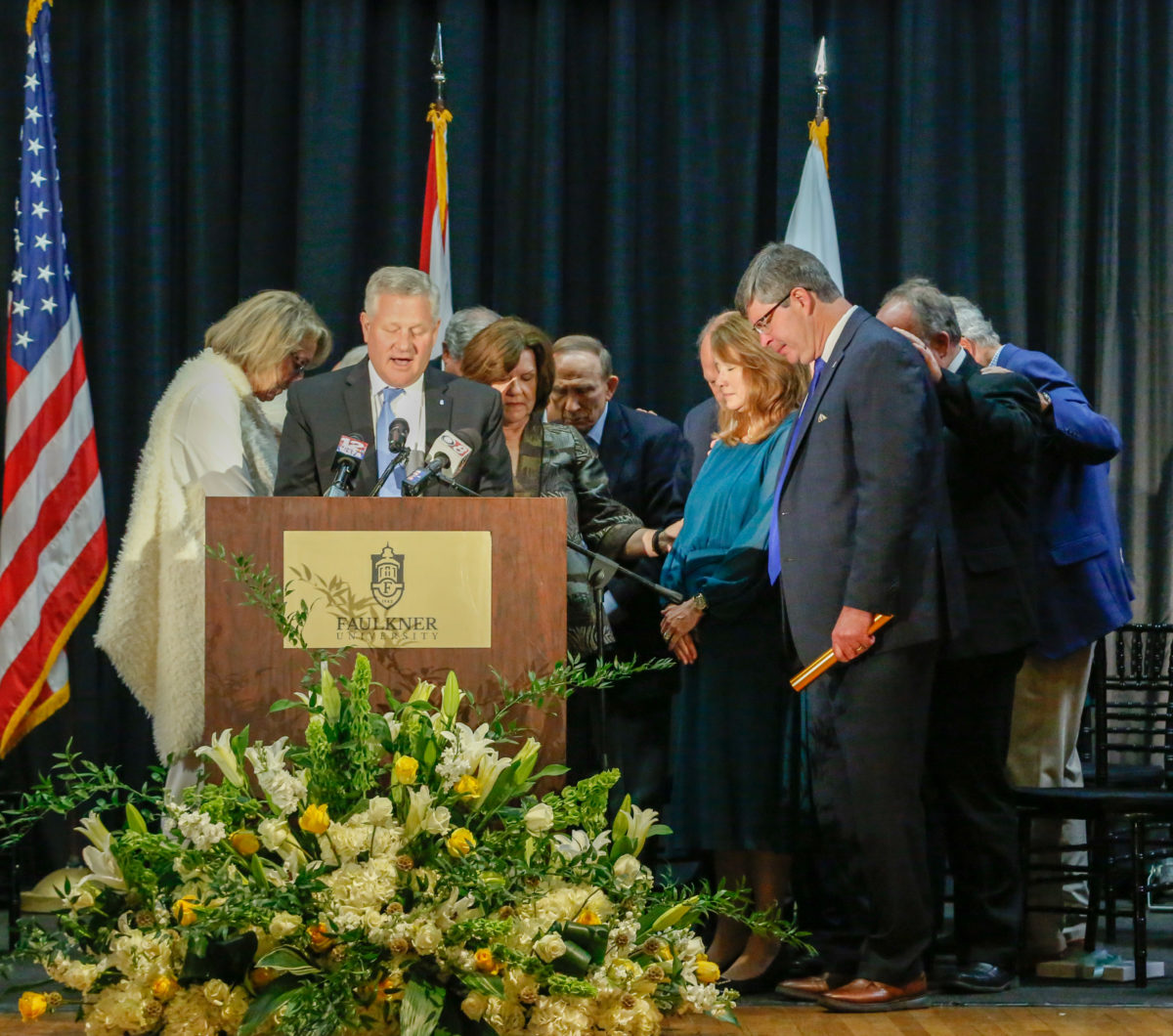 "When we invite individuals to become a part of this Faulkner family we are looking for those who not only have the ability to perform well the tasks by which they are assigned," Hilyer said. "But more importantly we are looking for those who have character and desire, the heart and the passion to help us accomplish this mission to glorify God. In light of this mission, they must be individuals who love God, His word and who endeavor to walk with Him each day."
Prior to the announcement, Henry and his wife Cindy had prayed for a way to become more involved in ministry. Henry views Faulkner as his mission field.
"What does education look like at Faulkner University if developing moral character is the supreme end of education?" Henry asked. "What does that truly look like in this place? We teach, we train, we launch, and we support ministers. Not just preaching ministers, but ministers who are vocational ministers, who minister in their work. We develop Christian nurses. We develop Christian businessmen and women. We develop Christian physical therapists. We develop Christian physician assistants. Christian teachers. We develop Christian folks that work in every possible occupation, and along the way, we do develop Christian ministers who preach. If that's not enough to impress you, we develop Christian attorneys. So, how do we teach trade and launch these folks to be ministers in their vocations?"
"First, at Faulkner, we encourage young people to identify careers where they can serve the greater good, where they can share the gospel of Jesus Christ. We develop young people looking for careers and encourage them in ways that are truly intangible, things you can't teach in a book," Henry added.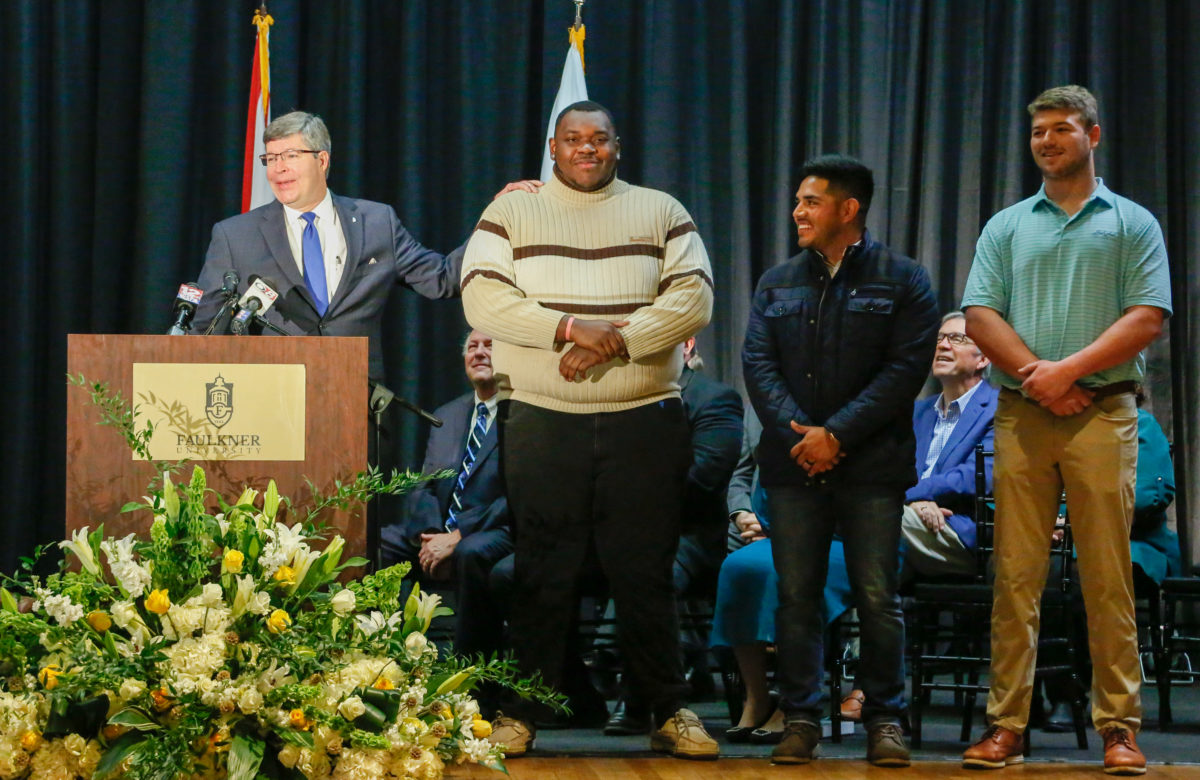 Toward the end of the announcement, Faulkner President Mike Williams, who will be stepping down on May 6, 2022, passed a gold-colored baton to his successor.
"As I view academic presidency, it's not a marathon, it's not a sprint, it's a relay race," Williams said. "When you assume the presidency of Faulkner University, Mitch I'm glad you understand this, is that you cannot take the presidency of Faulkner University and not feel deeply committed to ten individuals who met on April 13, 1942 at the Panama Street Church of Christ when they decided to launch the Montgomery Bible College. And it's not just a linkage backward, it's a linkage forward. The baton reminds me that the decisions made in this moment is not just about today, but it has deep implications for the future."
On October 27, 2021, Faulkner began the search for a new president following President Mike Williams' announcement to step down as president of Faulkner University at the end of the spring semester to start his new role as Harding University's president in June.
Henry, who will begin his new role in May, is a former Elder of the Vaughn Park Church of Christ where he continues to teach Bible and serve. Henry and his wife Cindy have three children, Mitchell – wife Rebecca Mann Henry, Lauren – fiancé Chase Thigpen, and Ashby. Mitch and Cindy reside on Prairie Oak, their family farm located in Hope Hull, Alabama.