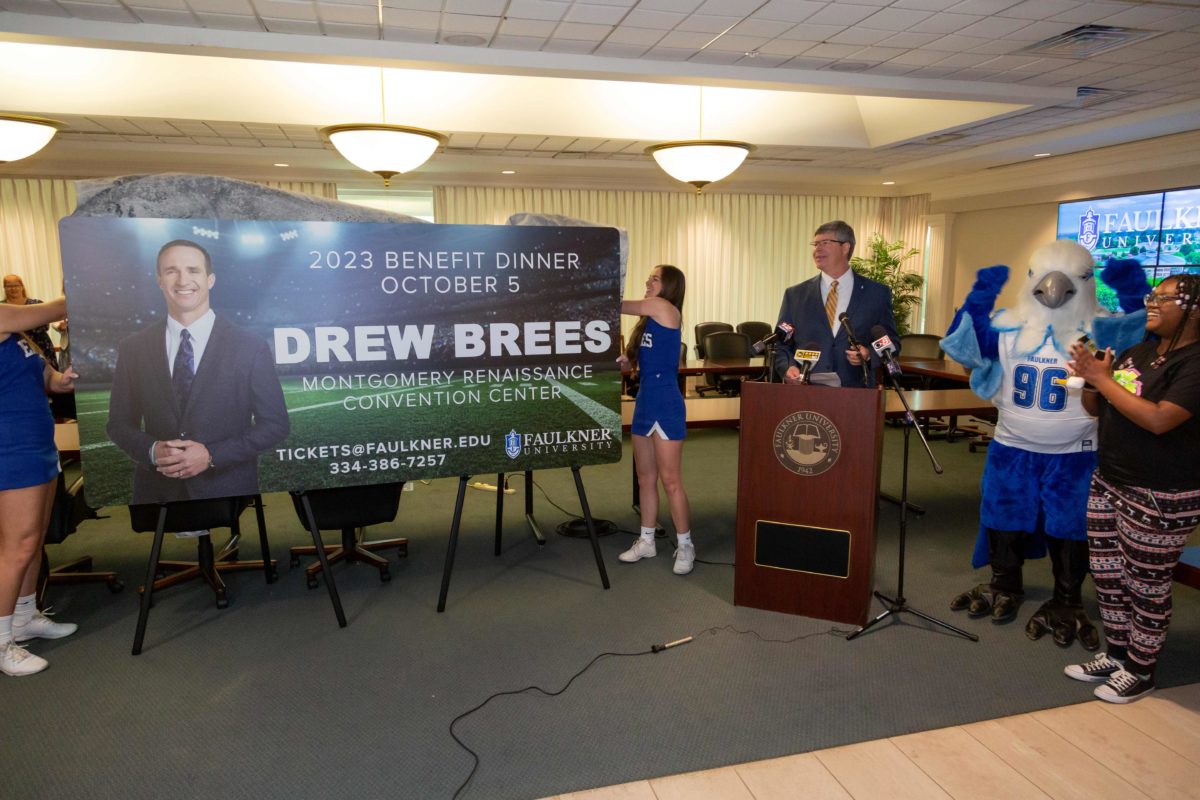 Faulkner University announced Drew Brees would be the speaker at Faulkner's 2023 Benefit Dinner during a press conference held Thursday, April 27, 2034. Faulkner President Mitch Henry revealed the news on Faulkner's Montgomery campus.
Faulkner University's annual benefit dinner is a longstanding tradition and a red-letter-event on the social calendar for Montgomery and the River Region. Each year, Faulkner brings nationally known speakers to Montgomery who will appeal to a broad local audience. In years past, the university have invited U.S. Presidents, International Heads of State, politicians, athletes, coaches, astronauts, and journalists to speak, and we're thrilled to announce this year's Benefit Dinner speaker.
"Overcoming adversity takes resilience. On Thursday, October 5, 2023, Faulkner University's Benefit Dinner will celebrate those who have overcome adversity with a speaker who has done so for decades," said Faulkner President Mitch Henry. "He has overcome career ending injuries, fought through pain and naysayers to compete on the highest level. He is the 2009 Super Bowl MVP- winning quarterback for the New Orleans Saints, an overcomer, a believer, and a leader in helping those in need. This year's Benefit Dinner speaker is Drew Brees."
He was named the NFL 2004 Comeback Player of the Year. After lettering in football from 1997-2000 while he studied industrial management at Purdue University, Brees went on to play five years with the San Diego Chargers and fifteen years with the New Orleans Saints. He has been elected to 13 Pro Bowls while being named 2006 All-Pro Team, 2006 Walter Payton NFL Man of the Year, 2008 and 2011 NFL Offensive Player of the Year, and Super Bowl XLIV Champion and MVP.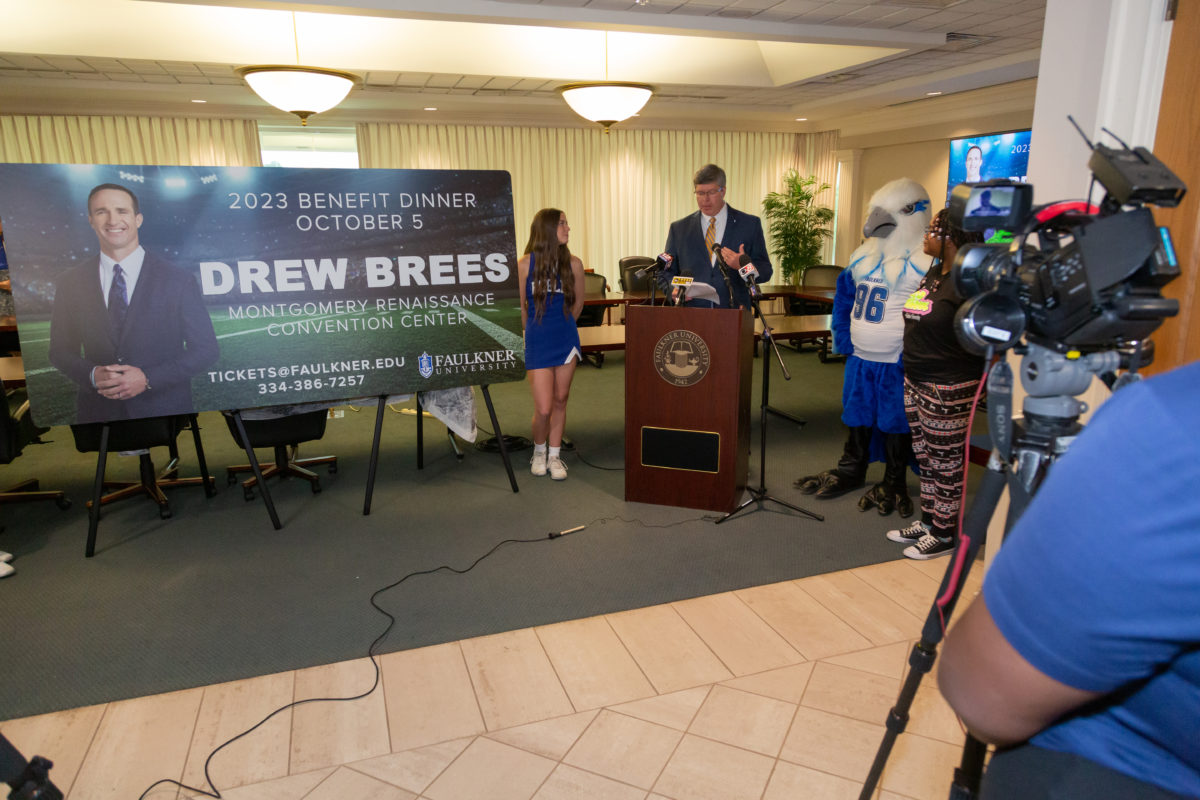 "I'm not aware of another NFL quarterback whose faith has overcome more adversity, led to more success, and impacted others more positively than Drew Brees," Henry said. "Drew and his wife, Brittany, established the Brees Dream Foundation in 2003, and since then, have contributed over $50,000,000 to help improve the quality of life for cancer patients and provide care, education, and opportunities for children and families in need."
In addition to his personal foundation, Brees has co-founded SHIELD 1 Foundation to address the greatest needs in our communities including but not limited to housing, healthcare, education, business opportunity, economic development, support of HBCUs, social justice and legislative reform. What he and his wife did to help the people in New Orleans after Hurricane Katrina still impacts lives today.
Brees is a patriot and has also proudly participated in five USO trips visiting Kuwait, Iraq, Afghanistan, Germany, Turkey, Djibouti, Dubai, Okinawa, and Guantanamo Bay. Drew currently lives with his wife Brittany and children Baylen, Bowen, Callen and Rylen in San Diego, California.
We invite you all to come hear Drew speak on October 5 at the Renaissance Convention Center in downtown Montgomery. It will be a special event with all proceeds going toward student scholarships.
Tickets are on sale now by calling 334-386-7257 or by visiting Faulkner.edu/brees.