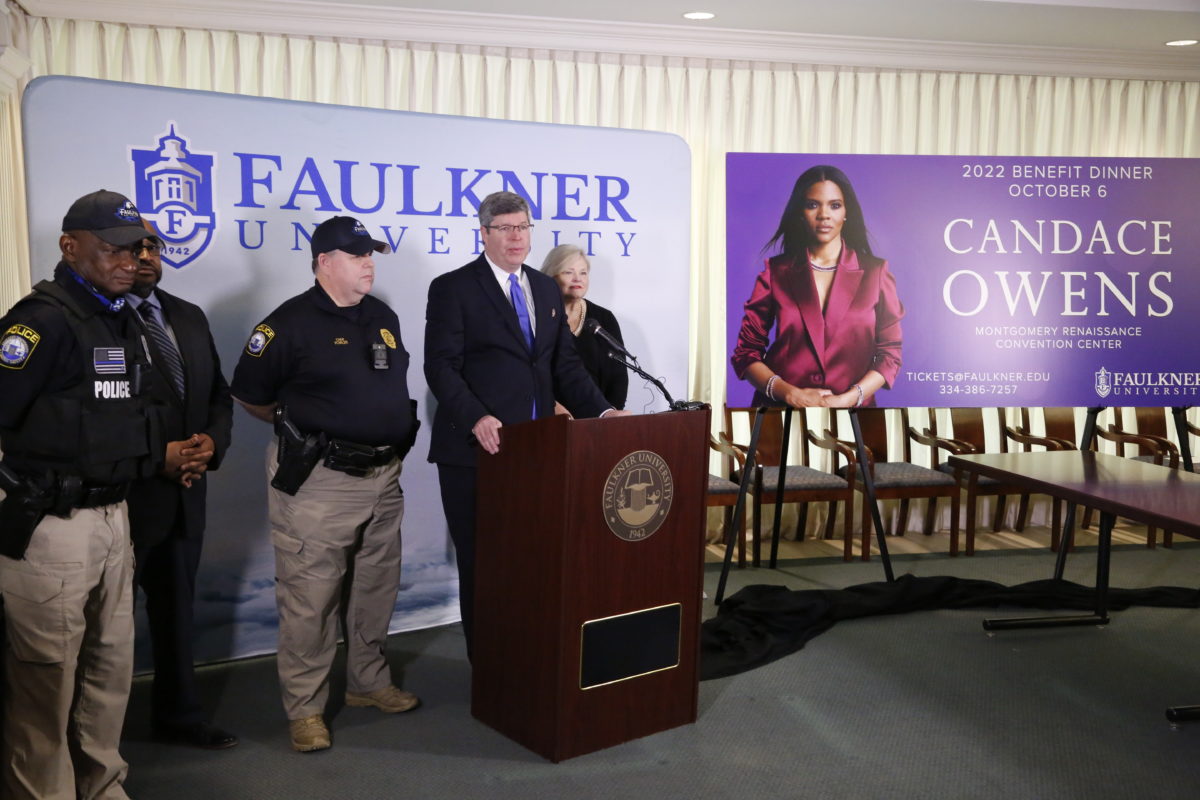 MONTGOMERY, Ala. – Faulkner University's President-Elect Mitch Henry announced Candace Owens as the 2022 Benefit Dinner Speaker. The announcement was made on March 15, 2022 on the Montgomery campus.
Faulkner University's annual benefit dinner is a longstanding tradition and a red-letter-event on the social calendar every year for Montgomery and the River Region. In the past Faulkner has had the opportunity to bring in global thought leaders such as Prime Minister Tony Blair, President George W. Bush, Ambassador Nikki Haley, Dr. Ben Carson, Tom Brokaw and most recently Vice President Mike Pence.
With more than 250 media appearances over the last year alone, this year's speaker has substantiated herself as a leader among the growing youth conservative movement. She is a mom, a wife, a businesswoman and a staunch supporter of protecting the values and freedoms of this great nation.
Owens has spoken at over 50 American Universities, challenging the status quo and insisting that students think for themselves. She is someone who is not afraid of uncovering and speaking the truth.
The Faulkner Benefit Dinner is the university's largest fundraising event of the year to support students. It's an opportunity for Faulkner to reconnect and reintroduce its mission, vision and goals for the future.
"This year we are especially excited to shine a spotlight on a group in our community whose heroism and acts of service are often times hidden in the shadows and they need our appreciation. This year we will be honoring our law enforcement community," Henry said.
"These are individuals who we are indebted to every single day, who put their lives on the line so that we might live in a safe community with our families and our neighbors. There are many wonderful people in law enforcement who live their lives sacrificially so that we might live in a better place," he added.
In support of law enforcement officers, Faulkner University has launched a "Believe in Blue" initiative showing its commitment to the law enforcement community across the nation. It provides a tuition discount for law enforcement first responders, office staff, and retirees seeking on-line undergraduate criminal justice degrees and masters degrees in Faulkner's top 10 ranked MJA program.
Like Faulkner, Candace Owens is someone who believes in and supports law enforcement.
We invite you all to come hear her speak on October 6 at the Renaissance Hotel in downtown Montgomery with all proceeds going toward student scholarships.
Tickets are on sale now by calling 334-386-7257 or by visiting https://www.faulkner.edu/owens.