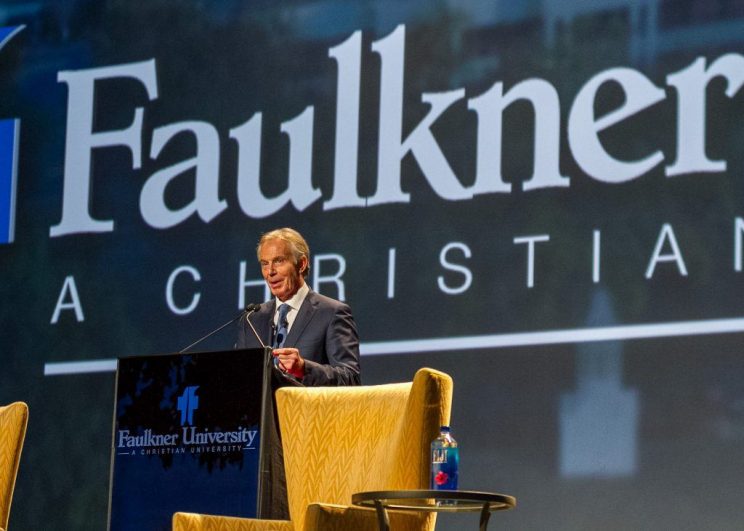 MONTGOMERY, Ala. – The Right Honourable Tony Blair lauded faith, the belief in God and Judeo-Christian values at Faulkner University's Annual Benefit Dinner at the Renaissance Hotel and Convention Center in downtown Montgomery.
Mr. Blair, Prime Minister of the United Kingdom from 1997 to 2007, spoke to a sold-out crowd of nearly 2,000 people on October 4. It was one of the largest Faulkner Benefit Dinners to date with proceeds going toward student scholarships.
It was a night of unabashed enthusiasm for the faith and values of Faulkner and the exciting new developments taking place on campus and in the community. Developments such as Faulkner's new College of Health Sciences, Speech and Language Pathology Clinic and autism center impressed Blair upon his first visit to the state of Alabama, the City of Montgomery and upon meeting Faulkner University President Mike Williams.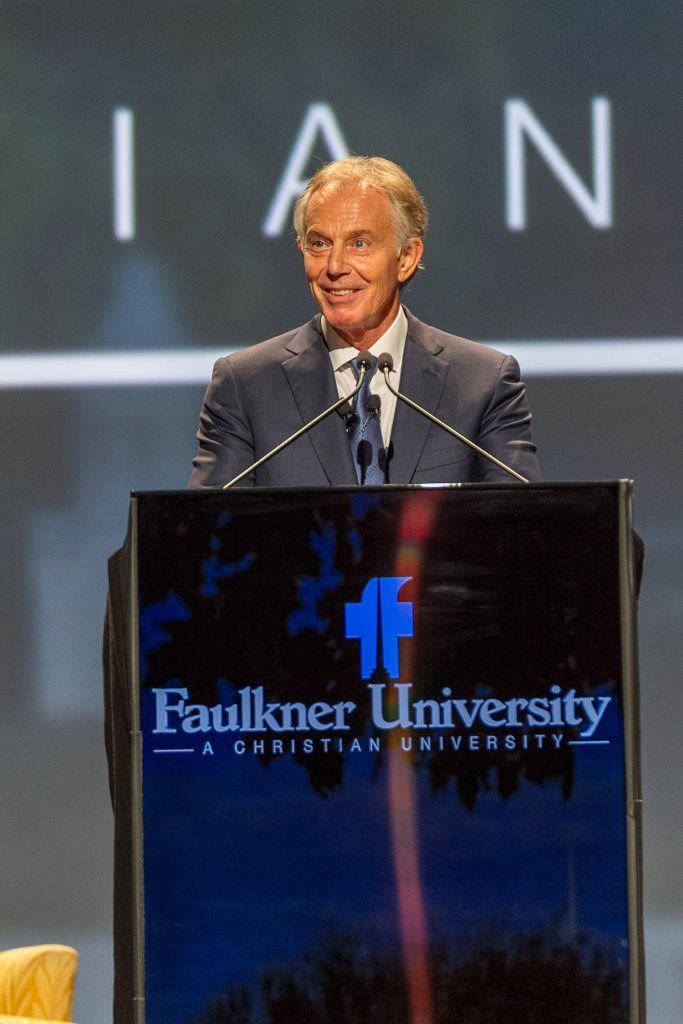 "With the many changes in the world around us, what shouldn't change is our faith, our God and our beliefs. These are our values. As you can see from this college, Faulkner is about service, it's about compassion, it's about service to others and it's about understanding that something matters more than me," Blair said.
"Faulkner education is about creating something new like the College of Health Sciences and facing challenges in the community and autism. It is a great institution. It is always thinking about how it can improve itself and always seeking to serve others."
"The support you give for Faulkner is support that will change lives."
During his time in Downing Street, Blair implemented major domestic reform and oversaw a period of record economic growth and levels of employment. He continues to be in the forefront of world affairs through the nonprofit the Tony Blair Institute for Global Change and take part in current debates on technology and the workforce and inequality across the globe.
Leading up to Blair's remarks and Q&A moderated by Williams, where Blair provided insight into the British Royalty, Margaret Thatcher, Princess Diana and George W. Bush, numerous videos played highlighting updates about the university. Student choral, singer and band performances contributed to the theme of the night; an unapologetic proclamation of Christ and the mission and vision of Faulkner University to serve others.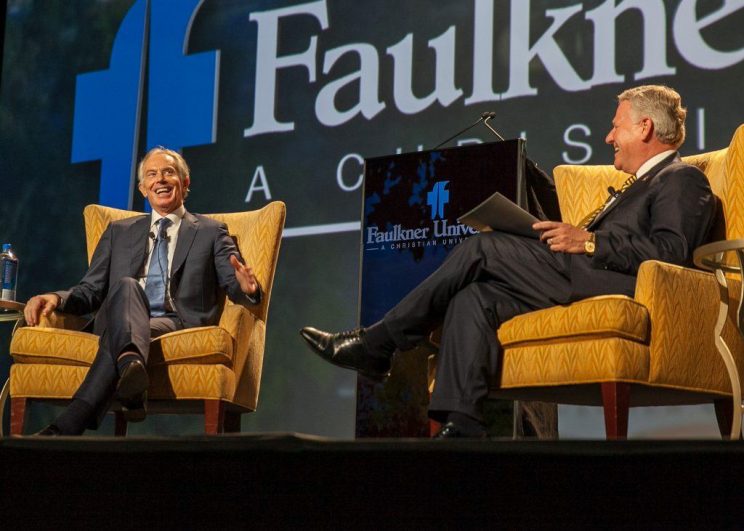 "When our students are faced with the challenges in Montgomery, Alabama, we ask the question if not us, then who?" Williams said. "When they are confronted with the impact of poverty, childhood diabetes and a host of other society issues, we ask the question if not now, then when."
"It's not enough to do nothing when one in 59 children in America is born into the autism spectrum. It is time for us to do something. We want to run toward the epidemic health needs of our city, state and region, and the centerpiece of this initiative is the center for autism."
"We would not be the Christian university that we are without the incredible support of everyone here tonight and this community. We are incredibly thankful for Mr. Blair coming to speak to us tonight and for everyone who came out to support this event and for those who continually show their support of Faulkner, our mission and vision," Williams said.