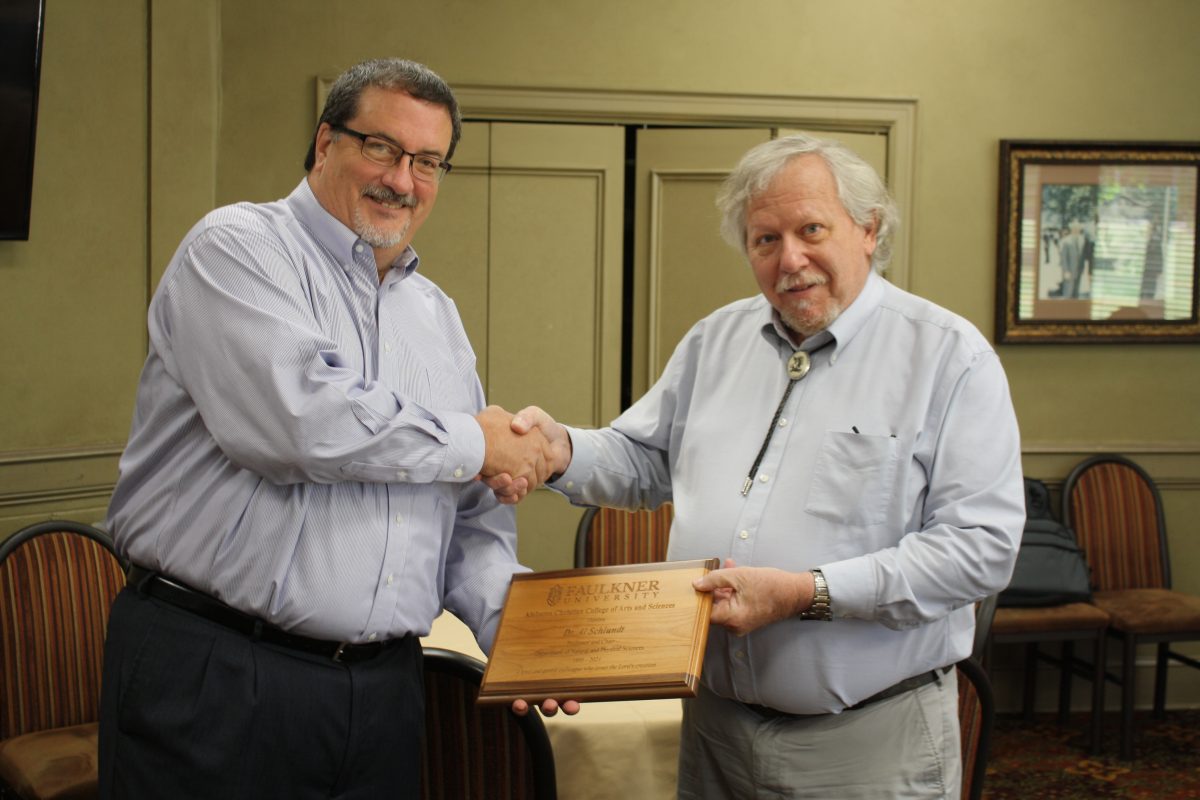 Dr. Al Schlundt spent much of his young adult life roaming Latin American countries as a biologist, researching, gaining field experiences and jumping from one challenging and exhilarating academic job to another. 
An opportunity struck in 1995 when Faulkner found Schlundt. It was here that he, his wife Terri, and their three boys decided to finally put down roots.
A retirement ceremony for Schlundt was held in April after he taught in Faulkner's Department of Natural and Physical Sciences for 26 years, the longest he has ever stayed in any one place.  He served as chair of the department from 2002-2016 and as interim chair from 2019-2021.
Since his arrival he has enjoyed his work at Faulkner and has helped build the university's science department from a staff of two to the robust and competitive department that it is now.
Faulkner is also where their three successful sons attended.
Prior to discovering Faulkner, Schlundt fell in love with learning and experiencing different cultures when his father, who traveled through his work as an engineer for John Deere, brought his family to live for several years in Madrid, Spain. From this location Schlundt was able to explore much of Europe.
When Schlundt decided to attend college, he went to the University of California to study marine biology.  After graduating from UC Davis he joined the Peace Corps.  While in the Peace Corps, he was assigned to the Caribbean Islands as a biology teacher and then later in Ecuador as a researcher for dairy cattle pastures.  With thoughts of returning to the South American Andes Mountains, he decided to do his Masters at the University of Florida in tropical agriculture and to prepare for work in international development.  It was also at UF that he met his future bride, Terri, in a course in rangeland management.
Opportunities for further graduate studies as a biologist took them to the Wasatch Front of the Rocky Mountains (Utah) where he spent his summers on the high mountain meadows of sheep and cattle summer range. There he studied the native pastures and grazing habits of sheep and beef cattle and designed range land management plans for their common use, the topic of his doctorate. 
After that research experience Schlundt was off to Peru for a Texas Tech University project in research development for studying the mountain pastures of sheep and alpacas in the high Andes and goats in the coastal North. Three years into the project tragedy struck when the infamous communist terrorist group the Sendero Luminoso attacked the research station, setting back the project. After assessing the foreseeable future of research in the Peruvian rural countryside, Schlundt returned to the US as a Range Scientist at South Dakota State University. That is when he and Terri started their family.
"After five cold years in eastern South Dakota as a research scientist and professor my Floridian wife and I returned to central Florida to join her family's custom home building business.  When the housing market did not rebound from the depression of the '80s, I took a job in the local public school teaching biology and vocational agriculture.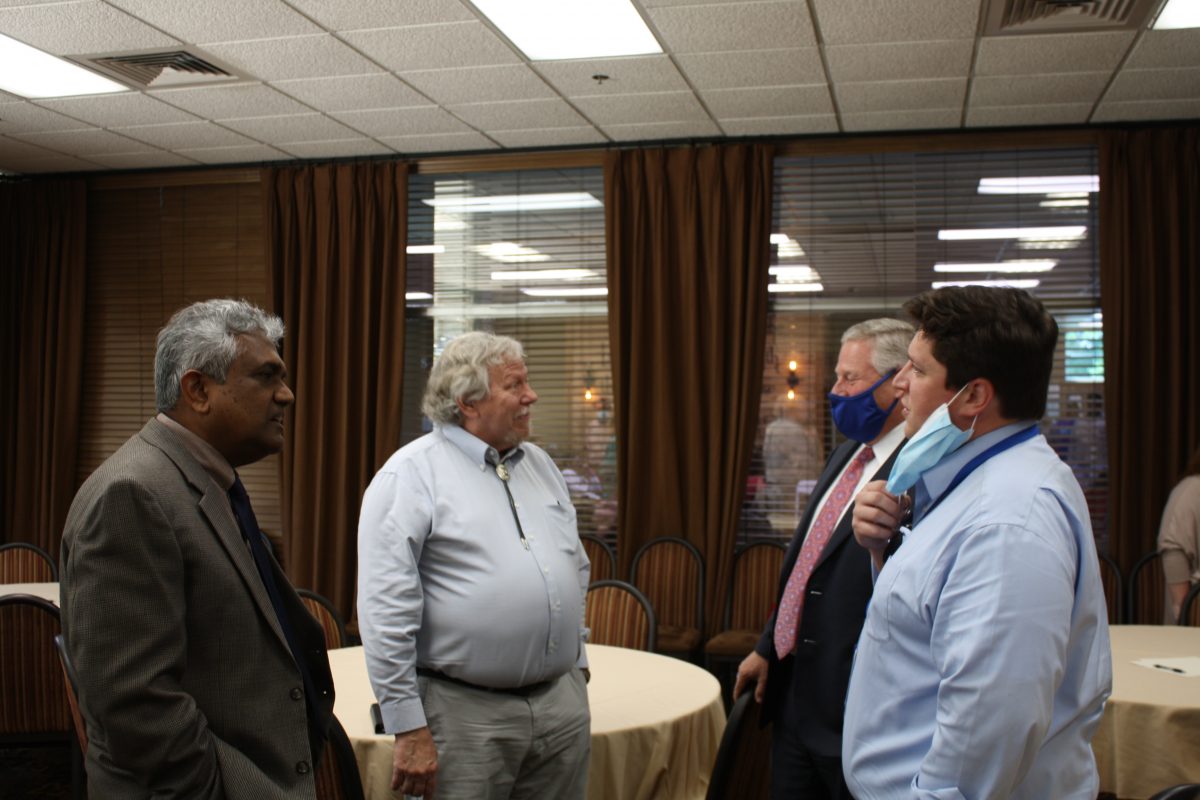 We had been back in Florida for about five years when my wife, Terri, was casually chatting with the subscription department of the Christian Chronicle, our church of Christ brotherhood newspaper, and mentioned our backgrounds. They strongly encouraged us to submit our resumes to the paper, but before we could even get them mailed out, word spread through the brotherhood grapevine and opportunity immediately knocked. Schlundt said, "I don't know how God works, but it just so happened (then) Dean Donna Bentley from Faulkner was at a conference 5 miles away from where we lived. We met up at the conference to go over more of the job details, and she invited us to visit Montgomery. It just happened to work out, and I got the job."
That is how his journey brought him to Faulkner, in the capitol city of Alabama, a place where he has called home for 26 years.
"When I came, it was only Dr. Rampersad and I with E. .J. Turner teaching part time as an assisting professor. Dave taught chemistry, and I handled biology, and until Brooks Hall was renovated we were working with equipment from the 50s," Schlundt said. "It's been nice to have had a hand in the growth of the department over the years, bringing in more faculty and expanding our areas of science to include biochemistry. It's been a good experience for me and challenging in many ways. Growth has also come in the form of students who are interested in the medical fields. And now look, Faulkner has Speech-Language Pathology, Physician Assistant and Physical Therapy to offer them."
While at Faulkner, Schlundt was able to continue being involved with land use planning and conservation. He was nominated to sit on the board of directors for the Alabama Forever Wild Land Trust, established by constitutional amendment in 1992, which has secured more than 270,000 acres of land in Alabama for public use. The land trust has created more than 388 miles of recreational trails within 23 new recreation areas and nature preserves, while providing additions to nine state parks and 20 Wildlife Management Areas.
During his time on the board, Schlundt helped select land for purchase in order to preserve and replant thousands of acres of Alabama land with native forests for wildlife habitat. The land trust has expanded state parks across the state in particular on the coast in order to minimize hurricane damage to inland areas.
During his time at Faulkner, Schlundt and family went on many short term missions trips which included Kenya, central and south America. They went to Ecuador to help with summer camp for Ecuadorean teens from all over the country with church people from the Florida panhandle. Al got to revisit his Peace Corps home after 40 years. They also went back to Cuzco, Peru with the annual medical mission of the Hoover Church.
The Schlundts have three grown sons, Walker, Walden and Westley, all homeschooled and at an early age were taught to play classical violin through the Suzuki Method. They all eventually attended Faulkner, became members of the Montgomery Symphony, and violin teachers. All three are Eagle Scouts from the troop their father led. Walker is now a Hospital Administrator in N. Georgia, Walden is a nurse manager and practitioner at UAB, and Westley just recently left a job as the strings teacher at Baldwin Arts and Academic Magnet School to begin Pharmacy school at Auburn.
Schlundt and Terri plan to move back to Orlando, Florida, where he looks forward to sailing on Lake Bessie, traveling, and spending time with his children and soon to be four grandchildren.  Schlundt also has plans to finish his adventure saga for Christian young adults he began writing over a decade ago during summer break.  As the effects of the pandemic wane, he and Terri hope to soon return to various short term missions in the South American Andes.  Lord willing he will continue the work that has been started in those places.