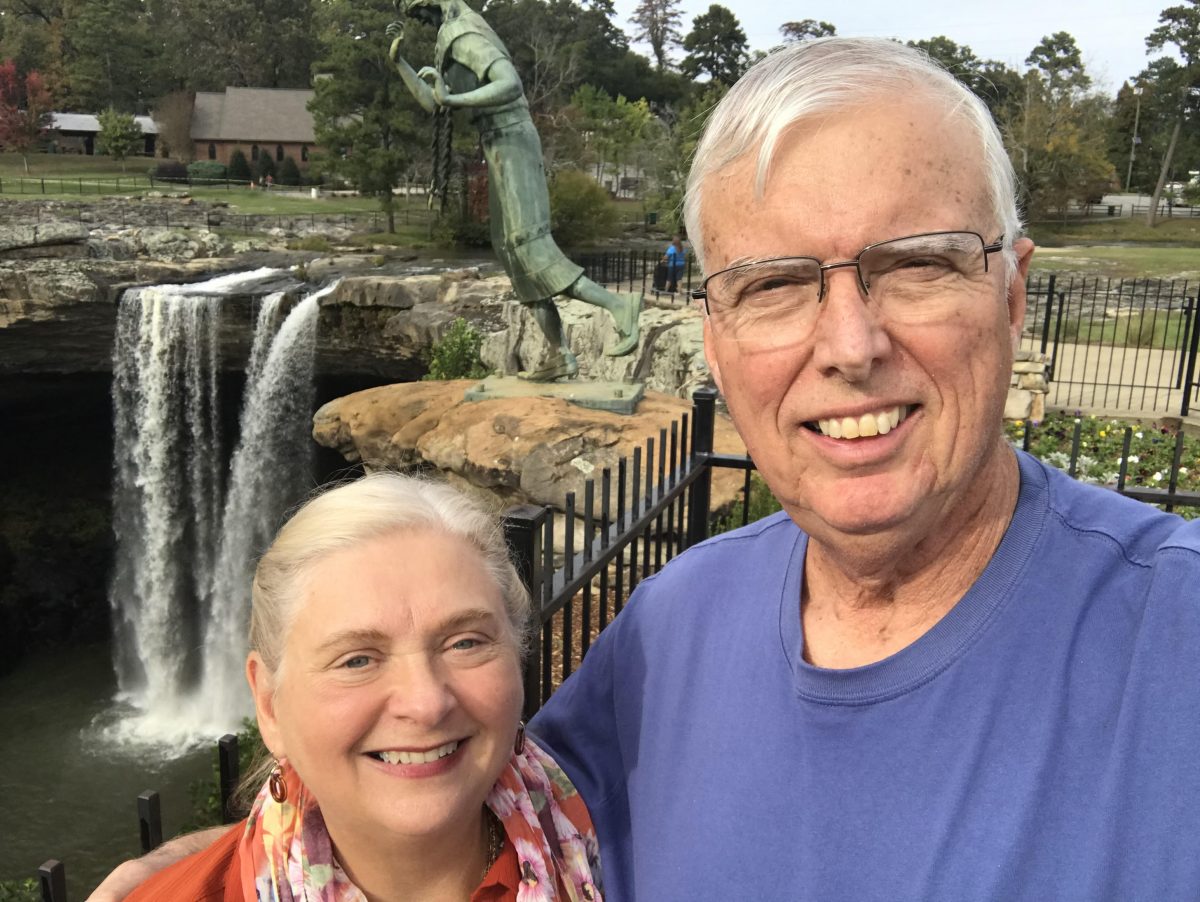 From working on farms with only a fifth grade education to retiring from the Navy as a lieutenant commander with a doctorate degree, Randall Haney has seen how God's blessings of opportunities helped him succeed in life.
As a generous donor to Faulkner University, Haney and his wife, Peggie have in turn blessed others with their savings, land and personal estate through a student scholarship fund and a life estate trust. They especially wanted to financially support Faulkner in order to prepare young ministers to preach God's word.
"I had a tough childhood, but I think God used those experience to forge me and help me make the right decisions in life to get me where I am today," Haney said. "I look around me and I know I am blessed. I try to help others with what I have."
In 2018, Faulkner University President Mike Williams presented Randall and Peggie Haney with a certificate of commendation for establishing the Haney Endowed Scholarship in order to train preachers, who were studying at the V.P. Black College of Biblical Studies.
In addition, the Haneys also established a living trust, which would pass on a percentage of their farm in Boaz, Alabama and accompanying property, houses and personal property to Faulkner University upon their passing. 
"Peggie and I often talked about what we would do with our estate when we died," Haney said. "We got to thinking that when we're gone, if we could leave more preachers behind that's probably the best thing we can do."
"We began looking at schools of preaching and we thought Faulkner was the best choice for educating scripturally-sound preachers," he added.
A living trust is a legal document that places your assets—investments, bank accounts, real estate, vehicles and valuable personal property—in trust for your benefit during your lifetime, and includes details of where you'd like these things to go upon your death. If you believe a living trust would be a good fit for your estate planning goals, visit faulknerheritage.org.
Haney's stepfather was an alcoholic and his mother was agoraphobic and refused to let Haney leave the home. However, it was up to him to go out and find work and food so his mother and he could eat. From 12 years of age, Haney worked on neighboring farms in Florida and later in Alabama to pay for his meals.
Randall Haney attended 18 different schools before he dropped out after the 5th grade to help with various dairy farms and to plant corn. At age 14 he cleared 60 acres for his uncle and at 15, he ran his uncle's gas and service station where he leased the property and worked 12-hour shifts, seven days a week.
He later worked at a sawmill, drove a truck, worked as a welder for a construction crew and worked on another dairy farm before he joined the Navy as an E-1 enlisted sailor.
His dream was always to fly. Thanks to a Navy recruiter who saw potential in Haney, a Navy doctor who found and diagnosed in him a nearly invisible medical problem and a chief petty officer who motivated him to learn math, Haney was able to achieve his dream.
He worked hard both mentally and physically while in the armed forces and took advantage of the educational opportunities the Navy afforded him, one of the many blessings of his life, he said. He earned his way to the position of aviation maintenance logistic officer, then later as an aircrew tactical instructor, and finally earned his wings. He flew 8,700 hours for the Navy, two different civilian companies and pilot schools.
By the time he retired from the Navy, Haney had earned a GED from the state of Texas, an associate's degree from University of the State of New York, and a bachelor's degree from Southern Illinois University at Carbondale. He later attended the Naval Post-Graduate School in Monterey, California. After retirement, he earned a doctorate at University of North Florida where he wrote a policy paper that led to a grant of more than $35 Million in facilities, equipment, aircraft and funding for an aircraft maintenance school in Jacksonville, Florida.
He later moved back to Alabama and began an aviation school in Alabama. He also served as the assistant superintendent of education for Boaz City Schools in Boaz, Alabama.
Today, his love for aviation is still strong. He and his grandsons are building an airplane from the bottom up in his barn. He also continues to serve his community in Boaz, Alabama as well as serve as an elder in his church, Crestview Church of Christ. Peggie Haney taught a Bible class there as well and served as the area's Chamber of Commerce president before she was diagnosed with cancer in 2019. She is currently cancer-free.
Together, the Haneys have two daughters, who both decided to pursue careers in the healthcare profession, and four grandchildren.