Making your way through the entrance into Faulkner's newly renovated 85,000 sq/ft Health Science Center you will find yourself in the student commons area. From this space you enter the expansive main hallway that is flanked on either side by classrooms, a computer lab and skills lab, and end at the office suites of the four College of Health Science programs which includes speech-language pathology (SLP), physician assistant (PA), physical therapy (PT) and occupational therapy (OT).
Faulkner completed the purchase of the Montgomery East Plaza Shopping Center in Summer 2020 and began Phase I renovations that Fall. In only five months, Marshall Design-Build LLC completed Phase I which included student commons, classrooms, teaching and research labs, a simulation center, speech clinic, and faculty offices. Among the first to move into the new space were the faculty and staff of the Physical Therapy department which is the third of the four health science programs Faulkner is adding to its repertoire of graduate programs. The Doctor of Physical Therapy program was granted 'Candidate for Accreditation' status by the Commission on Accreditation in Physical Therapy Education (CAPTE) on April 27, 2021. 
Phase II renovations began October 2021 and will include a student library, expansion of classroom space, research labs and additional faculty offices. Phase II also includes over 20,000 sq/ft of dedicated space for expanding Faulkner's pro bono clinic which will not only be for speech services, but also for pediatric and adult occupational and physical therapy services. Renovations are expected to be completed in May 2022. Phase III renovations will include the exterior façade, parking beautification and a pedestrian bridge to connect the two campuses.
Classes for the inaugural cohort of 36 students in the PT program began on August 25th. The Doctor of Physical Therapy program is eight semesters long and culminates with students being prepared to sit for the National Physical Therapy Exam to obtain licensure in the profession. The program's didactic teaching begins with foundational content including anatomy, exercise physiology, biomechanics, kinesiology, and basic examination skills. Students are then challenged as they advance through the program with Problem-Based Learning curriculum where they will have to work collaboratively on simulated patient case scenarios within the classroom setting. Once through the didactic curriculum, students will experience 32 weeks of full-time clinical internships which include a variety of settings, patient populations, diagnosis, and geographic locations.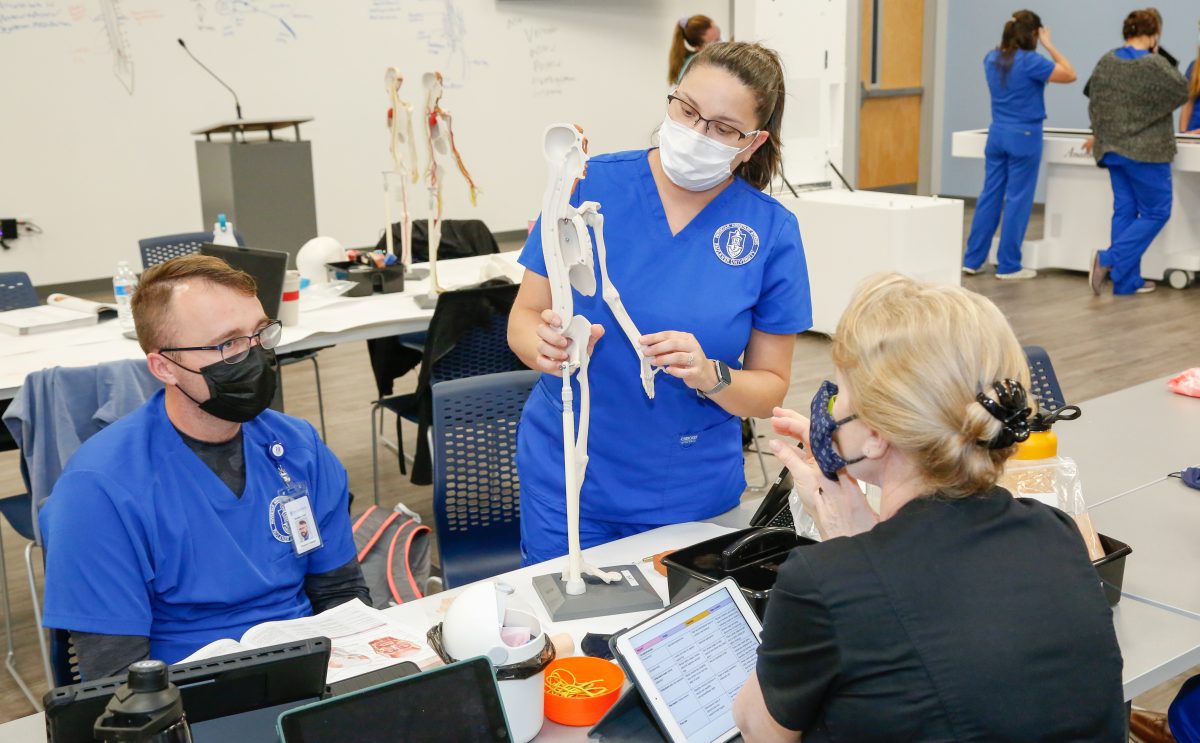 In order to make it all happen, Heather Mount, the PT program director, has assembled faculty for the program who are committed to providing an excellent education experience interwoven in a Christian environment where students will have the opportunity to live out Faulkner's mission of being the hands and feet of Jesus Christ.
"It's been a long journey to get to where we are now," Mount said. "There was a lot of research to develop a strong program that meets the needs of the community and the needs for our future PT professionals. God provided the perfect people to partner with and I'm blessed every day to work with such supportive and qualified faculty."
Mount, Professor Cindy LaPorte and Chris Ireland, director of clinical education, have worked painstakingly to create a robust and unique PT program for Faulkner and the community over the last few years including space development, and they are eager to begin this next chapter.
"Having a dedicated space outfitted to train PT professionals was essential to the program. We have been approved for up to 50 students in each cohort and wanted to be sure our teaching labs were state of the art," said Ireland.
The physical therapy labs were designed and built with all the necessary equipment to create an environment similar to what students will experience when they enter the workforce and become clinicians. That equipment includes hi-lo tables, resistance training and balance equipment, cardiovascular equipment, wound care supplies, wheelchairs, anatomy models, ultrasound and e-stim machines, and the tools necessary to perform research.
"In our program, we create a unique Christian environment where our focus is person-centered, interprofessional and community-service oriented, which set us apart," Mount said. "Having practiced in rural Alabama, I know our state has a need for therapy services and when we have our pro bono clinic up and running, we'll be able to fill that need. It will also be a place for our students to work and give back, because it's important for them not only to find purpose as a PT professional, but also to be a person who invests in their community."
If you are interested in learning more about the new College of Health Sciences programs visit https://www.faulkner.edu. If you are interested in learning how you can support Faulkner's growing College of Health Sciences facility and programs, or would like to make a donation to help name one of our classrooms, labs or educational halls in honor of a family member or loved one, please call the Faulkner University Advancement Office at 334-386-7257.
Graduation from a physical therapist education program accredited by the Commission on Accreditation in Physical Therapy Education (CAPTE), is necessary for eligibility to sit for the licensure examination, which is required in all states. Commission on Accreditation in Physical Therapy Education (CAPTE) 3030 Potomac Ave., Suite 100, Alexandria, Virginia 22305-3085. Telephone 703-706-3245. accreditation@apta.org. Effective April 27th 2021, Faulkner University has been granted Candidate for Accreditation status by the Commission on Accreditation in Physical Therapy Education (CAPTE), If needing to contact the program/institution directly, please call 334-386-7378 or email physicaltherapy@faulkner.edu. Candidate for Accreditation is an accreditation status of affiliation with the Commission on Accreditation in Physical Therapy Education that indicates the program may matriculate students in professional courses. Achievement of Candidate for Accreditation status does not assure that the program will be granted Initial Accreditation.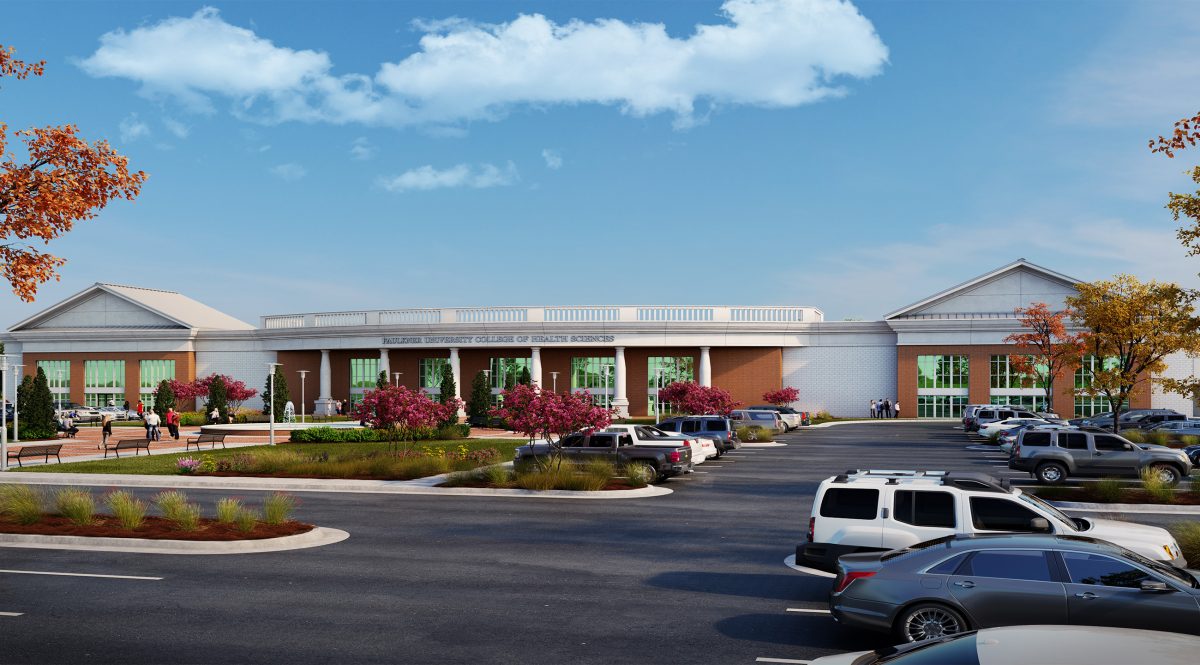 Description of Spaces
Classrooms– these areas serve the students and faculty in all CHS programs. The classrooms are where a majority of didactic coursework is taught. Classrooms are equipped with a range of technology, such as Apple TVs, projectors, computers and ECHO 360 to enhance teaching and learning.
Student area– student-focused space encouraging congregation, communication, and collaboration. It is a multi-space where students can study, hold informal meetings, eat meals, and relax between classes. The intent is to establish a culture in which students feel a sense of belonging.
SLP, PT, and OT Research Labs– rooms where faculty conduct their ongoing research agendas. Selected students such as graduate research assistants will be afforded the opportunity to assist faculty with these research studies in order to learn research skills.
Offices-The intent is to inter-mingle SLP, PT, PA, and OT faculty together. Collaboration is the mantra and inter-departmental communication is not going to occur if each department is operating within its own silo.
PT/OT Teaching Labs– Dedicated to PT and OT students to learn and practice clinical skills. One lab will be set up as an orthopedic lab, while the second one is a neuromuscular lab.
Anatomy Lab– Houses life-sized virtual touch-pad cadaver tables for CHS students that have been shown to enhance practical learning in anatomy and physiology. Also holds numerous anatomy models, prosection kits and other instructional materials.
Activities of Daily Living Suite– An apartment simulation laboratory will provide opportunities for functional status research for patients with limited independence and functionality. It will also provide home-based healthcare simulations and focus group research. This space can be used by students, educators, and researchers across multiple disciplines.
Learning Resource Center– This is the CHS Library. It will house specialized books and medical journals, as well as provide study space and research resources.
Clinical Practice/ Exams– These are medical simulation labs where students practice basic medical skills prior to treating real patients. One side of the simulations lab looks like an emergency room, while the other side is set up like a doctor's office.